Roofing Contractors Lake Ridge VA
With over 10,00 households between Old Bridge Road and Harbor Drive, Lake Ridge is considered one of the best spots to live in Prince William County. However, with so many homes and the majority of the area developed before the year 2000, many homes are often in need of new roofs.
Finding a reputable roofing contractor in Lake Ridge is almost as challenging as finding a home to buy in the same area. Roofing companies are a dime a dozen, so locating an owner-operated company that functions like a large business with their systems but a small business with their pricing in Lake Ridge, VA is your best bet.
Luckily, Top Dog Home Pro is the premier roofing company in Lake Ridge VA for almost a decade! We offer the very best roofing services Lake Ridge and the surrounding areas you can ask for, and it is always our promise to:
Help you with ANY roofing issue you might have (roof replacements, new roofs, roof repairs)
Communicate effectively and help you meet all legal and HOA requirements for your New Lake Ridge Roof
Save you from the roofing contractors who make a lot of promises but don't do the quality work you deserve!
See how Top Dog Home Pro of Lake Ridge, VA can help you today – call us here!
Best Roofing Company Lake Ridge VA
Why settle for a good roofing company in Lake Ridge VA, when you can have the best? Here at Top Dog Home Pro, our owner Luke Mitchell grew up in Prince William County and knows the area quite well.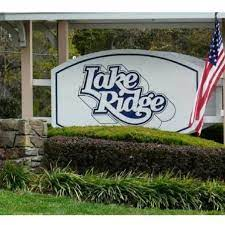 With most of the houses built after 1970 but before the year 2000, Lake Ridge is close to Lorton and Occoquan and has a similar charm and appeal to saying, "I live in Lake Ridge." So when you live in a place like Lake Ridge VA that demands the best, you want to always make sure you hire the best roofing contractor for your roof replacement or roof repairs.
Top Dog Home Pro has over 120 combined 5-star reviews, and when you read the reviews, good roofing companies like us will have words that pop out to you. Phrases such as "Very Professional" and "Did a great job on my roof" to "Knowledgeable" and "Prompt" often describe the pro roofers at Top Dog Home Pro.
If you're in Lake Ridge VA and need a roofing contractor – we can help!
Roof Replacement Lake Ridge, VA
We understand that if you live in Lake Ridge (Woodbridge VA) and you need a new roof, the investment upfront to purchase a roof replacement can be substantial. Roofs vary in pricing based on the size of your home, but the upside to having a new roof installed is there is quite a return on investment.
The average cost to tear off shingles and replace them with a new roofing system is between $10,000 and $20,000. Luckily, homeowners in Lake Ridge VA can expect a 65% or higher ROI in their new roof.
Need New Roof?

Do you need a new roof or are you not sure? Don't worry, Luke and the team at Top Dog Home Pro Lake Ridge, VA is certified to install new shingles, and we will fully inspect your roof prior to recommending roofing services.
Our process is to first listen to your needs or concerns, then we inspect your roof and take photos. We like to show homeowners in Lake Ridge VA photos of their roofs so they can understand our recommendations. In some cases, a new roof replacement is necessary because of storm damage or the age of your roof.
On the the other hand, if you need a small roof repair unlike other roofing contractors – we can help you there too!
Roof Repairs & Leaky Roof
Most roofing companies try to avoid roof repairs or a leaky roof. If you live in Lake Ridge VA and you're trying to find a roofer who will do a great roof repair that might be difficult. Roof repairs require an even higher degree of technicality and diagnosis compared to a full roof replacement, so many companies avoid them altogether.
However, we love helping with minor roof repairs, gutters, flashing leaks, pipe collar leaks, and any other roofing issues you might have. If you live in Lake Ridge and have a leaky roof, just give us a call!
A Lake Ridge Roofing Company You Can Trust!
In the 1960's Lake Ridge began as a construction project and by 1969, the first five developments, Thousand Oaks, The Point, Plantation Harbor, The Village of Lake Ridge, and The Hamlet, had broken ground. Fast forward to today, and Lake Ridge VA is a thriving community of hard-working people in Northern Virginia.
Home values in the area have steadily risen due to the well-kept and tidy community Lake Ridge VA has established. One way to keep your home on TOP is to make sure that when you need a roof replacement, you call the professional roofers at Top Dog Home Pro.
Remember, for any Lake Ridge VA Roof Replacement and roof Repairs – we have your roof covered!