Pipe collar leaks are never fun –
This is a real story I (Josh, marketing & content at Top Dog Home Pro) experienced 7-8 years ago with my own home.
I woke up one morning after a few nights of heavy rains to find a brown stain on the ceiling of my bathroom… a dreaded roof leak. Having a little bit of awareness with roofs, I knew I had to act quickly.
Immediately, I called Luke (Owner of Top Dog Home Pro) and asked what he thought it was. Without hesitation, he said, "I am 99% sure your roof's pipe collar is cracked, thus causing a roof leak."
He went on to elaborate that anywhere water can penetrate through a crack, especially during heavy rains, water will find itself inside of your home. One of the most common areas for this to occur – your roof's pipe collar!
Pipe collars leak when they're old and begin to crack from the sun. Today, we will elaborate on why pipe collars leak, the best way to know where your roof leak is coming from, and how to fix your pipe collar leak!
First, what is a Pipe Collar anyway?
Residential roofs all have pipes sticking out of them for one reason or another. Used to allow gas or air to escape attics, these vents are essential for the overall functioning of your home. They also happen to be where most roof leaks occur.
Anywhere there is a break in shingles (i.e. a chimney, vent, pipe, or dormer) there is always the possibility of water entering that area during heavy rains. The reason there is flashing around a chimney is to prevent leaks.
Similarly, a roofing pipe collar is a casement that is used to enclose a vent or pipe sticking out of a roof. They are installed as part of the roofing system and when you replace your roof you also replace your pipe collars. However, over time, pipe collars can crack and therefore leak. More on that below 👇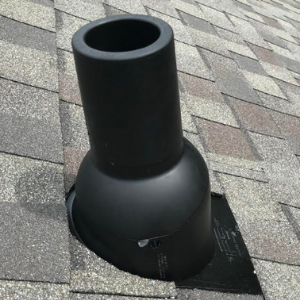 Watch! Luke Fixes a Pipe Collar:
Why do Pipe Collars leak?
The collar at the base of a roof pipe is almost always the top cause of a roof leak, aside from storm damage and missing shingles. Older pipe collars are often made of plastic or rubber which over time, crack due to sun exposure.
Over time, technology has gotten much better (when we talk about repairs we will discuss Permaboot). Unfortunately, older roofs often have older pipe collars OR they were not initially installed correctly. Because of this, most roof leaks will occur here.
You might be wondering why a roofer would use a plastic pipe collar, but the answer is simple: they are the cheapest when you have a new roof. That said, now you know what a pipe collar is and why they crack (leak), but how do you prevent this?
Pipe Collar Leaks – What to watch for:
When my roof's pipe collar was leaking, it wasn't hard to diagnose. Luke said to do one of two things:
Get a general idea of where the leak is inside of your home (for example, the back right corner of my roof), then go outside and look at what is in that area of your roof. Is there a pipe sticking out? Is there a vent or missing shingles? These are all indicators that the genesis of the roof leak could be there
Another option is to take a flashlight into your attic and look around for water. Leaks can "Travel" which means they can leak at one point, flow along a truss, and perhaps the leak will appear at another point. Sounds crazy, but it can happen!
Typically, most of the time you will realize your roof is leaking when you notice the moisture inside of your home. Obviously, there are some warning signs to look for that we highly recommend to prevent leaks or catch them early:
First, get a regular roof inspection annually or at the very least, every two years. These are usually free and can be very beneficial. Simply find a trusted contractor who will come out one time per year to check for you.
Inspect your roof yourself. Simply grab some binoculars, stand back and take a gander at your roof. This should help you identify any problem areas.
Related: Where do roof leaks come from?
How to fix your Roof's Pipe Collar:
You can fix your roof's pipe collar yourself, but we don't recommend it. Just like most home projects, some you want to do – others you want to sub out.
Here at Top Dog Home Pro, we recognize that a small roof leak can turn into a larger roof leak, which is why we recommend having a professional roofing company fix your roof's pipe collars. The old style of pipe collars are easy to notice and as you know, breaks easily.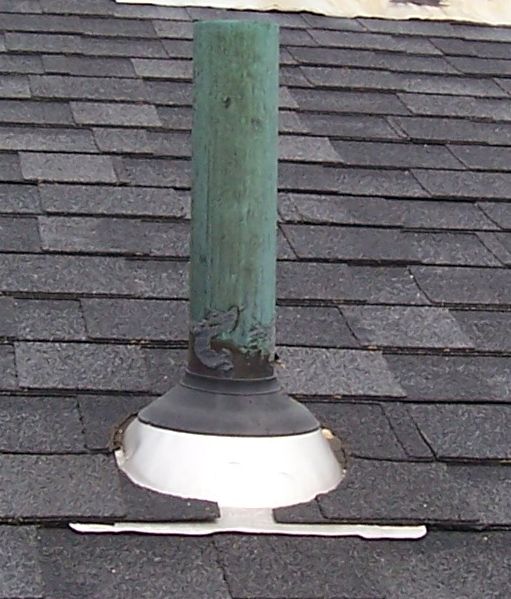 That is why we use a combination of aluminum and the Perma-boot
Pros to using Perma-boot pipe collars include:
Designed for all standard roof pitches – 3/12 to 12/12
Guaranteed for the life of the shingle
Compatible with PVC and all other pipe types
➡️ Learn how a Perma Boot installation works here.
The guarantee of the life of the shingle is key! This means you won't have to worry about cracking or dying up like the old-school pipe collars! A new pipe collar must be installed correctly which can consist of replacing the base, moving/adding shingles, and adding the perma-boot system.
How much to repair a pipe collar:
On average, the cost to replace a single pipe collar and complete a full repair is around $175 to $250. Variables that can drive the price up include damage to decking, missing shingles, the need to replace shingles, caulking, and several other factors.
To just replace a pipe collar, you may find someone to do it for $150, just make sure they're certified!
The Verdict –
If you have a leak, we can almost always say "Check your pipe collar first." The good thing about this is that it is actually an easy and CHEAPER fix than a bigger leak. A bunch of missing shingles can be more expensive and more problematic.
For more info, be sure to reach out here: