When considering replacing your gutters, you are most likely not considering the other potential hidden cost: Replacing Fascia Boards or Soffit.
New fascia boards look great and are a must if your existing fascia board is old, rotting, or needing some TLC. Your home's gutter system is heavily reliant on the condition of your fascia board because the two work together.
Fascia boards are mounted to your roof trusses, and gutters are mounted to fascia boards. your soffit ventilates the attic, and while it has little to do with your gutters, oftentimes if you replace your fascia boards, you may want to go ahead and do the soffit while you're at it!
Today, we will cover homeowners' frequent questions – the cost question. How much does replacing fascia boards, soffit, and gutters cost?
First, what are new fascia boards and soffit?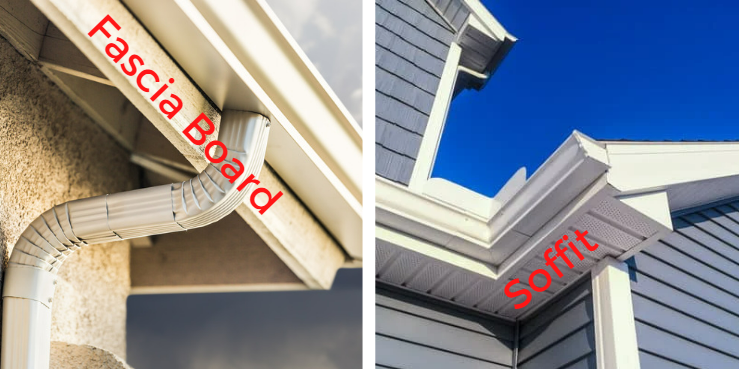 Gutter systems are pretty self-explanatory, but sometimes the fascia boards and the soffit vents aren't so easily understood. We define and explain each below:
Fascia board: Meaning strips; fascia boards are the long boards attached at the end of roof trusses/roof edge. Gutters and gutter guards are not possible without having fascia boards to be installed. A fascia board runs horizontally, similar to your home's siding and can be painted or wrapped.
Soffit(s) vent: The material installed under the overhang of your roof rafters extends past your home's walls. The soffit is perforated so that airflow can escape the attic space of your roof.
Both your fascia boards and soffit are essential for your home's exterior and make up the roof system. Not only are they aesthetically pleasing compared to exposed siding or clear gaps underneath your roof's overhang, soffit, and fascia prevent pests and water damage from entering your home too!
The upside is that these typically require less maintenance when compared to your home's gutters or other exterior items like painting, landscaping, etc.
Gutters, Fascia, & Soffit Repalcement Pricing:
These costs are the average costs to replace existing fascia boards, gutters, or soffit systems. Keep in mind prices factor in the associated labor costs and can vary depending on your geographical location.
Average costs installed are as follows:
Gutters cost approximately $8-$10 for aluminum gutter systems
Fascia boards cost $15-$20 per linear foot
Soffit costs $20-$30 per linear foot installed
A further breakdown of the costs based on material choice and other factors is included below:
Gutter Replacement Costs: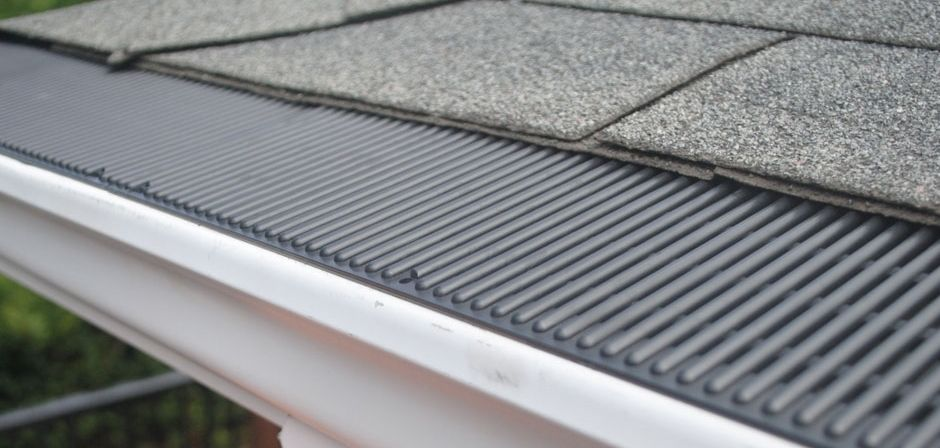 Aluminum 5 inch: $6-$8 per linear foot
Aluminum 6 inch: $7-$10 per linear foot
Metal, Copper, Other: $25 per linear foot and higher
Gutter Guards: $10-$20+ per linear foot
Wood fascia boards only: $7 per linear foot
MDF, PVC or other Board: $4-$8 per linear foot
Boards wrapped in aluminum: $7 per linear foot & $8 wrapped per linear foot, $15-20 total per linear foot (*most companies replace fascia boards in a minimum of 8 feet sections, meaning it will cost $120-$160 per board)
Soffit Replacement Costs:
Soffit replacement costs can vary and most homeowners/exterior contractors use vinyl material which can cost anywhere from $10-$30 per linear foot section. The material cost is relatively low. However, labor contributes to the vast price differences.
Final Costs:
You can expect the average gutter system replacement to cost $1500-$2500 depending on things like the number of downspouts, porches, and total guttering required. To replace fascia boards and soffit, which are often done at the same time, your price could cost you as little as $2,000 all the way up to $5,000 or more.
The final cost really comes down to whether you are replacing everything or just sections and how much linear feet is required in terms of material costs and labor.
Hypothetically speaking, here at Top Dog Home Pro, if more than 25% of a home's soffit or fascia boards are compromised, we recommend getting it all replaced. If you are simply replacing some damaged fascia board to be able to install new gutters, that total cost will be cheaper!
Fascia Board, Soffit & Gutter Installation: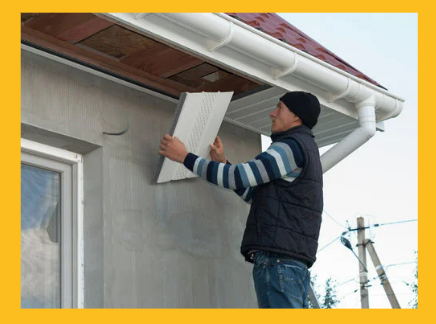 Now that you know the costs of replacing some fascia board, your gutter system, or the soffit – understanding how the installation is done is your next step.
Exterior contractors often order the necessary materials and measure for the appropriate amount of vinyl soffits, boards, and gutters.
Frequently Asked Questions:
Can you do soffit and fascia board replacement yourself?
The honest answer is NO; you need a professional roofer to install the fascia board or soffit. Sure you can climb a ladder and try to replace your soffit, gutter system, or fascia boards, but it isn't an easy task. Not to mention, the tools and expertise required is pretty extensive. If you suspect damage, don't hesitate to contact your insurance company to see if the repairs can be covered y them.
How often do you need to replace your fascia boards, soffit, or gutter system?
When you are missing a few shingles from your roof or the gutters are falling off your house, those signs are apparent as to what the problem is.
However, knowing when to replace your home's exterior soffit or the fascia boards isn't always as obvious. For starters, both are high up on your home, and you don't inspect the condition of your soffit or fascia boards very often.
Here are some obvious signs to keep an eye on:
The board(s) around your roof are cracked, and you notice paint chips or holes. A fascia board that looks rough is most likely made of wood and was painted, which means if you don't regularly paint; eventually, the board will be compromised by weather.
You happen to notice water damage in your home around the exterior walls. While water damage can be caused by your roof, gutters, and soffit/fascia boards, it can potentially lead to more significant issues if you don't address them. Often, leaks will come from your roof, but they can also stem from a faulty fascia board!
Pests in your attic! Not only are pests a pain to deal with, but they can also cause some severe damage to your home if you're not careful. If you don't replace faulty fascia boards and soffit, you can find yourself fending off creatures in your attic. While soffit allows air to flow, they seal your home from the outside so squirrels and raccoons can't get in!
Drip edge issues. A drip edge is installed under your roof's shingles and is used to seal the area between your shingles and fascia to prevent moisture from entering your home. Wood rot is common on fascia boards that are just painted or that don't have a proper drip edge.
Overflowing gutters. Gutter guards are amazing if they work or if you have them, but if you don't you might have clogged gutters that are creating issues. Overtime, clogged and overflowing gutters can and will compromise other areas of your home like the fascia and soffit!
The Verdict –
Fascia and soffit are two of the most unused words when it comes to discussing home remodeling. Kitchens, bathrooms, hardy board, painting, and other common home remodel jargon often surpass your fascia and soffit.
However, it is important to note that depending on the age and condition of your old fascia boards or soffit, you may be in the market for a replacement, hence why you are reading this article!
Most people won't need new fascia or soffit to get the new gutter system they are after, but it never hurts to check either way! If you have a question about materials, installation, or how to better protect your home – simply reach out to the team here at Top Dog Home Pro!