We recently put together an article ranking the best gutter guards available for your home. In that article, our top pick was the Raindrop Gutter Guard(s) product.
With so many positives to cover (and very few negatives), we decided it would suffice a full review of the entire product. Today, we will give you an in-depth and complete review of Raindrop Gutter Guards and share why the team here at Top Dog Home Pro exclusively works with only the Raindrop product!
First, why do you want gutter guards in the first place?
Each spring we experience the weather going from freezing temperatures to almost 70-degree days which also means it is time for that spring to-do list!
Outdoor home repairs are things always on the list and this can mean you paying some attention to your roof and gutters.
Gutters and gutter health are extremely important to the health of your home when the spring rains hit as they are responsible for keeping your roof and home protected.
Well-maintained gutter systems ensure water doesn't pool around your flower beds or the foundation of your home. Gutters can prevent leaks into your home which could cause tons of damage to walls.
This leads us to our point – gutter maintenance is necessary if you want to avoid issues with your home in the future, and a great way to make gutter maintenance easy is to install a gutter guard that is self-cleaning.
You can elect to clean your gutters 1-4x per year depending on the number of trees around your home, or you can learn about Raindrop Gutter Guards and how they work!
Reasons to install gutter guards:
Gutter guards are a great option for a low-maintenance way to keep your gutters clean, but here are a few highlights:
Keep your gutters free of debris
Reduce the level of upkeep for your gutters
Protects your home's roof
Avoid ice during the winter
Prevent further gutter issues
Raindrop Gutter Guards Review

TopDog Home Pro works with Raindrop® Gutter Guards over any other gutter guard on the market. Why? Because as we are about to share, they are superior in quality, durability, functioning, and price and we don't deal with anything less.
A quick list of why Raindrop Gutter Guards work so well:
They can fit on every home and gutter
Extremely durable since they're made out of polypropylene and UV stabilizers
Can handle all types of weather including ice and some branches
Self-cleaning gutter protection system
Fits on Every Home: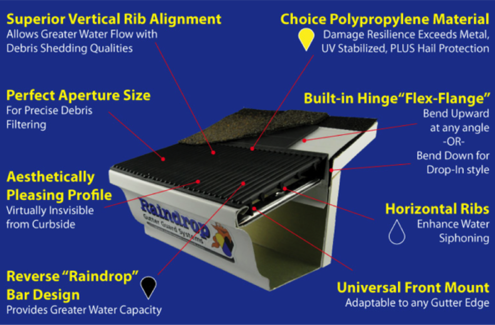 Raindrop® Gutter Guards are extremely versatile – they fit on every home, roof-style, and gutter system. Their sleek black model stays out of sight from the curb, leaving your curbside appeal unaffected unlike some of the helmet and cover counterparts.
The mounting system is able to tuck the guard under your shingle and screw it to the front of your gutter making it a seamless transition from your roof to gutter while protecting the entire gutter.
Raindrop Gutter guards can fit any gutter size from 4 to 10 inches and are powered by the flex flange, this makes Raindrop highly adaptable!
Material, Durability & Composition:
Made from a unique blend of polypropylene and UV stabilizers, these gutter guards stand out from the crowd by being one of the toughest and most versatile gutter guard options on the market.
They remain secure in the heat of summer and come winter, their black design helps capture heat from the sun to prevent ice and quickly melt snow. It is important to mention in cold months you don't have to worry about your guards cracking.
Because raindrop gutter guards are highly adaptable as a surface tension guard, this means they can sometimes withstand heavy branches crashing down that would normally dent or break gutters.
The flange makes Raindrop guards highly durable because of how they're mounted and also the material that compromises them, so you don't have to worry about the wind blowing your gutters off!
Can Handle All Weather
Raindrop Gutter Guards can withstand any amount of water ranging from a light drizzle to an intense downpour which is key to point out.
Most gutter guards have issues handling large rainstorms because of the sheer volume of water in torrential downpours during the spring and summer.
Because of the openings within the Raindrop Gutter Guards, they are able to easily handle the toughest storms, strongest winds, and most extreme temperatures without letting debris through.
Some guards are great at protecting your gutters, but not so good at letting water enter your gutter trough. This is counterproductive and can lead to water flowing over the edge of your roof causing issues.
Self-Cleaning
The goal is for your gutters to move rainwater to your downspouts and away from your home. A gutter guard system is supposed to protect your guards and prevent leaves and sticks from entering your gutters and clogging them.
Some gutter guard systems actually do a great job of protecting gutters, but they themselves need cleaning annually which leads to the question:
What is the point of having gutter guards if you have to clean them?
Aside from the occasional pine needle, anything small enough to enter your Raindrop gutter guards is simply washed out with the rainwater. Because of the angled mount that keeps the slope of your roof style, you don't have to worry about cleaning your gutter guards like flush mount covers.
Lastly, it is important to recognize that gutter helmets and other rain covers sometimes become desirable nesting spots for birds. Bird nests can quickly clog a gutter and downspout and to prevent birds, you want to make sure your entire gutter is protected.
Always consider gutter guards that offer self-cleaning gutter protection!
Warrantied
Most gutters and gutter guards are not warrantied. Gutter warranties are in fact, rare.
Here at Top Dog Home Pro, we have done extensive research on available gutter guards, and very few offer warranties. However, we are so confident in the Raindrop Gutter Guard product that we offer our customers a lifetime no-clog guarantee.
This means, if we install a new Raindrop gutter guard system, we will guarantee that your gutters won't clog. If they were to, we will come to take care of it for no charges.
Note: After using Raindrop Gutter Guards for over five years, here at Top Dog Home Pro we only had to go clean one gutter corner next to a pine tree. A massive amount of pine needles covered the home's roof and were swept into the guards.
The Verdict –
Raindrop provides protection to gutters unlike any other gutter guard available.
They have thought through each detail to create a maintenance-free and self-cleaning gutter protection system. Once installed, the guards do their job and require little to no attention to keep doing their job, saving you time and money in the long haul.
Interested in learning more about Raindrop® Gutter Guards and their installation? Fill out the form below and we can get you more information to help you with your new gutter guards!