What are asphalt shingle roofs?
While you may not see it up close and perhaps from afar, roofs are some of the most complex and diverse parts of your home's exterior. They come in all shapes and sizes to help address the home's architectural style and structure. However there is one that you may or may not have heard of that's making a lot of buzzes, and that's the asphalt shingle roof.
Sounds very interesting right? 100%. Chances are you don't know ins and outs of this roof style, and that's perfectly ok.
Today, I will break down the Asphalt Shingle Roof question and help you answer:
What are asphalt shingle roofs?
What material/types of asphalt shingles are there
Other roof shingles information you should know
What is an asphalt shingle roof?

An asphalt roof is a fairly simple style of the roofing system and it happens to be the most common.
It is one of the most popular roofing materials out on the marketplace and it is characterized by the use of asphalt shingles and other structural components made out of asphalt such as flashing, roof edge, roof decking, underlayment, and so forth.
Asphalt shingles are unique in the sense that they are naturally fire-resistant, prevent algae growth, and are energy-efficient, reducing energy bills.
They either come in fiberglass or are organic-designed. Fiberglass shingles are waterproof and have glass fibers and ceramic granules that protect against UV rays. Organic shingles have more asphalt, are waterproof, thicker, heavier, and more flexible.
What are the types of asphalt shingles?
An asphalt roof has three types of shingles:
three-tab shingles,
luxury asphalt shingles (or premium), and
dimensional/architectural shingles (most popular roofing material)
Three-Tab Shingles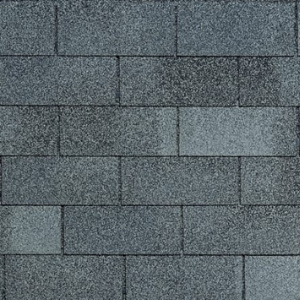 Three-tab shingles are flat and designed in a way that has 3 tabs on the strip shingles that simply fit together like puzzle pieces. Some states actually don't allow roofing companies to install three-tab shingles anymore depending on the wind/weather.
That said, three-tab shingles get the job done and look OK, they're standard with some new installs for brand new homes. However, most roofing contractors recommend at the very least architectural shingles!
Luxury or Premium Shingles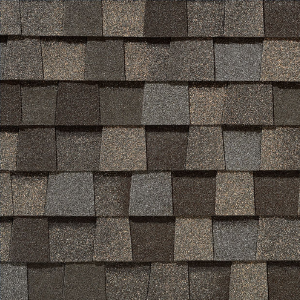 Luxury or premium shingles are one of the largest, most expensive (than other asphalt shingles), intricately designed asphalt shingles on the market palace that give off the appearance that mirrors slate roofing. Slate roofs have ordered slate tiles that line the roof in a horizontal, organized fashion.
While not as heavy as slate tiles, luxury asphalt shingles carry weight to them that should be taken into consideration.
Dimensional/Architectural Asphalt Shingles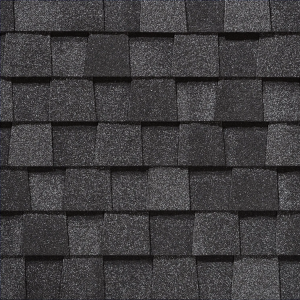 Dimensional/Architectural shingles also going by the "laminate shingles," are the most commonly installed asphalt shingles on the marketplace. Their unique composition and multiple layers give off the impression of being slate tiles or wood shakes.
An asphalt roof replacement is more than likely going to use these shingles because of the fact that they last longer, are more durable, come with better warranties AND they look the best!
Key Information to know about Asphalt Shingle Roofs:
Note: Shingle demands and the ongoing supply chain shortages have led to color selection and shingle shortages too, read more here.
How long does an asphalt shingle roof last?
Shingle manufacturers give an estimated lifespan of asphalt shingles from 20 to 50 years, but the type of asphalt shingles matters. 3 tab asphalt shingles, dimensional shingles, and luxury shingles respectively in terms of lifespan overall.
According to most shingle manufacturers, you could be looking at getting roughly 80-85% of the total lifespan of your roof, assuming your attic is properly ventilated and your roof is installed properly.
Roof Maintenance Matters!
Just like any roof type, Asphalt shingle roofing requires that you regularly inspect it to ensure that there is no built-up debris that could compromise its effectiveness in protecting your roof!
Asphalt roofing replacement is few and far between as alluded to above with its lifespan, but when the opportunity presents itself, a new asphalt shingle roof can be the roofing project you need as you think down the road.
Schedule a roof inspection with a roofing contractor roughly 1-2 times or even more frequently depending on the intensity of your region's elements, observable damage, and so forth. Always smart to think one step ahead!
Only Asphalt Shingles? Other Roofing Materials:
There are more than meets the eye! Not only are there asphalt shingles, but other roofing components that are designed with asphalt that play a pivotal role in the structural integrity of your roof including:
Roof decking – a roof deck is plywood underneath your underlayment and roof shingles
Flashing
Ridge Capping
Pipe boots or pipe collars
Drip Edge
Underlayment
Gutters (some new roofs mean new gutters)
Gutter guards (to protect new gutters and new roof!)
Some people might have areas of metal roofing
How much do asphalt shingle roofs cost?
The price of asphalt shingle roofs is large can be tricky to nail down and is influenced by regional supply and demand of roofing materials, roof system and design, size, and labor for roof replacement.
However, it is recommended to get in touch with roofing contractors in your area to give you a quote based on your home's context. It is wise to stay local in your selection as they may be privy to local problems in the area that could be affecting you as well!
>> Read More About Roof Pricing
The Verdict: Are asphalt shingle roofs good?
Asphalt roofing shingles are designed in a way to give you more bang for your buck in their overall durability, affordability, and multi-faceted composition.
There's no reason they are the most popular choice on the marketplace these days! While its praise is warranted and it fits many needs, that ultimate decision is up to you! There is no one size fits all, every house is different in some way!
If you ever have any trouble or concern making a decision, reach out to us and we will be happy to oblige, simply reach out to us here to learn more about replacing your old roof with a new roof!