Most gutter problems start with the lack of gutter maintenance.
Each spring and even into the summer, we get quite a few calls regarding damaged gutters here at Top Dog Home Pro, and unfortunately, most issues start with a lack of proper gutter maintenance.
Sometimes gutters are damaged because of the Northern VA storms during July and August or the occasional tree limb falling on top of your gutters. Aside from those rare occasions, the real reason for most gutter damage is often due to clogs from improper gutter cleaning.
Most homeowners are left with two options:
Clean your gutters and keep them clear
Install the right gutter guards (not all gutter guards are created equally).
While it may seem trivial, keeping your gutters clear, clean, and functional will lead to a healthier home.
Today, we will explore why it is vital to complete regular gutter maintenance and help you answer the question, "Why is gutter maintenance so important?"
First, what is gutter maintenance?
Gutter maintenance is a simple concept to understand.
In a second, we will elaborate on why proper maintenance is so vital for your gutters' health and your entire home. First, let's define gutter maintenance:
Performing regular gutter inspections (at least once per year).
Cleaning your gutters with either a garden hose or a gutter cleaning company.
Installing gutter guards or gutter covers installed to protect your gutters.
Addressing sagging gutters, malfunctioning gutters, or loose gutters.
Why does gutter maintenance matter for your gutter system?
Keeping your gutters in tip-top shape is vital for protecting your roof, siding, and even your home's foundation.
While we will explore what happens when gutters are not properly cared for, improper gutter maintenance can lead to staining of your siding, wood siding rot due to repeated dampness, shingle issues, foundational issues, basement leaks, and even an increase of termites and other creepy critters making their debut.
Your gutters are designed to do the following:
Take rain from your roof during a storm and collect it in your gutters
Channel that water to the downspouts
Let the downspouts displace the water in designated areas away from your home, and its the foundation!
The rain gutter system is integral to protecting your home's exterior, and it is also very easily compromised if not properly maintained.
Typically, leaves fall in more seasoned neighborhoods with established trees and foliage in the later autumn months. It is crazy to think, but dry rot and brittle leaves are terrible for your home's gutter system.
Leaves and small branches can quickly collect in your gutters and can create a blockage, especially around downspouts. Blockages lead to backups, and when the water can't drain properly, it will either overflow or even pull your gutters away from your home over time.
This is why it's important to check your gutters after the last leaves fall around November and even again in the spring!
However, there are also great options for gutter maintenance that don't involve you calling a gutter cleaning team or doing it yourself (such as Raindrop self-cleaning gutter guards).
>> Learn more about what gutters do here!
Gutter Issues to Watch For: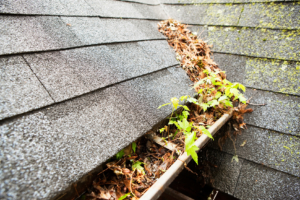 Avoiding the common gutter problems is key to keeping you in working order. A few leaves, a few storms, and suddenly, your gutters are clogged and can quickly pull away from your home. It happens faster than you might think.
These are scare tactics, but things like leaves and birds' nests clog gutters very easily every year. Designed to displace stormwater, water can accumulate and weigh down your home's gutters when gutters are not clean or functional.
Your gutters are designed to hold water temporarily, just enough time to displace rainwater during a storm through the gutter downspouts – not to support the weight of water for an extended period of time.
Signs of Clogged Gutters: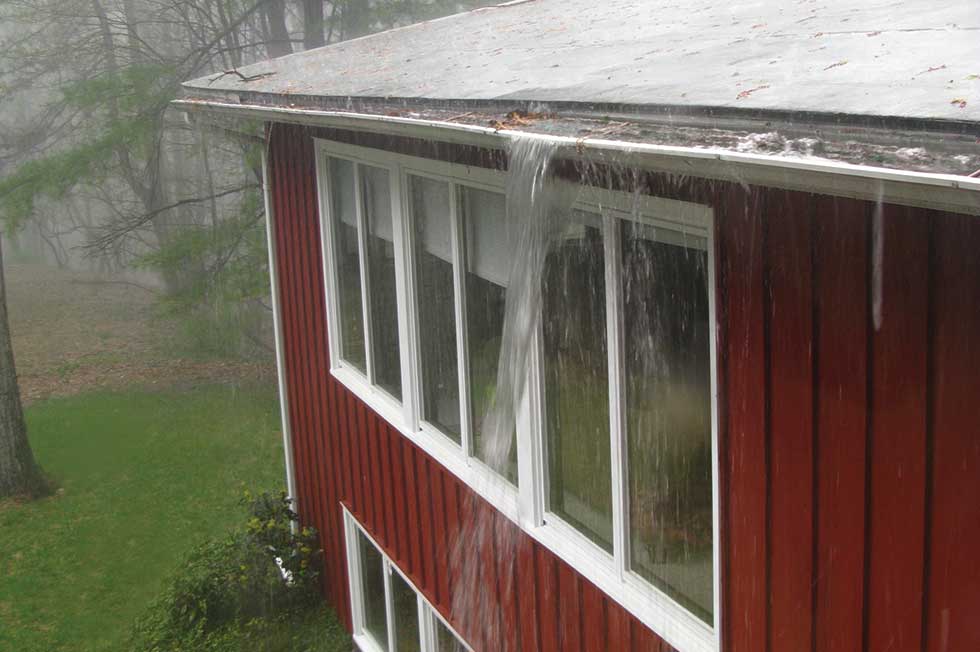 Have you noticed your gutters overflowing? This could be due to clogging, rust, leaks, or other gutter-related issues.
Older gutters that use gutter spikes screw-in hidden hangers are more susceptible to pulling away and falling. Here is a quick list of what to watch out for:
Water overflow during storms. If you see rain water rushing over your gutters during a storm, almost like a waterfall, you most likely have a gutter issue that needs attention.
Sagging gutters. This is obvious, but when your gutters are sagging, they're not working properly.
Gutter spikes sticking out. This usually means the weight of your home's gutters has loosened the gutter spike, and it will start to slip out some.
Birds in your gutters. If you notice birds always around your gutters, they might be nesting, which can quickly lead to a clog!
The result of these if they are not addressed, are issues with your home.
Common gutter clog issues include:
Ground and landscape erosion from the overflow
Pooling around your home's foundation
Rotting fascia boards
Siding leaks
Insect and mosquito issues
How to Perform Gutter Maintenance:
Proper gutter maintenance isn't that hard, and really, you have three options:
Clean them after all leaves have fallen in the fall
Have someone clean them for you
Get self-cleaning gutter guards (or the next topic, but you can read whether or not they're worth it here)
We recommend going with the option of installing gutter guards, but we will also review gutter cleaning below:
Gutter Cleaning: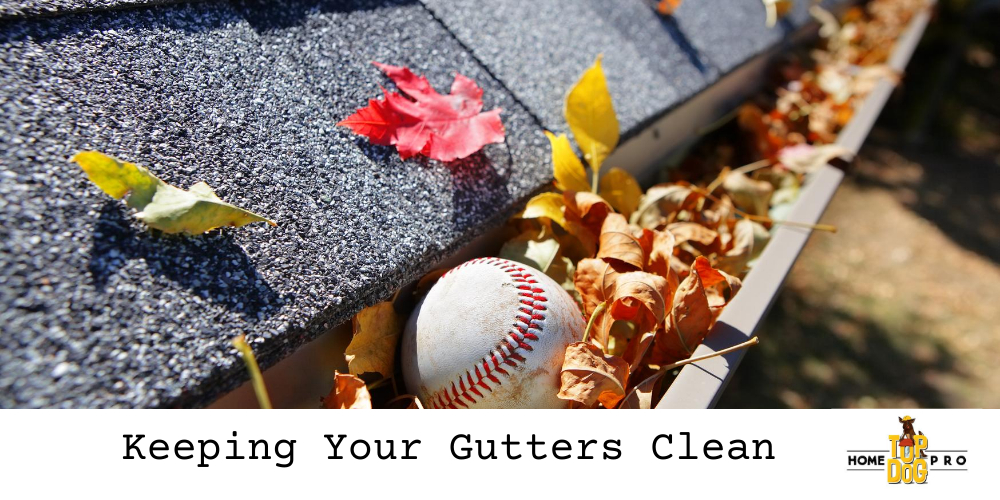 Clean gutters are like oil changes for your car.
You wouldn't drive your car for thousands of miles when it needed an oil change, so why do we expect our gutters to perform at a high level when they need some gutter maintenance? Gutter cleaning prices shouldn't compromise you cleaning your gutters or having it done by someone.
If you decide to go with option number 1, maintaining and cleaning your gutters yourself, here is what we recommend:
First, read up on ladder safety and have someone help you. Do not attempt to clean your gutters by yourself.
Get a bucket, gloves, and a ladder.
Place your ladder at one end of your gutters.
Use your hand to scoop debris and leaves from gutters and place them in the bucket.
Move ladder every few feet – DO NOT LEAN
Repeat around the house until gutters are clean
Lastly, spray water into gutters to clean out the small stuff and to make sure downspouts drain
We personally recommend that if you decide to clean your gutters on your own, you are aware of the risks involved with ladders and gutter cleaning.
Ladders, especially on two or stories homes, are dangerous, and you should exercise safety! You can also hire a professional gutter cleaning company to come do it for you. On average, gutter cleaning is performed in late fall and ranges in price but is usually $150.
Of course, the long-term option is to simply just get self-cleaning gutter guards!
What about gutter guards?
Some homeowners are very reluctant to install gutter guards because of negative past experiences!
We get it; what is the point of having gutter guards if they don't work or they themselves have to be cleaned??
Unfortunately, many gutter covers and gutter guards are cheap, break easily, or they simply don't work. Some gutter guards are great at preventing leaves or birds from entering your gutters; only they have to be regularly cleaned!
This is why we recommend that if you do want to get gutter guards, make sure they are self-cleaning.
At Top Dog Home Pro of Woodbridge and the surrounding area, we believe in efficiency and working smarter. The gutters we have installed for you have already added protection and value, so why not make upkeep easier while we are at it?
We have teamed up with Raindrop to offer you the best gutter guards for your needs.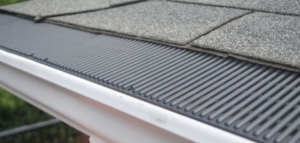 With the gutter guards, you will:
Save money without having to worry about cleaning your gutters
We offer a lifetime NO CLOG warranty
Improve gutter water flow
Add fire protection
Alleviate ice dams and gutter freezing
Avoid mice and other insect infestation
Stop blockages
Prevent premature rust and corrosion
Image via Raindrop
Final Word on Gutter Maintenance:
When it comes to your home, as silly as it may seem, you can't afford to NOT take care of your gutters.
Gutter maintenance is vital for protecting many aspects of the exterior of your home – from the foundation to landscaping, all the way to your home's siding and roof! When you wonder where roof leaks come from, it could be your gutters (or pipe collar leaking)!
If you have ever visited our Facebook Page, you will see a few videos of where clogged gutters have literally eroded and damaged paved driveways over time!
And while water may have carved out the Grand Canyon over the years and the likelihood of that happening at your home is slim to never – we do want to help you protect your house so don't hesitate to inquire about outfitting your home with new gutters, gutter guards, or even asking about gutter maintenance here!
---
Did you know: The cost of new gutters can be more affordable than an actual gutter repair? Also, new gutters may prevent you from needing a new roof!
---
Frequently Asked Questions:
How do I maintain my gutters?
The best maintenance tips for your gutters are simple:
Clean them one time per year each fall
Install gutter guards to protect your gutters (leaf protection)
How often do gutter guards need to be cleaned?
If you consider installing gutter guards, be sure to get a self-cleaning gutter guard. Cleaning gutters is one thing, but you shouldn't have to clean your gutter guards if you select the correct guard.
In the case of having older gutter covers or gutter screens, check them at least one time per year, and you may have to rinse gutters/guards every few years. Just be sure you have a sturdy ladder.
Do gutter guards need maintenance?
Some gutter guards require maintenance, which may mean checking and clearing, especially flush-mounted guards and gutter screens. The gutter guard we recommend is the Raindrop Gutter Guard system, and it is self-cleaning, meaning you don't have to clean it .
Other debris to watch for might include pine needles, sticks, and birds nest.
Why do I have to clean my rain gutters?
Homeowners who do not install gutter guards and live in an area with many trees have to clean their gutter guards to avoid a gutter repair or even replacement. Clean gutters are vital for your gutters and your home's foundation and roof. Water that is not properly disposed of during storms can lead to interior and foundational leaks.
This prevents the need for new gutter installation and having to repair gutter joints that leak! You can find gutter cleaning tips under the gutter cleaning section of this article above.
More Gutter Maintenance and Gutter Articles: