Your home's gutter is an integral element in protecting your home. – That being said, there is a catch… literally. Often times gutters can easily become overrun with leaves, sticks, and debris, thus causing disruption in managing heavy rainstorms. This also means more tasks for you as a homeowner with annual gutter cleaning! However, luckily for you,
Top Dog Home Pro specializes in offering gutter guards in Woodbridge, VA, and surrounding areas that are self-cleaning and have a life-time no clog warranty! 
Gutter Guard Installation: Our experts install Raindrop gutter guards to both existing and new seamless gutters that fit perfectly into your home's composition. By choosing Top Dog Home Pro, rest assured that your new gutter guards will be an excellent investment in your home, resulting in increased protection and value.
Gutter Guards Save You Money: Not having to clean your gutters every spring and fall saves you money. In fact, studies show that a single-family home outfitted with new gutter guards will pay for itself in 3-4 years!
Never Clean Your Gutters Again: With our Raindrop gutter guards, you never have to worry about cleaning our gutters ever again, EVER! It's our guarantee.
Free Gutter Inspection Included: Even if you're unsure if your gutter needs gutter guards, it's a good idea to have an expert come and take a look. Should your gutter need to be fixed prior to installing guards, we ensure we will give you an honest and transparent recommendation!
What is a gutter guard, and why should I install it?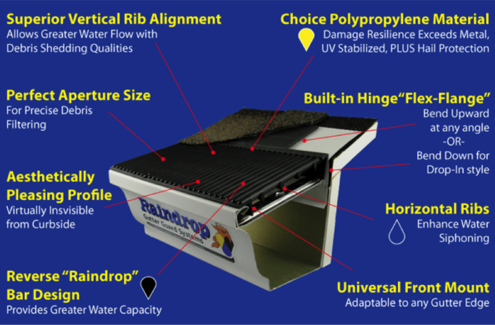 Keeping gutters clean and free of leaves, sticks or other debris is an excellent low-maintenance method to protect your home and gutter system.
We've teamed up with Raindrop® to deliver gutter protection like no other. The Raindrop® gutter guard fits on every home, roof style and gutter system and is essential in providing a maintenance-free & self-cleaning gutter protection system.
What makes Raindrop® Gutter Guard stand out from the rest is the system's capacity to handle any amount of water – from a spring mist to a torrential downpour. Made from a special blend of polypropylene and UV stabilizers, these guards can withstand the harshest storms, hottest climates and coldest seasons with ease. In addition, they are virtually invisible and the black color can help to absorb heat from the sun to control ice in the winter season.
WHY CHOOSE TOP DOG HOME PRO FOR YOUR NEXT GUTTER GUARD PROJECT?
We're the leading source of 5" and 6" gutters in Northern Virginia, delivering unparalleled quality and performance for each and every installation. This marked with our gutter guards and offering the highest rated guards – Raindrop – at affordable prices is essential. 
You can get an online quote with our sister gutter company using this online gutter calculator!