We've all been there – the garage becomes a black hole during the winter months, magically attracting everything from old decor to gardening tools. With the holidays and colder weather, it's hard to find the motivation to organize the space, and who can blame you! But, now spring is here, and you actually need access to your tools and gardening supplies to get started on your spring cleaning and home improvement. Feeling overwhelmed by the black hole that is in your garage? Try a few of these easy DIY hacks to make organizing this space a breeze!
Use PVC to Organize Your Large Tools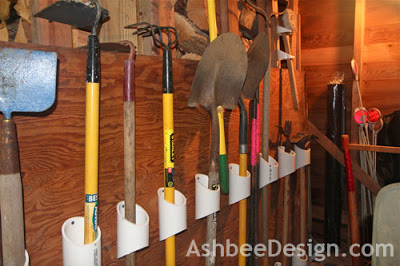 It can seem difficult to store things like shovels and rakes without investing in a novel rack system, or picking a dedicated corner in the garage, making it hard to rifle through when you really need to grab something. This easy DIY storage idea takes only a few pieces of PVC, some wood, and some time to piece together the perfect way to organize your larger tools. This can even be used for smaller, gardening tools, too!
Storage Space for Your Ladder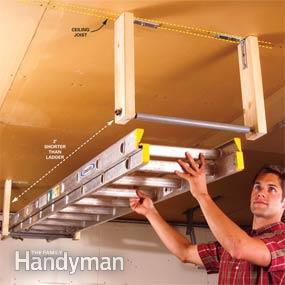 Let's be honest – there's only so much space in a garage, and we need to make the most of what we've got. A great way to store bulky items like ladders or sleds is to store them on the ceiling, giving more available space on the floor for other items that may be a bit easier to work with. Try this DIY storage solution for ladders and see what a difference it can make in your garage.
DIY Garage Shelving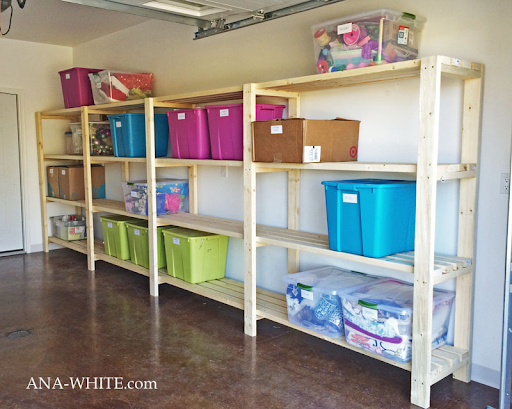 Perhaps you are a lucky person, and your garage allows for some more space to include shelving. Instead of investing in confusing shelving units from Ikea, try building and installing a shelf system on your own! This is a great way to store bins full of holiday decor and miscellaneous items that you want out of the way. Use this DIY tutorial to build the shelves pictured.
Pro tip: Once you have the shelves up, store your items in clear bins so you can clearly see what is in each bin without removing it from the shelf. Labels help, too!
Simple Bike Storage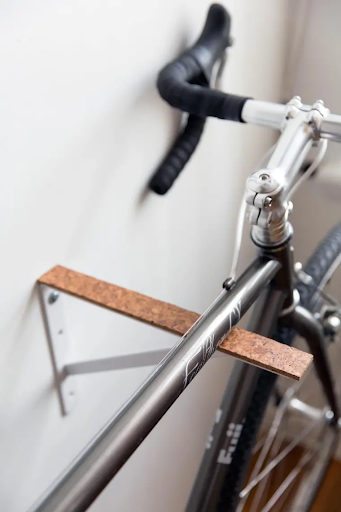 Image via Design Sponge
Looking for a simple way to store your family bikes? For each bike, use two brackets and install them on the garage wall to hang your trusty ride. It's simple, easy to do, and makes your bikes easily accessible for your next adventure! These brackets are covered in cork and sealed to add a nice element of design and ensure the durability of the storage solution.
Hand Tool Wall Display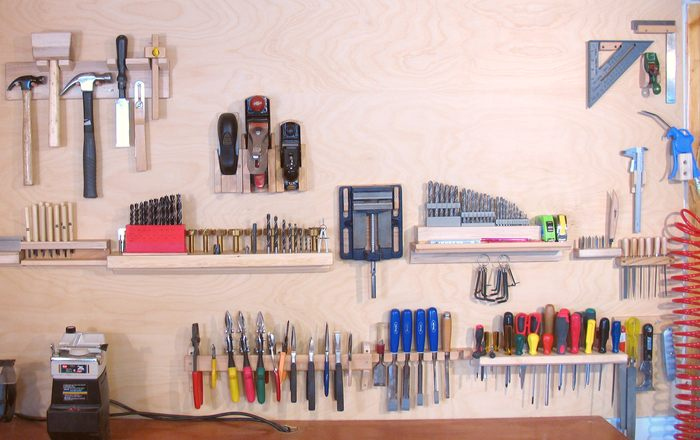 Image via Wood Gears
Follow this DIY project to achieve a clean and organized wall over your garage workbench. From hanging hammers and screwdrivers to displaying drill bits, this DIY project is simple in executive and creative once complete! Play around with colors and organization to really personalize this storage possibility.
So what are you waiting for? The warm weather is here, and your garage is waiting for a revamp. What organizational DIY are you planning to try?