Looking for the top siding, shutter, and door color combos?
Springtime means sprucing things up! As the weather warms up, people are getting into their spring cleaning, gardening, and general housework. What better time than now to start looking into ways to take your home to the next level? Whether you're moving into a new home this spring, or looking for ways to make your beloved home feel like new, something as simple as a new coat of paint can make all the difference – and not just inside – up your curb appeal and make your home stand out this year by updating the paint on your siding, shutters, and front door.
Check out some color combos to consider below:
Top Dog Home Pro: Roof & Gutter Specialists (here is why):
Here at Top Dog Home Pro, we have come to realize during our time in the exterior remodeling industry that too many companies try to do too many things. In the past, we have offered windows, siding, and door services in addition to our staple – Roofing & Gutters. However, in 2020 during the Covid-19 Pandemic, we shifted our focus to offering the best roofing and gutters services in order to specialize. The forced pivot allowed us to truly provide the utmost service when it came to new roofs, gutters, and gutter guards without stretching ourselves too thin in other areas. So if you happen to have a question regarding siding or windows, we have articles in our education center to help, but for the foreseeable future, our exterior services will be focused on just new gutters and roofs!
Shades of Blue
Image via Pinterest
An easy and popular scheme is to play with multiple shades of blues. For a modern look, try a deep grey-blue on the siding with a lighter, fun door and shutters to brighten up the look. If you like that combination of colors, but would prefer a brighter look, try a light blue door, dark blue shutters, and a cream siding.
Modern Gray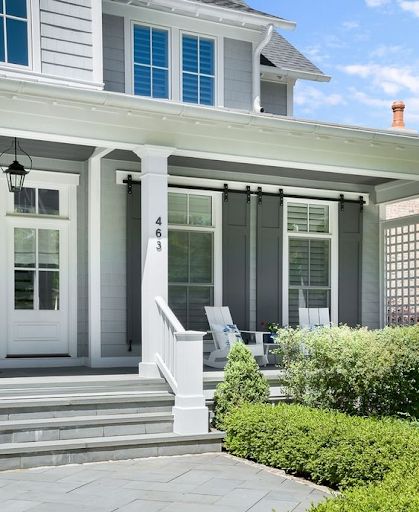 Image via Home Bunch
Greys are the new beige. From a blue-greys to warm greys, you can usually find a shade you like without defaulting to the overdone off-white siding. A great way to accomplish an airy feel is to opt for a very light grey siding, dark grey shutters, and a white door to brighten it up. Interested in a moodier feel? Try a basic grey with deep charcoal or even a black door. An important factor in pulling off the darker greys is to stick with white trim. Check out the image below for some inspiration: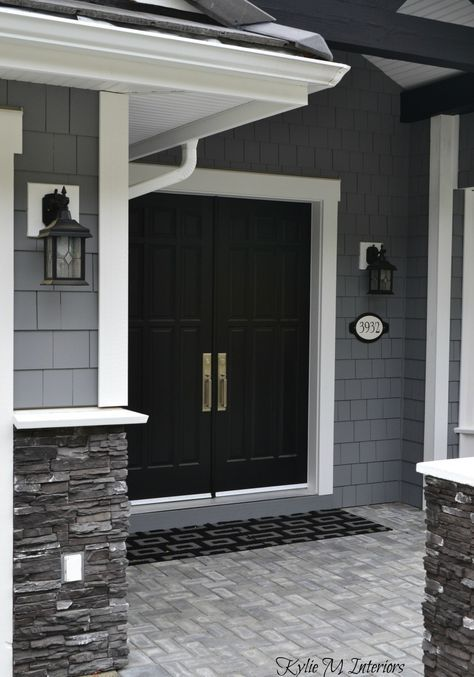 Image via Kylie M. Interiors
Simple and Sunny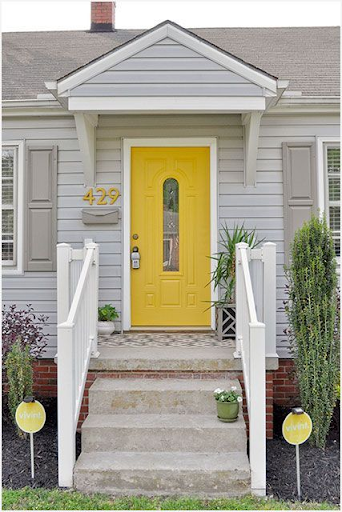 Image via Interiors by Color
Your front door is often the focal point of your home's exterior, so why not accentuate it with a bright and fun color? Keep your siding and shutter neutral and pick a color that makes your home pop from the rest of the houses on the street. A common color used is yellow, which gives bright and happy vibes, but you can always try colors like aqua, purple, or green.
Warm Red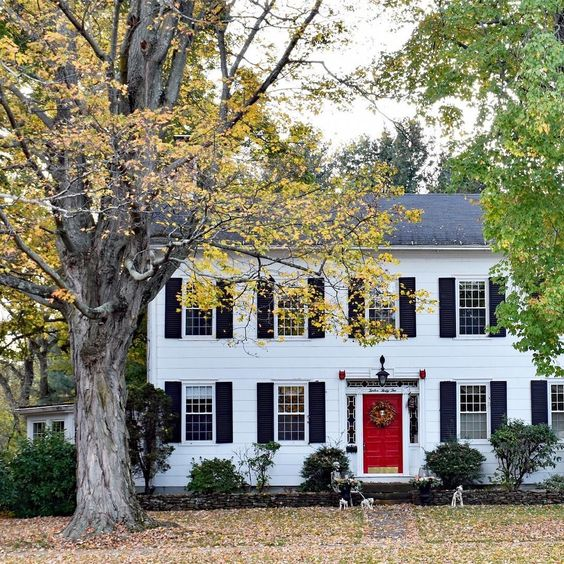 Image via The Front Door Project
A nice, deep red door exudes warmth and hominess – there's a reason it's one of the top colors to paint a front door. A red door easily pairs with brick, white siding, tan siding, or even grey siding. Go full-on with red shutters, or create contrast with a charcoal grey or navy blue.
Classic Black and White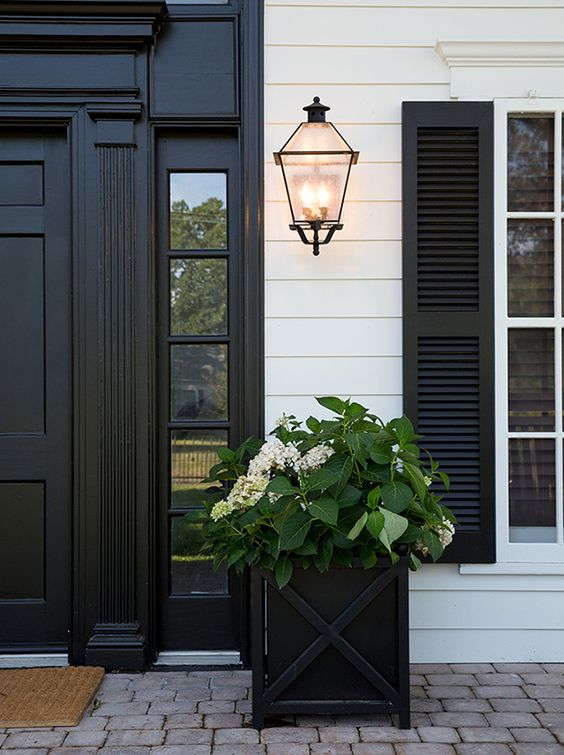 Image via House and Home
Looking for a timeless look? Black and white will always look good and last through any season or decorations you choose to use on the exterior of your home. Take it a step further and paint the door frame and surrounding trim black, as well.