Do you need a roof repair?
Don't worry, we promise we can help make getting your roof leak fixed, or any roof repair for that matter, taken care of in a jiff!
Roofing is your home's first line of defense against the elements – These features serve the vital task of keeping you and your family safe, dry and protected inside. And with most issues involving leaks starting with the roof, we know how big of a pain having to deal with a roof repair can be. That is why we promise to make your roof repair process simple!
How do you know if you need a roof repair?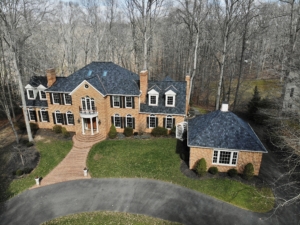 A superior roof is only as strong as the sum of its parts, which means if something goes wrong, a repair is needed. Similar to how there are different types of cars and car models, the same goes for roofs. With technological advancements and ever-changing weather patterns, some roofs were simply not built to last when installed 15+ years ago. Thus, sometimes the inevitable roof leak, pipe collar crack, or worse – rotting plywood – can occur.
We offer a free inspection and fingers crossed, we usually hope the fix is quick and painless for you as the homeowner. However, we know sometimes roof repairs might be needed. We promise to always offer transparent input as the best way to handle your roof repair. For example, if your roof is going need a replacement in 1-2 years, it might be better to hold off on the repair. However, if your roof is in good standing and just needs a simple fix – then the roof repair experts of Woodbridge and surrounding areas will recommend just that!