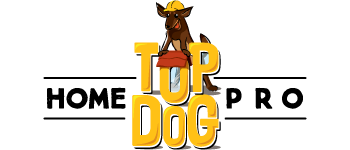 How can we help with your home's new gutter guards?
Who We Are
Top Dog Home Pro has been helping homeowners throughout Northern Virginia with their gutter guard needs for over five years – but we have been in the industry for 30+! See our New Gutter Guard reviews!
ROI
Return on Investment New gutter guards actually save you money! In 3-4 years, new gutter guards alone will save more than cleaning your gutters each fall! See below for more info!
Protection
Your home's gutters will protect your foundation, siding, windows, interior, and roof when they work properly. When they don't… well there could be issues. That is why we make new gutter guards easy!
Warrantied
Most exterior remodeling companies do not offer gutter guard warranties – but we do! In fact, new rain gutter guards installed by Top Dog Home Pro means you can have a lifetime warranty with a NO CLOG guarantee!
Why Gutter Guards Matter –
We will make sure you know why your gutters matter!
---
What do gutter guards do?
Your home's gutter is an integral element in protecting your home. – That being said, there is a catch… literally. Often times gutters can easily become overrun with leaves, sticks, and debris, thus causing disruption in managing heavy rainstorms. This also means more tasks for you as a homeowner with annual gutter cleaning! However, luckily for you,
Top Dog Home Pro specializes in offering gutter guards in Woodbridge, VA, and surrounding areas that are self-cleaning and have a lifetime no clog warranty!
What is a gutter guard, and why should I install it?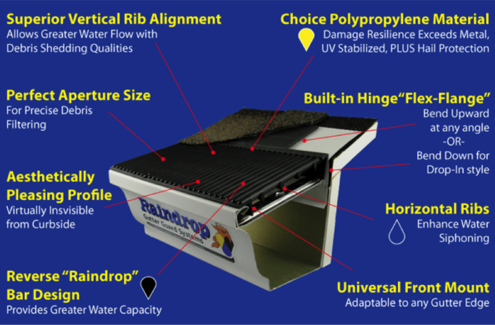 Keeping gutters clean and free of leaves, sticks or other debris is an excellent low-maintenance method to protect your home and gutter system.
We've teamed up with Raindrop® to deliver gutter protection like no other. The Raindrop® gutter guard fits on every home, roof style and gutter system and is essential in providing a maintenance-free & self-cleaning gutter protection system.
What makes Raindrop® Gutter Guard stand out from the rest is the system's capacity to handle any amount of water – from a spring mist to a torrential downpour. Made from a special blend of polypropylene and UV stabilizers, these guards can withstand the harshest storms, hottest climates and coldest seasons with ease. In addition, they are virtually invisible and the black color can help to absorb heat from the sun to control ice in the winter season.
WHY CHOOSE TOP DOG HOME PRO FOR YOUR NEXT GUTTER GUARD PROJECT?
We're the leading source of 5" and 6" gutters in Northern Virginia, delivering unparalleled quality and performance for each and every installation. This is marked with our gutter guards, and offering the highest rated guards – Raindrop – at affordable prices is essential.
You can get an online quote with our sister gutter company using this online gutter calculator!
Gutter Guard Installation
Our experts install Raindrop gutter guards to both existing and new seamless gutters that fit perfectly into your home's composition. By choosing Top Dog Home Pro, rest assured that your new gutter guards will be an excellent investment in your home, resulting in increased protection and value.
Gutter Guards Save You Money
Not having to clean your gutters every spring and fall saves you money. In fact, studies show that a single-family home outfitted with new gutter guards will pay for itself in 3-4 years!
Never Clean Your Gutters Again!
With our Raindrop gutter guards, you never have to worry about cleaning our gutters ever again, EVER! It's our guarantee. We guarantee you a no-clog warranty with our gutter guards – for a lifetime!
Gutter Inspection
Free Gutter Inspection Included: Even if you're unsure if your gutter needs gutter guards, it's a good idea to have an expert come and take a look. Should your gutter need to be fixed prior to installing guards, we ensure we will give you an honest and transparent recommendation!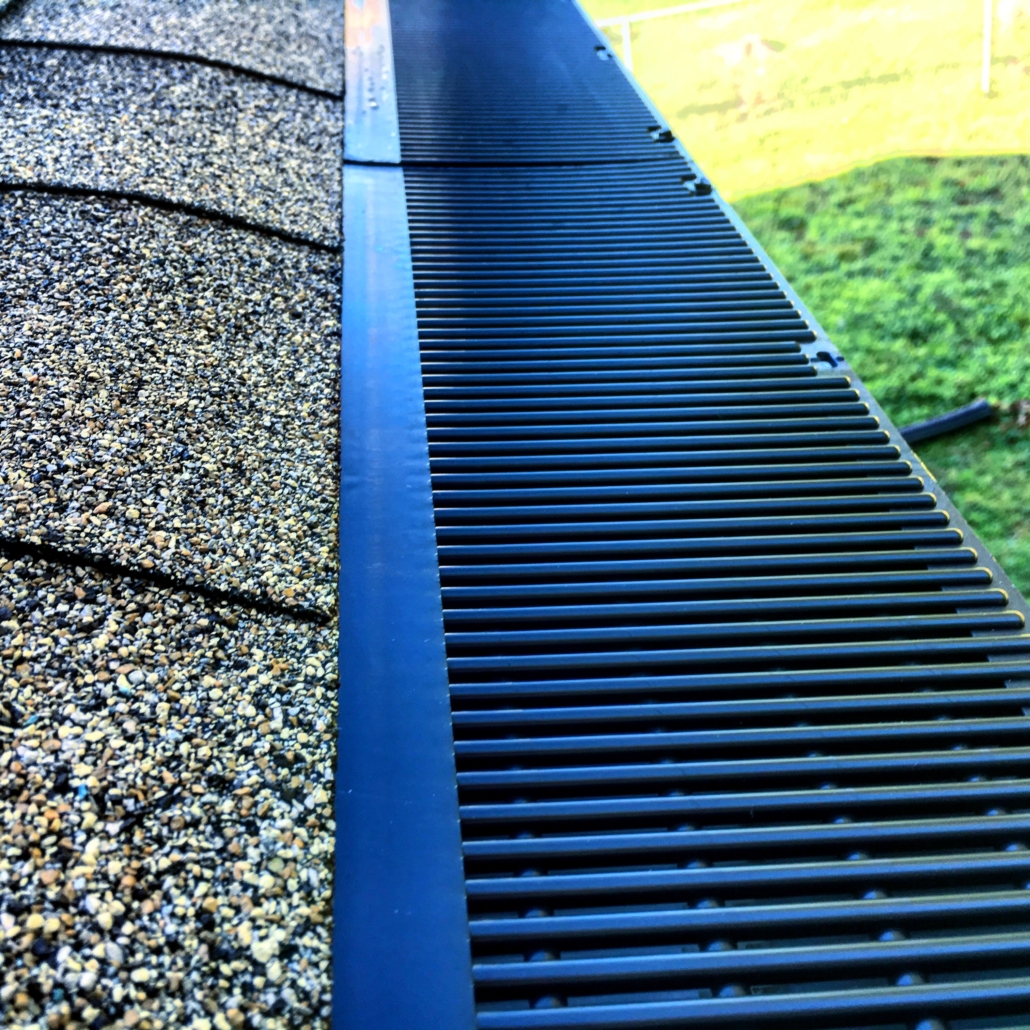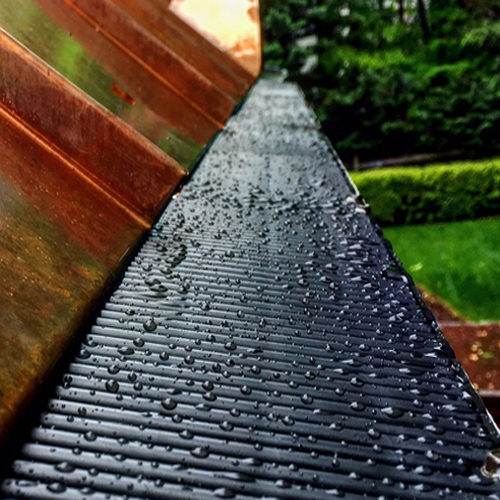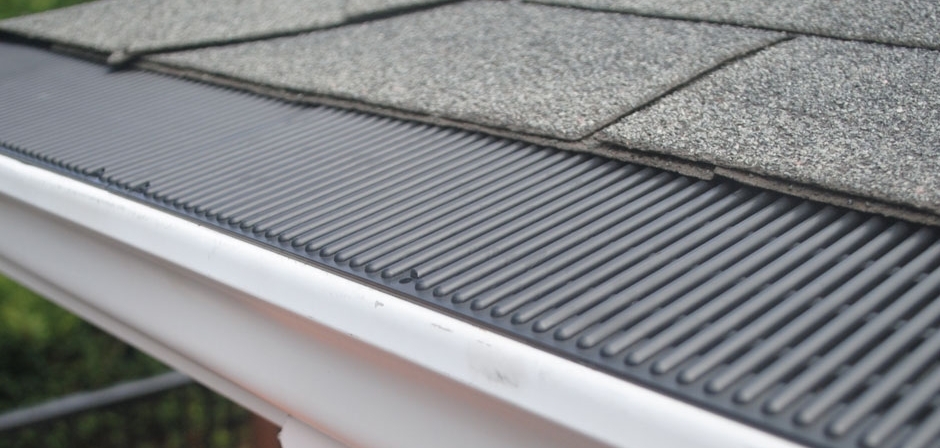 Want to Read More About Gutter Guards:
See what our gutter customers are saying.
Luke and his team at TopDog did a phenomenal job in installing 6" wide gutters, gutter screens and downspouts. From the moment TopDog arrived for the initial consultation, we knew we were dealing with a highly professional company. As we desperately needed new gutters, Luke scheduled the install within 4 days of the consultation. The quality of the workmanship and the level of service we received exceeded our expectations. In addition, we received a favorable quote and an excellent level of service throughout the process. TopDog is a company that practices high integrity, we highly recommend Luke and his team with out any hesitation!
Dee
🙂 Homeowner
During the Covid pandemic I contacted several gutter companies to put a gutter system in place on my townhouse. Several companies were shut down during this time and no longer had their workers employed. I was extremely impressed with Luke Mitchell's quick response, willingness to do the job when it was convenient for me and his attentiveness to detail. While installing the gutter system, he noticed that a couple of my shingles were missing and he took it upon himself to replace those even though it was not part of the original job. Exceptional service, very professional and well priced. You cannot go wrong with this company.
Ramona
🙂 Homeowner
Luke Mitchell is a very honest and professional person to deal with. His team arrived on time, did a very thorough job and the quality is exceptional. Luke even helped to fix some things for me that were not even part of the Gutter and Guard works. He was really nice about it and went out of his way to help me. He stands behind his workmanship and I really like the Lifetime Warranty that he offers.
Alexandra
🙂 Homeowner
A better performing Gutter Guard means a protected home!
Get to know our Gutter Guards.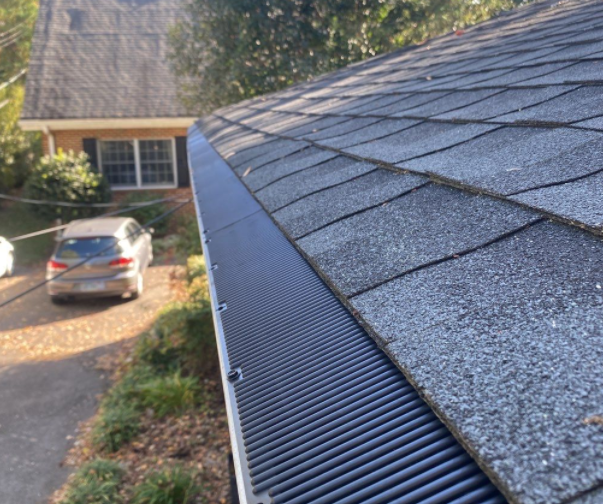 What is the point of installing new gutter guards if you have to clean them or fix them every year?
There are a variety of gutter guards and gutter covers you can choose from. Cheap vinyl to heavy-duty micro-mesh gutter guards and gutter screens make the process somewhat challenging if you're a homeowner.
We don't expect you to be a "Gutter Guard Guru" or triple "G"! That is why we created an entire product review of the gutter guards we use – Raindrop Gutter Guards!
---
Frequently asked Gutter Guard questions.
How much do gutter guards cost?

We specialize in helping homeowners understand the value behind installing products, including gutter guards.

The average price for gutter guards can vary, priced per linear foot. For an above-average and high-performing gutter guard, in most cases, the average price starts at $15.

Sure, you can find super cheap gutter covers for less, but remember, these don't work! The most expensive gutter guards are reverse curve gutter guards, which often start at $30 per linear foot.
How often do I have to clean gutter guards?

We get this question quite often, how often do I have to clean my gutters?

The answer is it depends, but the safe bet is one time per year, usually in the fall after leaves are done falling. This is vital if you don't have gutter guards since your gutters are so important. Gutter maintenance is vital!
What types of gutter guards are there?

We wrote an entire article on the different types of gutter guards here. However, to answer your question, there are many types, including:

Surface tension gutter guards, gutter screens, micro-mesh gutter guards, brush gutter guards, gutter covers, vinyl covers, reverse curve gutter guards, and foam gutter guards.

Here are Top Dog Home Pro we do not recommend cheap gutter guards since they break and cause more issues than they help with!
---
Gutter Guards – These are what we do BEST!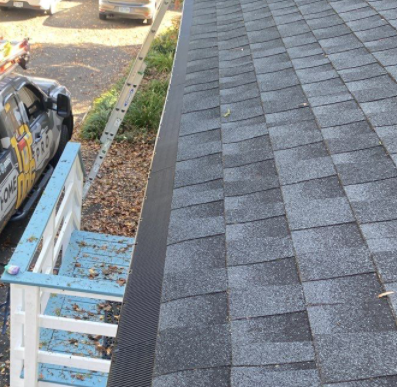 Gutter Guards
Don't know a lot about gutter guards? That is ok, we will help you!
Start with reading up on gutters and why protecting them is vital!
Be sure to set a budget and find out how much gutter guard you would need!
Only the BEST Gutter Guards
Here at Top Dog Home Pro, we only use one gutter guard – the Raindrop Pro Gutter Guard!
A complete gutter guard solution that we guarantee will be 100% clog-free!
Surface Tension Guards
Surface tension guards are vital for several reasons. First, protect all of your gutters from birds and debris! Second, surface tension guards can strengthen your gutter system from large sticks/branches!
No More Covers or Mirco Mesh Gutter Guards
Micro mesh gutter guards and cheap gutter covers are like a bandaid – they don't work!
You need a permanent, cost-effective, and WARRANTIED solution!
Gutters Backed by The Best!