We get it, you are most likely asking yourself the question of the spring: Should I install gutter guards?
As the seasons change from winter to spring, a frequent sight is people on their ladders cleaning their gutters. While a gutter's benefit is immeasurable—protecting the roof and entire house from water—its cleaning can be a less than desirable task.
Cleaning your gutters is tedious and even dangerous (ladder safety). This is why some homeowners may consider getting gutter guards, which often provide numerous hassle-free benefits.
However, you also might be on the fence about gutter guards, the value they add, and whether they are even necessary. Today, we will help you identify the following:
What gutter guards are, the pros and cons, and how they work
Types of gutter guards
Is gutter cleaning better than gutter guards
The overall worth of gutter guards (are gutter guards worth it?)
By the end of this article, you will know whether or not installing gutter guards is worth your effort, we promise! 😎
First, what are gutter guards?

The idea behind gutter guards is to protect your gutter system by helping prevent leaves and debris from blocking rain flow.
When leaves, sticks, bird nests, and other debris find their way into your gutters, they can significantly impact your gutter's performance and even cause serious issues. Gutters are strong, but they're designed to only carry a certain amount of water flow.
Clogged gutters regularly back up your gutters, meaning they are now holding water which becomes increasingly heavy for your home's gutters. Rain gutters that are not clean or protected can pull away from your home, leading to roof leaks, foundation issues, erosion, and other problems.
Gutter guards are capable of keeping out more than just leaves. This is important to know because the average home will see at least 30 inches of rainwater per year and if you live on the east coast, this number is closer to 50-60 inches per year.
Without gutter guards, you can have some serious problems if you're gutters are clogged with leaves.
Should you install gutter guards yourself?
Sometimes homeowners will want to go the DIY route and install gutter guards themselves. We highly advise against this for several reasons.
For starters, any guard you install yourself is most likely a cheaper product and quality guard. Leaf guards that are cheap might as well stay off your gutters. They can easily break leading to even more guards!
Ladder safety is also vital and too many homeowners get hurt each year on ladders outside!
Pros to Gutter Guards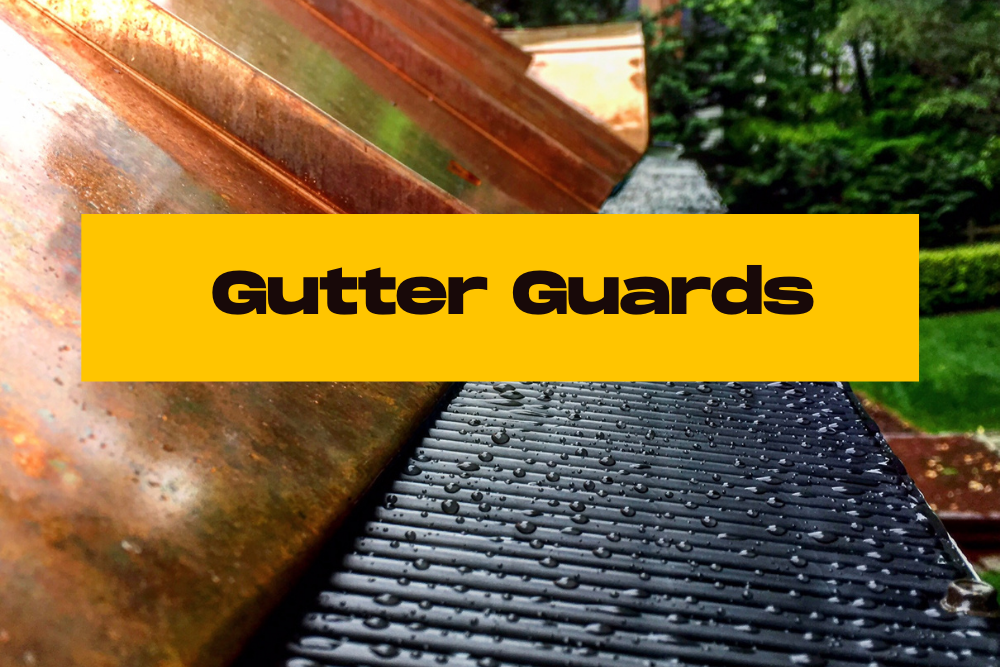 Some of the pros of gutter guards include:
No more gutter cleaning. Reduce the amount of time a homeowner has to spend on their roof or a ladder. Homeowners typically only need to clean out their gutters every couple of years with gutter guards instead of twice a year. Some gutter guards, like Raindrop, are self-cleaning!
No more clogs. Besides not having to get on the roof to clean, they can help reduce the potential for clogs, which may result in overflow down the home. These can lead to leaks in the basement and other rooms, which can create an environment for mold and mildew to grow. It can also impact a home's foundation.
No more pests, birds, or bugs. The RIGHT gutter guards will deter nesting birds, insects, and small rodents from making a nest in your gutters. This depends on the design, but good gutter guards typically result in minimal standing water, which mosquitos love.
Longevity is another potential benefit. No standing water can help the gutters age better and reduce rusting. While adding gutter guards does have an associated price tag, they often can help the drainage system last significantly longer. This could mean significant long-term savings.
In the winter, proper draining can help eliminate a leak from freezing and causing damage, and preventing ice dams.
For homeowners in areas frequently battling wildfires or dry seasons, these guards can help protect the home. Dry leaves and other materials can ignite easily. These extra layers keep material from settling, giving a floating ember nowhere to grow.
Cons to Gutter Guards:
If there weren't any cons to gutter guards, that would seem too good to be true. While keeping your gutters clean isn't that hard, gutter guards can sometimes have some negatives such as:
Gutter guards can actually clog and break into your gutters
Cheap gutter guards actually cause more issues than help
Some view gutter guards as expensive
Gutter covers usually break and are cheap
Gutter helmet systems work well but don't keep out birds
Gutter guards can be unnecessary or not needed depending on your home's situation
Small debris can still enter gutter guards
The gutter guard design can attract birds to nest (reverse curve guards)
Some gutter systems may not fit gutter guards
The gutter guards that are worth it can run $20 or more per linear foot installed
Some articles will say there are no "Maintenance Free Gutter Guard Systems," but that isn't true; they're just hard to find more on this later). Issues with cheap gutter guards can make it not worth your time and the DIY gutter guards are never worth the hassle.
While this isn't an all-inclusive list, these tend to be the top complaints of those who use gutter guards and are not happy with their investment. When it comes to gutter guards, cheaper is not always better!
Like any purchase, the decision to install gutter guards requires research. Luckily, many professionals can help a homeowner decide if it is suitable for their home.
Types of Gutter Guards
✔ Read about the Top-Ranked Gutter Guards of 2022 and beyond here!
Since gutter guards are typically made of mesh, vinyl, hard plastic, screens, or aluminum, you can easily get caught in the trap of going with the cheapest option. However, the truth is you need to get a gutter guard that works and meets the following standards:
Is self-cleaning
Comes with a gutter guard warranty
Most gutter guards will fall into one of the following categories: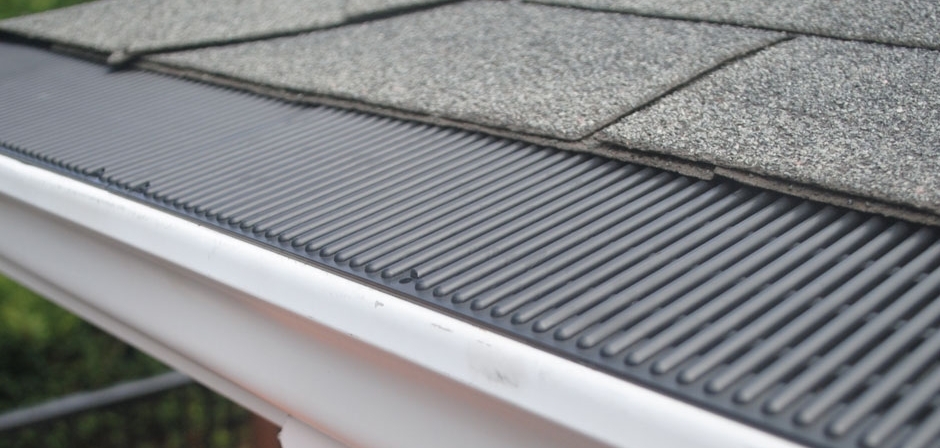 Micro mesh gutter guards
Helmet or curve gutter guards
Foam brush gutter guards
Vinyl gutter guard covers
Aluminum gutter guard covers
Gutter foam guards
Screen gutter guards
Gutter Cleaning or Gutter Guards,
People will ask us, "Should I install gutter guards or just clean your gutters?"
Sometimes the answer to this question depends on a few factors, such as:
How much heavy rainfall do you get per year?
How tall is your home? For example, a three-story townhome with very few trees might not need gutter guards or gutter cleaning.
How many trees and what type are in the area? Pine needles, for example, are tough on your rain gutters!
Once you ask yourself those questions, the next logical question you need to ask is, "What is my time worth?"
If your gutters need cleaning each spring and fall because there are tons of leaves in your area, you have the option of doing it yourself (DIY gutter cleaning isn't enjoyable), or you can pay someone to clean your gutters.
Some people will neglect to clean their gutters altogether, leading to large issues due to the additional weight of clogged gutters from heavy rains. If you think you won't clean your gutters, you should seriously consider guards for your entire rain gutter system.
Just compare the costs:
At $20 a linear foot for a premium gutter guard (this is on the high side of pricing) that is self-cleaning and maintenance-free, the average home can be outfitted for approximately $2,500 to $3,500 dollars.
Annual cleaning can cost between $200 and $500 per year
Your investment can pay off in 5-7 years
You will also increase the longevity of not just your gutters, but the fascia board they're mounted to and your roof shingles
Are Gutter Guards worth it?
Here at Top Dog Home Pro of Northern Virginia, we say YES, gutter guards are 100% worth it when you get the right ones. Gutter guards' worth depends on the product you buy.
If you were to get headphones, you could get cheap headphones that don't last very long, or you can pay for a top dollar.
Here is the verdict when it comes to gutter screens, gutter guards, and gutter guards installed in your home – it has to make sense for you.
If you like to clean your gutters each year, then perhaps you don't need guards. On the other hand, a gutter guard system might make sense for you if you have an issue with trees and pine needles each fall.
Clean gutters are a must – one way or another – so whether you get a surface tension gutter guard (the only physical barrier we see worth it) or not, just make sure you keep your gutters clean and block debris from staying in your gutters!