If you are looking for the best roofing companies in Woodbridge, Virginia, we have a complete list of the top 11 here!
Replacing your existing roof is not an easy task for most exterior roofing companies, and it is a significant investment of money for you as the homeowner. This means you have to make sure you do the following:
Select the best roofing company "Near Me," aka near you.
Research their reviews, roofing prices, and roofing articles (a great roofing company has tons of roofing content on their website for homeowners to familiarize themselves with the roofing process).
It has a simple hiring and contract process, meaning no high-pressure sales techniques!
Now that you know what to look for, we will share our Top 11 Roofing Companies in Woodbridge, Va, and some surrounding areas.
The 10 Best Roofing Companies in Woodbridge VA
Note: As you read this list, it is essential to keep in mind that if you are looking for similar articles on Yelp, Home Advisor, or Angi's List, keep in mind those websites are paid lead websites, meaning they rank companies (sometimes) on how much they pay for leads. So when you are looking for the best roofing contractor in Woodbridge VA an organic result like this one is going to give you the best rankings!
Put another way – it is paid advertising.
Factors we used to complete our list included:
Pricepoints
Small vs. Big Business
Reviews
Company History
Other factors
Now that you know this, it is time to look at our list below!
1. Top Dog Home Pro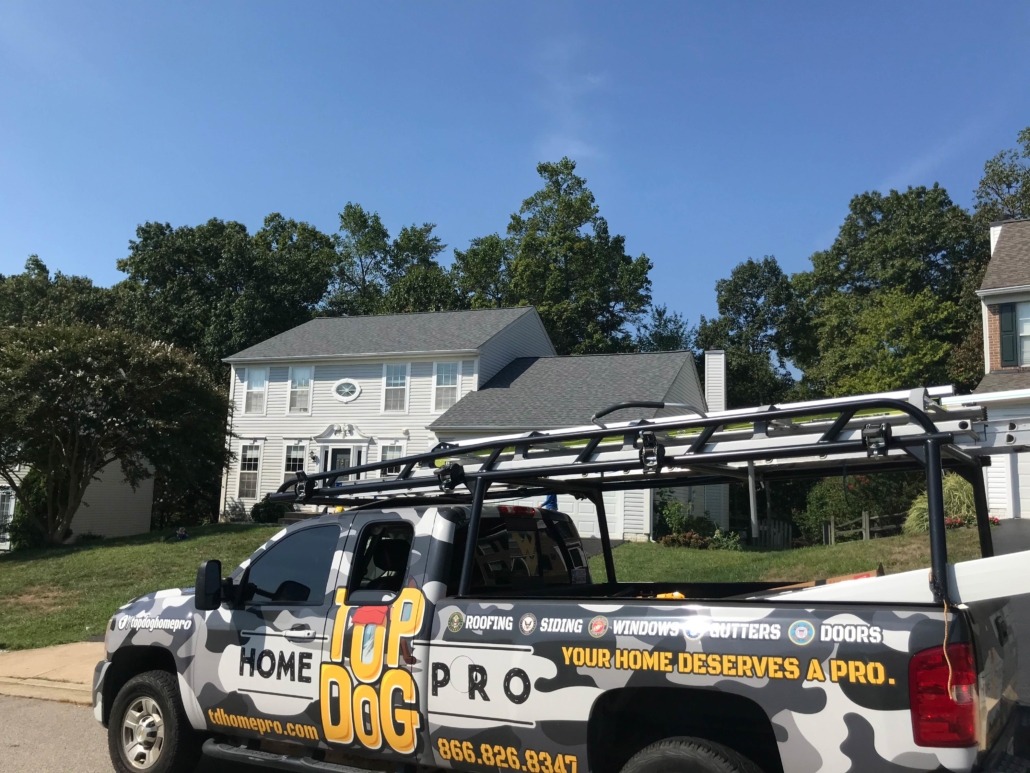 Ok, so we ranked ourselves number one on this list but it is justifiable, and we will share why.
For starters, our reviews speak for themselves. Across all mediums, we have over 120 combined 5-star reviews with just a handful of negative reviews (all of which were handled appropriately or taken out of context – usually after we decided not to move forward with a project)
Our prices are right in line with a small business price (compared to a larger company which will charge more), but we offer "Large Company" production timelines meaning we can get projects done quicker and with high-quality
We are owner-operated. Luke, the owner of Top Dog Home Pro, coordinates all projects.
Top Dog Home Pro is located in Woodbridge VA
2. Pond Roofing
Pong Roofing is a great company for many reasons, starting with the fact that it opened in 19654. Longevity speaks for itself in many cases! Additional highlights of Pond Roofing include:
Locally owned and operated
High-quality workmanship guarantee
Great reputation with their estimators
Overall, Pond is a fantastic Roofing & Exterior company with an excellent reputation. You can't go wrong working with the team at Pond!
Website: Pond Roofing
Pro: 1,000's of 5 Star Reviews
Con: Pricing may be a bit more than a smaller roofing business
3. MLM Home Improvement
MLM Home Improvement is a large roofing company with offices in four different states including Virginia. They are a great company when it comes to its overall sales techniques, workmanship, and project timelines. While they're not located in Woodbridge, VA they do sell new roofs and other exterior products like gutters.
Most reviews are positive and the marketing director here at Top Dog Home Pro actually knows a few employees with MLM Roofing and has great things to say! Overall, you can't go wrong with MLM if some of the other companies from above are not available!
Website: MLM Roofing
Pro: Streamlined buying process for a new roof
Con: Larger company so higher production costs
4. MidAtlantic Contracting
We ranked MidAtlantic at number four on our list and here is why:
They have been in business for 40+ years
MidAtlantic or MAC has an A+ Better Busines Bureau rating
Completed thousands of projects over the years
Family-owned & operated
Plenty of strong reviews
Do excellent work
Based on the features listed above one might think that MAC would be the top roofing company in NOVA but they're a little lower on the list for one reason: Canvasing.
A lot of MAC's business stems from canvassing neighborhoods looking for wind and hail damage. This has led to a little scrutiny in the past when they have been referred to as "Storm Chasers." We are not looking to throw negative their way, but reviews about canvassing neighborhoods for hail damage do exist.
In all, aside from the storm-chasing element and some high-pressure sales, the MAC team does great work and is worthy of consideration if you are in need of a new roof, siding, or deck!
5. Blanco Construction
Blanco Construction is a roofing company in Woodbridge, VA and also a construction company that completes concrete services, remodeling, and also painting. Blanco offers both residential and commercial roofing services for their clients.
To be honest, we don't know a ton about Blanco, but their reviews are positive and they seem like a great locally run company overall!
Website: Blanco Construction
Pro: More than just roofing so you can get multiple projects done at one time
Con: Other companies who specialize in roofing may offer better new roofs
6. Summit Roofing
Trusted since 1979, Summit Roofing is a larger roofing company in the area that has replaced 1,000's of roofs in the Northern Virginia and Woodbridge area for years. Overall, you can't go wrong if you get a new roof replacement when selecting Summit. That said, they are a large company so smaller projects might not be on the horizon.
Website: Summit Roofing
Pro: Lots of products and partnerships with shingle companies, a large team of employees.
Con: 4.7 rating on reviews out 5 across the board
7. Discount Roofing & Siding
With an A+ Better Business Bureau rating and over 23+ years of experience, Discount Roofing & Siding of Woodbridge is a solid company with an excellent reputation. They have been in business for over 20 years!
Website: Discount Roofing & Siding
Pro: Small business feel and solid workmanship
Con: The website is a bit outdated and doesn't give you a good feel of work capability.
8. Smith Roofing
Starting in 1988, George Smith created Smith Roofing which is a locally owned and operated roofing company located in Woodbridge, Virginia.
Website: Smith Roofing
Pro: Locally owned and operated small roofing business with very solid reviews.
Con: Small business, so may not be able to keep up with the large companies on this list.
9. M&M Roofing & Siding
Last, but not least (being in the top 10 is better than not) on our list of the best roofers in Woodbridge, we have M&M Roofing and Siding. To be honest, their website doesn't give a lot of information so you will have to do digging for more details if you want to go with M&M!
Website: M&M Roofing
Pro: Has pictures of large projects they have done in the past on their website.
Con: Smaller company on the list, their website is a bit outdated
10. Consumer Construction of Woodbridge, VA
Want to know something cool?
Luke's (the Top Dog Home Pro owner) father actually started Consumer Construction in the 1980's with his former business partner before selling over 8 years ago. Luke worked on the production side handling all roofing, gutter, and siding projects before moving over to a larger company and supplier, then starting Top Dog Home Pro.
Overall, Consumer Construction has quality reviews and can still get your roofing job done. They also offer siding, gutter, and other home remodeling services.
Website: Consumer Construction
Pro: Longevity, variety of services including decks
Con: Have moved from just roofing and exterior to more remodeling
Other Roofing Company Locations:
The Verdict on Roofing Companies –
The simple truth is that if a roofing company has been around for three-plus years, they are most likely doing something right.
A company in the exterior remodeling industry can not last longer than 12-24 months if they're doing poor work or have poor customer service. If you have any questions, feel free to reach out to the team here at Top Dog Home Pro!