Are you looking for the best gutter guards for your home?
Today, we will help you figure out the best fit. Let us first give you an analogy to understand. Have you ever driven down the road and seen your check engine light come on?
After the initial shock of wondering what the heck could possibly be wrong, the next logical step for most is to get the problem addressed. And sometimes, the problem isn't major – perhaps a bad sensor, a small mechanical error, or something similar.
On the other hand, there is always the real possibility that your car has been telling you for some time it is having some issues, and the light was the straw that broke the camel's back, as the saying goes.
Now, we get it… you're wondering what this has to do with your home's gutters.
Similar to that check engine light, oftentimes, warning signs are there when it comes to our gutters. But just like the car trouble, we don't always see gutter problems (for many reasons, one being height).
That is why today, we will teach you how never to have to worry about your gutters again as we go over the best gutter guards to consider, including:
The Best Gutter Guards For Your Home
Heavy rains combined with clogged gutters are a recipe for disaster, at least for your gutters. One way to be sure your gutters work properly is to protect them. ➡️ Here is the purpose of gutter guards:
First, what do gutter guards do?
Every fall the trees around your home will shed their leaves and some leaves will inevitably find their way into your home's rain gutters every year.
In addition to leaves in the fall, birds love nesting in gutters each spring, and regardless of the season, sticks and pine needles also clog downspouts and gutters. The correct gutter guard will protect your gutters from these issues – birds, leaves, sticks, pine needles – and prevent your gutters from clogging.
As we will explain later in this article, some gutter guards can do all three, but many can do one, perhaps two of the three. So the trick to finding the best gutter guards is finding a guard that can protect your home's gutters from everything!
Lastly, options as homeowners are to either clean their gutters 1-2x per year on your own, pay someone to clean your gutters (approximately $300 per year on average), or install gutter guards and let them do the work for you.
Now, if you're thinking your gutters are not essential to protect, obviously we are biased, but think again.
An intact gutter system is vital to making sure rainwater and melting snow are displaced appropriately throughout the seasons. Protecting your gutters must prevent more significant problems like foundational issues and leaks. Those brittle, dry leaves can become heavy monsters when they're soaking in your gutters and downspouts for a few days!
All this to say, if you're in the market for gutter guards, what are the best gutter guards?
What to look for in gutter guards:
Rightfully so, some homeowners are turned off by gutter guards. They have had poor experiences with what we call low-quality gutter screens or vinyl gutter guards that simply don't do anything but cause more issues.
While gutter screens, gutter mesh, and vinyl gutter guards are certainly the cheapest option, they do not last long, they need to be maintained, and they break easily. Simply put, you would be better off just cleaning your gutters instead of putting a cheap, low-quality gutter screen on your gutters.
So, what should be the gutter guard for your home if that is the case?
Look for a gutter guard that is self-cleaning. This means you don't have to clean the guards, which if you have to clean the gutter guards, why get them?
Ideally, you want the entire gutter protected. Some gutter guards will protect your gutters from leaves, but not birds. And bird nests are one of the leading causes of gutter issues!
What kind of warranty do they offer, and can you adjust them? This last statement might seem silly, but some gutter guard companies have strict policies about their warranties. If you were to adjust a guard or get a new roof, you would have to call them to do it, or it could void your warranty. Instead of you owning your gutters, these companies make money off service calls, and really they own your gutters!
All of this to say, we now know why you need gutter guards, what they do and what kind you need – so where do you start?
Common Types of Gutter Guards
Gutter guards can come in several forms including screen guards, surface tension gutter guards, and fine mesh gutter guards.
While the materials and design of each can vary, of the three, surface tension guards are your best bet. As you will later see when we rank the best gutter guards, our top pick is a surface tension guard.
Surface tension gutter guards are typically more expensive, but they do the best job. We will not rank any gutter screens or gutter mesh simply because they're not real guards.
They are screens that are simply placed on top of gutters that usually break and sag, thus not doing their job (see below in photos). Remember, your gutters are important for protecting your home, so protect them accordingly!
Gutter screens we removed from a gutter installation in Alexandria, VA, 2020: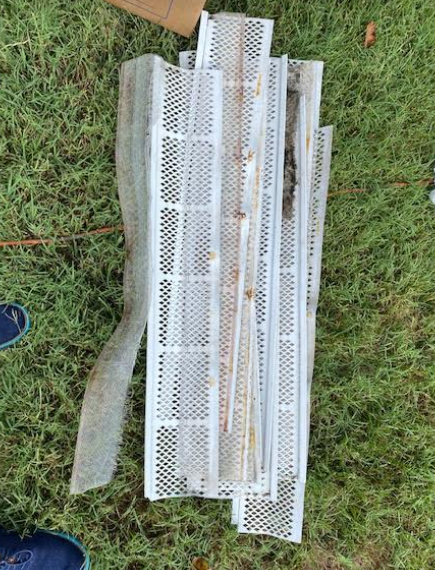 What was underneath these "Gutter Guards" from the same job above: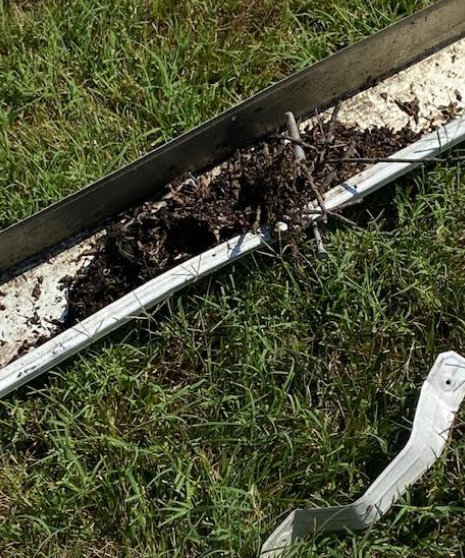 That being said we will quickly explain each:
Common Types of Gutter Guards
1. Vinyl & PVC Gutter Covers
Perhaps the gutter guards you want to avoid the most – vinyl gutter guards and PVC gutter guards are most likely something you will want to stay away from!
Not only are these often cheap but cheaply made too, they are known to compromise your existing gutter system by giving you the false sense your gutters are protected.
Gutter covers are designed to prevent sticks and debris from landing in your gutters, but they also prevent rain from making its way into the gutter trough, therefore, defeating the purpose of your gutters.
Most gutter guards have a flaw or two, but most people prefer to avoid vinyl and PVC covers since they're really not that strong, durable, and while they might solve one problem – leaves – they create another in that your water won't find your gutters!
2. Screen Gutter Guards: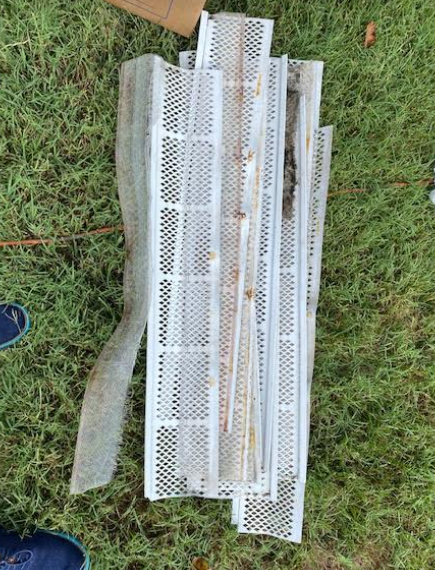 Screen gutter guards are the most common gutter guards you will find because they are easy to install. Pros for screen gutter guards include easy installation, inexpensive, working with all types of roofs, and keeping leaves out.
Cons: Easily damaged by sunlight and branches, can be seen protruding from gutters, REQUIRE maintenance/cleaning, difficult to clean, not durable.
3. Surface Tension Gutter Guards:
Surface tension gutter guards are the most durable on the list but typically the most expensive. They are designed to withstand branches, snow, ice, and windstorms while keeping the bigger debris out. The positive with surface tension gutter guards is they last long and require zero maintenance when installed correctly.
Cons: Surface tension gutter guards are the most expensive on the list and have to be installed by contractors (sorry, Home Depot DIY people). Sometimes, the problematic installation includes adjusting gutters, thus causing more work, and they are easily underperforming during heavy rains. Homeowners report "Water flying off" their houses during heavy rainstorms. This also depends on the specific surface tension guard!
4. Foam Gutter Guards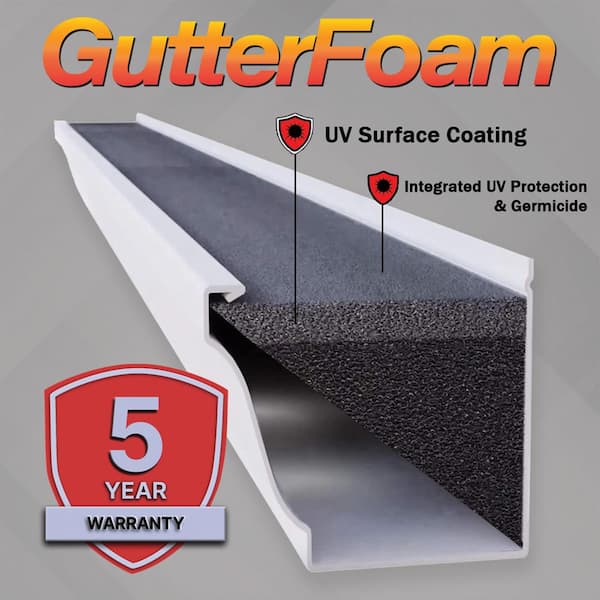 Foam gutter guards are exactly what you imagine and they're a cheaper DIY version of gutter guards.
Usually black in color, foam gutter guards are relatively simple to install, and the foam sections are placed in your gutters flush with the top of the gutters. This allows for rainwater to enter the gutters while holding back debris buildup in your gutters.
Some call these gutter guards sponge guards or foam blocks, but either way the pros and cons of foam gutter guards include:
Pros:
cheap to install
cheap to purchase
long pieces of triangular, arch-shaped foam designed to fit in gutters by sections make it possible to DIY gutter guards installed by the homeowner
Cons:
Require cleaning and can actually themselves can become clogged (think of a dirty sponge)
Need to be removed to be cleaned and then reinstalled, which might mean it is just easier to clean your gutters and go without a gutter guard
Don't last many seasons
5. Reverse Curve Guards
Reverse curve gutter guards require professional installation, and the goal is for the rain to roll down the curve into your gutter with the help of gravity, but for sticks and leaves to avoid your gutters.
In most cases, they will work and do a good job of allowing water to enter your gutters while making sure sticks and leaves do not. However, there are some pros and cons you will want to be aware of:
Pros to Reverse Curve Gutter Guards:
Prevent leaves from entering your gutters
Strong and durable, able to withstand large sticks and snow/ice
Handle other debris well and are better than a screen gutter guard or having clogged gutters
Cons to Reverse Curve Gutter Guards:
Very expensive to install and purchase (starting at $25 per linear foot on average)
Require a specific company to move to fix, clean or if you get a new roof, come out and take it down temporarily, thus costing more money.
Don't do well with heavy rainstorms
Birds like to get into the gutter and build nests with reverse curve guards because of the overhead protection requires a critter company to help
6. Fine Mesh Gutter Guards (Micro Mesh Gutter Guards)
Similar to the screen gutter guards above, fine mesh gutter guards do not let anything inside the gutter system and are flat-mount guards that sit inside of your gutter.
Pros include:
easy to install,
can withstand weather,
customizable for roof types,
simple to clean when compared to screens.
Cons:
Still need cleaning and maintenance,
limited availability and selection
leaves can easily accumulate on top.
You can find stainless steel micro-mesh gutter guards and they do require professional installation, but they're not the top gutter guards in our opinion (more on that later).
The Verdict: Micro mesh gutter guards are usually just as expensive as surface tension guards, but they don't work as well. They protect your gutters, but they themselves require regular gutter cleaning.
7. Brush Style Gutter Guards
Imagine a hairbrush in your gutters that prevents leaves and sticks from entering, but lets the water enter?
That said, brush-style gutter guards are not often used by many homeowners because they're not generally considered superior gutter guards. The pro to using them is they do block leaves in heavily wooded areas but they require maintenance from time to time to make sure they are working correctly and not getting clogged.
The upside is they are cheap and easy to install yourself, just be mindful of ladder safety.
Once again we reiterate our stance: If you have to clean the gutter guards why use them in the first place?
Ranking the Four Best Gutter Guards
Below we rank the four gutter guard brands/styles to help guide you in your purchase.
4.) Gutterglove Micro Mesh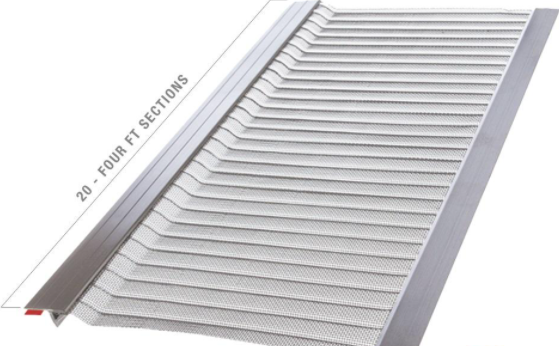 Ranked in the top four due to affordability, protection, and functionality – Gutterglove Micro mesh gutter guard systems do a good job of protecting your gutters from debris and birds. They Help protect the gutter beneath them and are a stainless steel mesh.
That said, they are on the cheaper side when it comes to price, averaging about $3 per linear foot, but that does not include installation. If you are choosing gutter guards based on just price and then functionality, they will work.
Be aware, however, that Gutterglove gutter guards are known to require cleaning and can sometimes hold debris. You will still need to check your gutters for the occasional cleaning.
3. Gutter Helmet
Gutter Helmet is a surface tension gutter guard that comes in at number three for a few reasons.
For starters, Gutter Helmet does a nice job of making sure leaves don't enter your gutters, but they have quite a few cons:
Cons of Gutter Helmet:
Birds can still enter and nest
Rainwater doesn't always get into gutters
Complaints of rain flying off roof during a storm
Over $20 per linear foot!
Have to have Gutter Helmet installers fix, adjust, and take off if you want to get work done to your house!
On the flip side, Gutter Helmet does sometimes come with warranties depending on the installer of your guards and for new gutter guards, they are known to get the job done.
Overall buying gutter guards should be hassle-free and provide the best gutter protection and Gutter Helmet can do those things, but when it comes to affordability they're not always the best!
2. LeafGuard
LeafGuard is a popular selection by many homeowners because overall, it does do a good job of keeping leaves out and protecting gutters. The design is made so leaves don't enter the narrow entrance, however, water is supposed to flow right into your gutters.
However, the issue with LeafGuard is that when it rains hard, they don't do so well!
The biggest issue with reverse curve gutter guards is that during heavy rains, multiple homeowners report water flying off their roofs. Put another way, they don't handle rain well, the most common complaint.
The reverse curve gutter guards design is great for preventing clogs, but not for collecting water during heavy storms.
The small channel reverse curve surface tension gutter guards provide for the water through simply can't manage all the heavy rain. Not to mention, they too are more expensive than #1 on the list!
So if the gutter guard can't manage the heavy rain that accompanies spring and summer storms, what is the point?
Finally, we have your #1 gutter guard solution:
1. Raindrop Gutter Guards!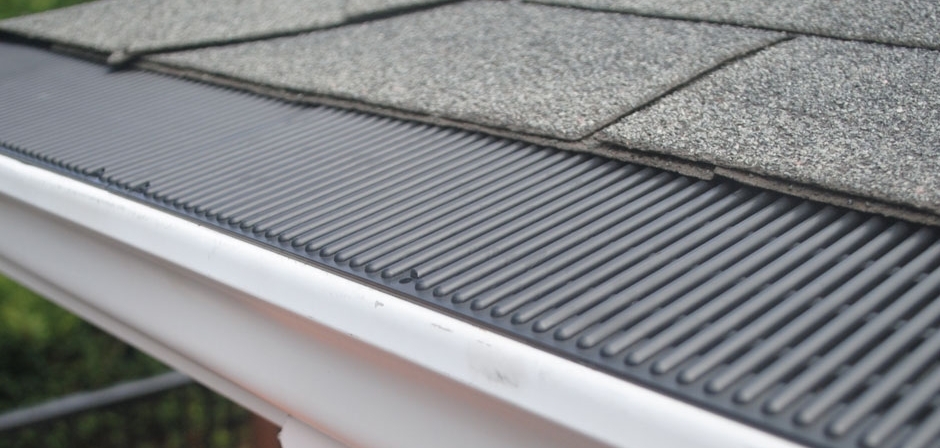 And here is your number one gutter guard for leaf protection – Raindrop Gutter Guards!
Raindrop checks the box for every single one. Unlike screen guards that are cheap but need cleaning, or surface tension guards that don't require cleaning but don't always perform, Raindrop gutter guards are known for their superior quality and performance.
Raindrop® is made from its own unique blend of polypropylene.
This special blend of polypropylene and UV stabilizers can and will withstand the harshest storms, hottest climates, and coldest seasons imaginable. This means it's perfect for any region and location. Not to mention the durability the polypropylene provides!
Watch here: https://www.youtube.com/watch?v=EB6TkjdhhgE&feature=emb_logo
Raindrop Design: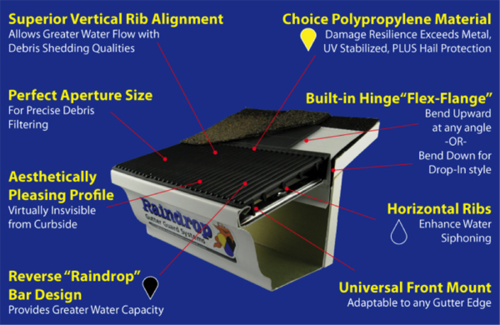 Raindrop gutter guards are designed to cover the entire gutter and prevent leaves, sticks, and birds from ever entering. Small debris such as some pine needles and other organic particles that enter are easily washed out by rainwater.
This is why we offer a lifetime no-clog warranty!
The gutter guards are installed under the roof shingles and attached to the front of the gutter creating a solid surface that can withstand heavy storms. Raindrop's design is simple:
Keep the leaves out
Let the rain in
Last forever
Zero maintenance
Fit & Flexible:
Raindrop® is the most versatile gutter guard available, working with every style of roof and fitting the most common 5" and 6" gutters. They can even be modified to fit gutters ranging from 4" to 10".
The "Flex-Flange" makes Raindrop® highly adaptable to work for every situation, thus installation is easy and simple. While we still recommend a pro installer to install gutter guards, Raindrop fits under the shingle and attaches to the front of the "K-style" gutters.
Good for Ice & Branches:
Ice and snow sitting on gutter guards like the flat-mount mesh guards can actually weigh down gutters. Due to their black color, Raindrop® Gutter Guards heat up from the sun during the cold months, naturally melting snow and ice to keep water flowing into the gutters year-round.
As the video showed earlier, Raindrop gutter guards can also withstand branches that would damage most guards!
Raindrop Gutter Guard Price:
In addition to looking the best, on average, the price for the product you get with Raindrop is unbeatable. We might seem biased, but we seriously love the performance and price range Raindrop offers.
While cheap gutter guards don't perform well and expensive gutter guards still require cleaning, Raindrop is right in the middle when it comes to price.
On average, a single-family home is looking at gutter guards can expect to spend somewhere in between $1,000-$1,5000 on gutter guards for their home. Or look at it this way – 3-4 years' worth of paying someone to clean your gutters.
The Verdict:
While we might seem biased, it is clear that the best bet for gutter guards is Raindrop. To recap, here is why:
Best price
Best product
Best design
Least amount of hassle
That is all you need to know! Oh, and before we part, feel free to use our sister companies gutter calculator here to figure out how much gutter guards would cost!
Frequently Asked Gutter Guard Questions:
What is the most effective gutter guard?
Raindrop Gutter guards and LeafFilter gutter guards are widely regarded as the top gutter guards. The reason is that both guarantee no clogs. They also prevent birds from nesting in your gutters.
That said, as far as gutter guards cost, Raindrop is less expensive than Leaffilter gutter guards or LeafGuard which are very similar to gutter helmet guards.
Raindrop Gutter guards get our vote as not only do we offer a gutter guard warranty because they're so strong and durable, but they also collect water during heavy storms. Some of the guards like Gutter Helmet and LeafFilter, don't catch all the water during a heavy storm!
Do any gutter guards actually work?
Some gutter guards work, while others do not. That is the problem with most gutter guard system(s) in that they cause confusion because some work extremely well (Raindrop) vs. other gutter guards that are terrible such as screens.
Why are gutter guards a bad idea?
DIY gutter guards are often a bad idea. Installing gutter guards yourself is not very easy and in most cases, you can cause damage to your gutters. Additionally, installing vinyl gutter guards, micro-mesh gutter guards (because they are flat and allow for debris buildup to collect), and gutter screens are always smart to avoid!
The goal is to find a gutter guard that requires very little maintenance in the fall.
Are gutter guards a waste of money?
Yes and no. For those who say gutter guards are a waste of money, are most likely referencing cheap gutter guards such as rain gutter screens or gutter foam. These are often made cheaply, don't last long, and in some cases even cause more issues.
However, if you pay money for a high-quality gutter guard that is SELF CLEANING, then it is worth the money long-term. The entire point of a gutter guard is to protect your gutters so you don't have to clean them. So in the end, they're a waste of money if you buy a cheap guard that needs to be cleaned, in our professional opinion.
See our Gutter Question FAQ here for more info & learn about Top Dog Home Pro's story here!