Real quick, if you had to find a rain gutter service in Prince William County, VA, where would you start? Would you look on social media, ask a friend, or perhaps search for "Rain Gutter Service Near Me?"
When it comes to your home's gutters, they are a 10 out of 10 when it comes to their importance in protecting your home's exterior. And with something that important, however, you plan on finding a reputable gutter replacement company in Prince William County, shouldn't matter as long as the company has a solid reputation!
Today, we will share with you everything you need to know about rain gutters, including what they do for your home and how to find a reputable gutter replacement and repair company in Prince William County!
Gutter Services & Gutter Installation in Prince William County:
Finding a company that replaces gutter systems and also does gutter repairs is actually harder than you might expect. For a full gutter replacement, there might be many companies that claim to be the best fit, but very few companies will offer a full gutter inspection. Most of the time it is an a-la-carte service after replacing your roof or siding.
When you need to have a gutter repair, new gutter installation, or simply have a reputable gutter company look at your gutters, Top Dog Home Pro stands above the rest. You don't have to take our word for it either – just look at all of our 5-star reviews for gutter installations we have completed over the years!
To get an instant quote for new gutters, simply fill out this form and mention the estimated total feet of gutters for your home (a rough guess is just fine!)
What to Know About Rain Gutters: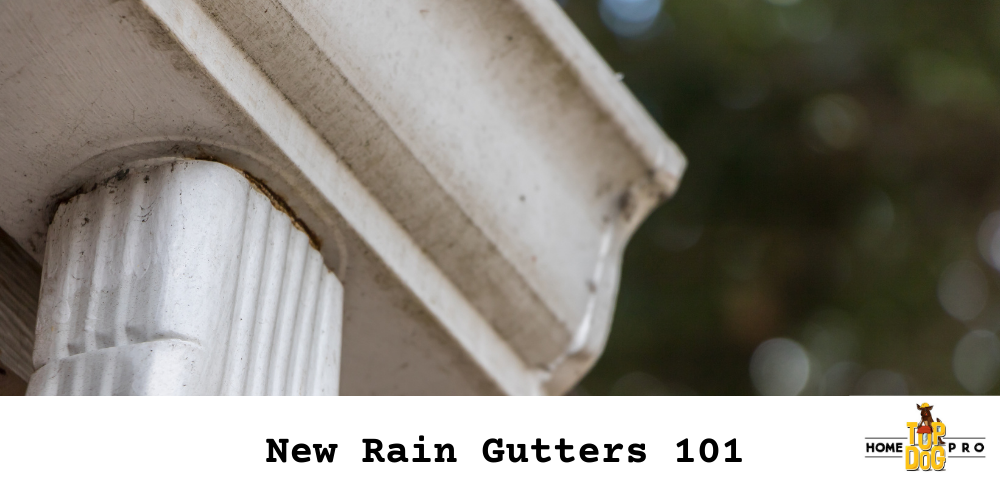 Rain gutters come in a variety of shapes, materials, and sizes! Here are some quick facts to know about gutters:
By definition, rain gutters are long, horizontal trough-like fixtures that are attached along the edges of your roof and home that typically come in 5 inches or 6 inches. They are attached to your home's fascia boards.
Purpose of gutters: to collect rainwater during storms from your roof, channel the water to the gutter downspouts, and finally, the downspouts disperse the rainwater away from your home's foundation.
Possible gutter problems include falling gutters, missing rain gutters, clogged gutters, gutter leaks, and loose gutters.
Gutter leaks can lead to exterior water leaks, foundational issues, erosion, sitting water in landscaping.  
Gutter Service Testomonial in NOVA:
FAQ Gutter Services:
Below are some of the most frequent gutter installation questions we get here at Top Dog Home Pro located in Prince William County, VA!
1. Do I need gutters in Prince William County?
You can read more about the value of rain gutters here, but yes if you live in Manassas, Woodbridge, or the surrounding areas of Prince William, gutters are necessary. All Northern Virginia homes require gutter installation to prevent standing water and water damage.
If you live in Prince William County and don't have one, you need to get a free estimate and install new gutters.
2. What type of rain gutter materials are the best?
The most common gutter material is aluminum. Other types of gutter materials include:
Aluminum,
Copper,
Steel,
Zinc,
Vinyl
The most common and durable material for rain gutters – at a great price – is seamless aluminum rain gutters. Styles of gutters include the most common "K Style" gutters and half-round gutters, aka "European Style" gutters. For cost-saving and customization purposes, typically, your best bet for price and durability is aluminum K-style gutters. Copper, steel, and even ceramic-type gutters are costly.
3. How much do rain gutters cost?
Gutter installation prices can range based on the gutter materials and the gutter installation company you select. That said, aluminum gutter installation costs somewhere around the following price ranges:
6-Inch Gutters: $6.50-$10.50 Per Linear Foot
5-Inch Gutters: $5.50-$8.50 Per Linear Foot
Raindrop Gutter Guard: $10 Per Linear Foot
These are rough averages of rain gutter pricing:
Townhome: Approximately $1,000
Single Family Home: $1,500 to $2,000 +
Large Homes: $2,500 to $3,000+ depending on size, porches, etc.
Factors that determine the price for new gutters include the number of levels, the length of downspouts, porches/garages with gutters & hip roofs.
4. What color rain gutters are there?
The best thing about selecting aluminum rain gutters, aside from the price and durability, is the color options. Traditionally, most people select "K-Style" seamless gutters because they can customize their rain gutter color to just about anything! This is why most homes in Prince William County have seamless gutters installed.
5. Are gutter guards worth it?
Gutter guards in Prince William County are typically with the cost if your home is in an area with mature trees. However, the key is selecting the correct gutter guard. Your gutter installation project should be protected with a gutter guard that is self-cleaning, durable, and doesn't allow for bird nesting.
Just like gutter installation cost, gutter guard cost is per linear foot and based on how much gutter guard your home requires. ➡️ You can read about the best gutter guards here. The upside to gutter guards is you don't have to worry about gutter cleaning each fall!
5. Where does Top Dog Home Pro install gutters?
Our gutter installation process is one of a kind in that we factor labor costs into our gutter installation and offer a labor warranty. That said, you can see our complete gutter service area page here, but we install new gutters in Stafford, Dumfries, Woodbridge, Lorton, Springfield, Alexandria, Arlington, Fairfax, Falls Church, Manassas, Haymarket, Gainesville, Nokesville, and more cities around Prince William County and NOVA!