Where do roof leaks come from and what are the most common causes of roof leaks?
Today, we will answer that question but first, picture this –
Your alarm clock goes off. You stumble to the bathroom, turn on the shower, and grab your towel. As you look up, you see a dark brown stain on the ceiling.
Before you went to bed, storms had rolled in, and it rained all night. Now you notice a new spot on the ceiling you have never seen before.
Chances are, your home's roof has a leak. Surprisingly enough, it has probably been there for some time; you just happened to notice it.
Roof leaks are never fun. This is why we can help answer the common question, "Where do roof leaks come from?"
The 8 Most Common Causes of Roof Leaks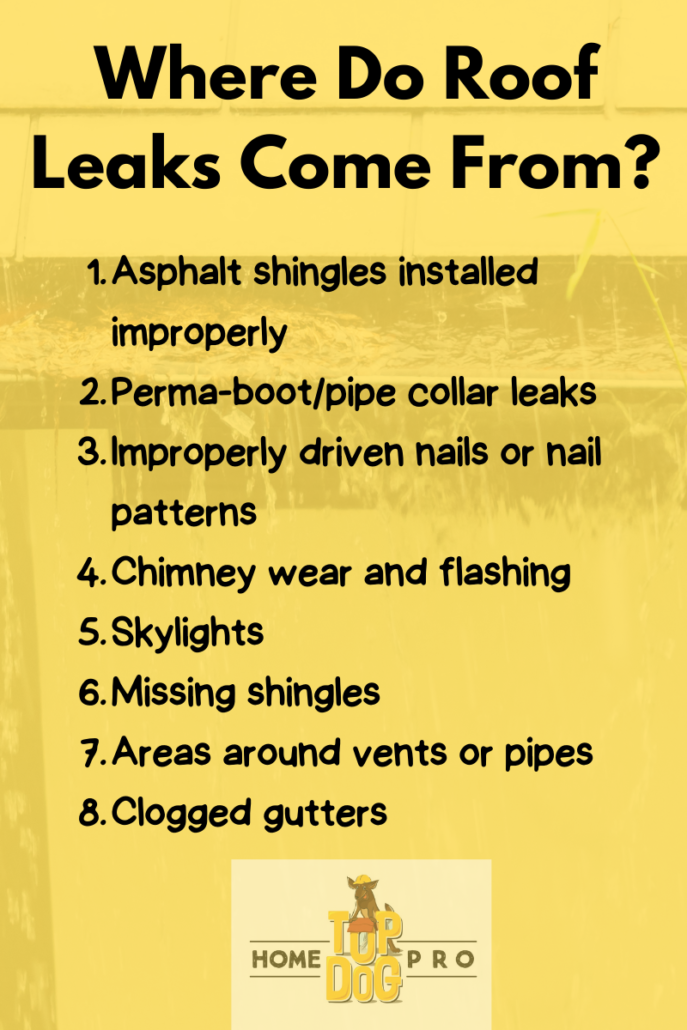 The most common causes of a roof leak are:
Asphalt shingles installed improperly
Improperly driven nails or nail patterns
Chimney wear and flashing
Missing shingles
Areas around vents or pipes
Below we go over why these are typically the problem areas that often lead to roof leaks and the solution for each! As you read each, we highly recommend that you use the one, two, three method:
Identify the problem.
Call a roofing contractor and get a roof inspection.
Get the fix ASAP or replace the roof depending on age (we will elaborate later).
1. Asphalt shingles installed improperly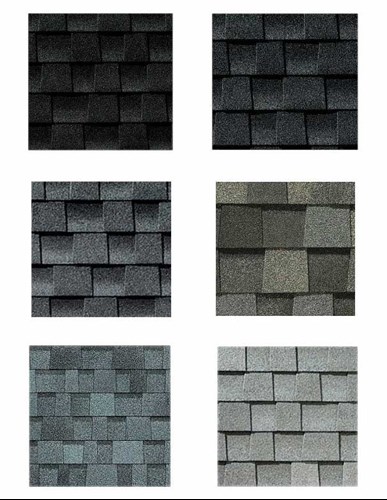 A friend moved into a brand new home and saw missing shingles on his neighbors' house. How is it possible that a brand new home already has roofing issues?
This might come as a surprise, but not all roofers are a "Professional roofer!" Strong winds from storms can cause missing shingles, but so can improperly installed shingles by inexperienced roofing companies. If shingles, flashing, drip edges, and other components of a new roof are not appropriately installed – there can be a roof leak in a matter of months.
While it is challenging to know if your roof shingles were installed properly, if you see dark spots in your ceiling, mold growth, or missing shingles – these could be signs. That said, we have unfortunately done way too many roof repairs of roofs under three years old and most of the time the problem could have been prevented.
>> See more here about roof repairs!
2. Perma-boot/pipe collar leaks
A few years ago a buddy of mine called and said he noticed a stain in his bathroom ceiling. The first thing I said was it is probably a pipe collar leak aka your perma boot!
In Northern Virginia, there are cold winters and hot summers. The weather changes, coupled with sun and humidity in the summer, can cause roof components like pipe collars to age quickly.
An old, worn-down, aging pipe collar can crack, allowing moisture to penetrate your roof. Luckily, fixing a pipe collar is an easy repair for your home's roof and is super affordable!
For our repairs, Top Dog Home Pro uses a Permaboot which is made in the USA. Additionally, permaboots are designed to protect the area around your roof's pipes for 50 years, unlike the cheap collars contractors often use!
3. Improperly driven nails or nail patterns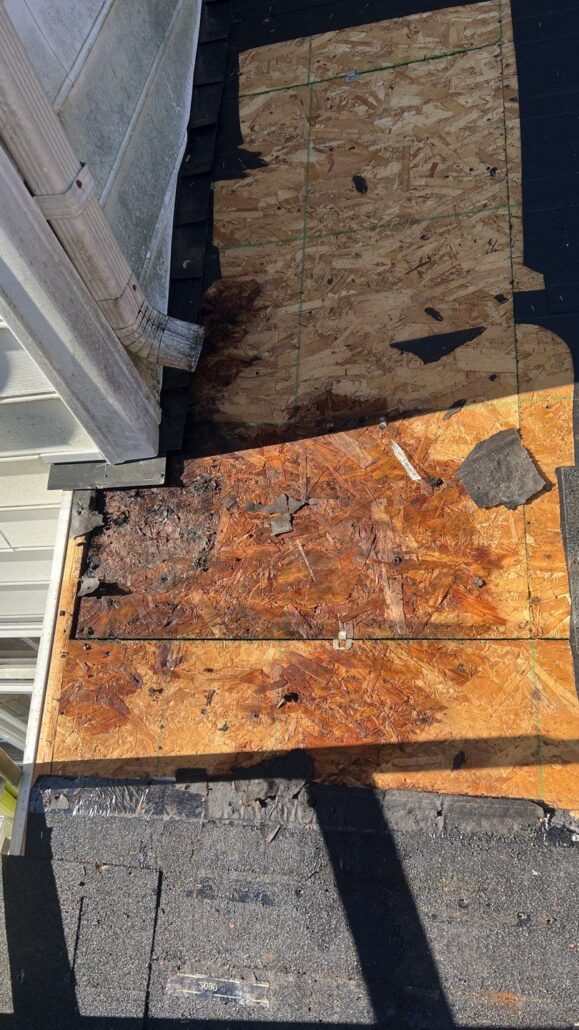 To properly secure new roofing material and shingles, there are specific nail patterns that must be followed.
Following these nail patterns ensures that the shingles are not only secure, but that they are also are nailed into wood. Incorrectly nailed nails can wiggle their way out (think nail pop) and thus be the source of a small leak.
Typically, this leak can show up anywhere and really depends on where the nail heads are exposed. The fix is pretty simple:
Get your roof inspected if you suspect or know there is a roof leak
Find out where the nails are improperly nailed
Resecure shingles properly and correct any other nailing issues
4. Chimney wear and roof flashing
When it comes to chimneys, they are often a beautiful feature inside of the home but they can also mean more work for maintaining the outside of your home.
Many homeowners have to deal with pests in chimneys, chimney cleaning, and now we are the bearer of bad news: chimney leaks.
Flashing is often the cause of a chimney leak and this is good news. Repairing a chimney can be really expensive and requires a chimney expert. Flashing is the thin material used to surround anything that protrudes from your roofs such as a chimney or vent.
When flashing isn't installed properly or breaks down overtime due to weather damage, a repair is required.
The fix?
As Jay from Firesafe Inc a chimney supply and repair company puts it:
Whether water enters from the crown or a crack in your chimney, or even around the chimney flashing, there are simple repairs such as waterproofing, water sealants, repaired flashing.
While some chimney leaks can present larger issues, in most cases flashing repairs are not super challenging for a roofing specialist and are reasonably affordable compared to replacing your entire roof.
5. Skylights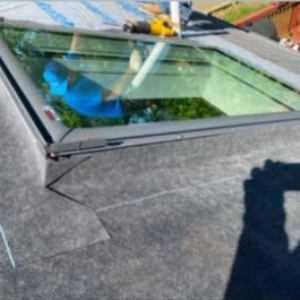 Skylights are a great feature for your home, however, they typically have a reputation of being a pain because of leaks. Oftentimes, it is not the light themselves but the installer and their poor methods that can cause a leaky roof.
While no leak is fun, these are typically easy to identify and simple to correct. Skylights are pretty, one way to prevent leaks is to be cautious when installing them. If you already have them, it doesn't hurt to have an expert check their current state.
6. Missing shingles
Missing shingles are one of the most obvious signs of roof damage. Whether you see a section of shingles missing or find a few pieces in your yard after a storm, missing shingles means a repair or roof replacement is imminent.
It also means you might be dealing with a roofing leak if not corrected.
The fix for missing shingles is simple:
Get a roofing company to look at your roof and determine if you need a roof repair or roof replacement
Depending on what they say, contact insurance if you need a replacement.
If the repair is simple enough, have the repair completed, and don't procrastinate on this one!
7. Areas around vents or pipes
When there is a roof leak, the cause is often the pipe collar or the vent stacks – the pipes that vent from different areas of your home.
Anytime roofing material has to make way for a roof vent or pipe, it requires flashing that is sealed properly. Without this, leaks caused by flashing or vent issues will usually appear in heavy weather conditions.
Act quickly when you suspect a leak is due to venting pipes or flashing problems. One way to prevent this is to have inspect your roof every few years.
8. Clogged gutters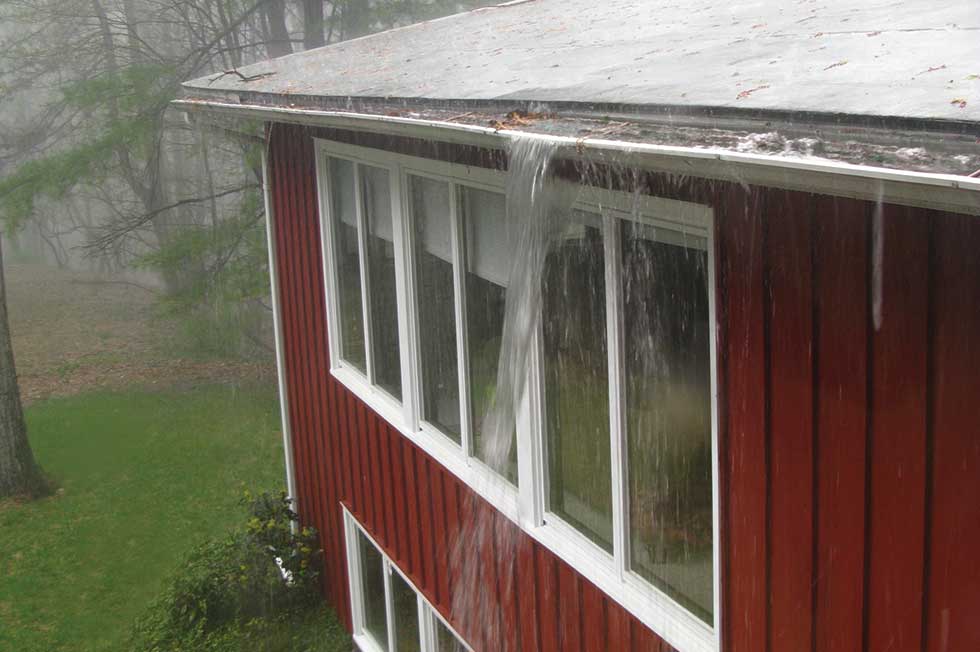 Not only do clogged gutters cause gutter problems, but they can also lead to a leaky roof. Water damming can penetrate a roof that is properly sealed. Roofs are meant to penetrate water, not hold it like a swimming pool.
Gutters are designed to displace water but once again, not hold it. The best solution is always to have your gutters cleaned, but really consider gutter guards! Most pay for themselves in 4-5 years max and Raindrop gutter guards come with a no-clog warranty from Top Dog Home Pro!
Also, debris in roof valleys and a lack of roof cleaning can lead to clogged gutters or roof leaks. Water damage often occurs when water penetrates or gathers.
Be sure to keep your roof clean and healthy, especially if you live somewhere debris builds up easily during the fall!
Bonus: Ice & Water Shield/Drip Edge Issues
Many states require an ice and water shield to meet code for a new roof. A properly installed drip edge at the gutter line on all roof edges combined with ice and water shield is a must for all new roofs.
Water dripping into your home could be the lack of a water shield or drip edge, or ones that are properly installed. If you suspect this is the cause of your roof leak, depending on the age of your roof you may qualify to have it repaired if it is still under warranty!
What Know About Roof Leaks & the Roof System
Your home's roof system as a whole has many working components. The goal of your roof system is to seal your home off while defending it from the elements while allowing for ventilation.
This means that the system is built off each component which includes:
Flashing (material used to cover joints)
Ice & Water Shield
Proper Nail Patterns
Drip Edge
Debris in roof valleys and a lack of roof cleaning can lead to many issues.
As you can see from the list above, a leak can come from many areas. While a properly installed roof shouldn't leak, awareness is critical.
The Verdict – Planning!
Considering these potential roof leak problems can spring out of nowhere, there are steps you can take to ensure you're home stays dry.
For starters, have your roof inspected regularly every few years. Be sure to get a licensed roofing contractor to conduct an inspection. Inspect your roof at least once every 24 months.
Next, while this might seem weird, seriously consider leaf guards, aka gutter guards, for your gutters.
A perfectly cared for and intact roof can easily be compromised if gutters are clogged. If you happen to live in a heavily wooded area, even with a new roof leaks can occur from clogged gutters.
Lastly, consider a new roof if your roof is older than 10 years and the potential repairs are going to cost over $1,500.
In most cases, a new roof is an excellent investment for resale value but also durability. With upgraded shingle technology, there are many advantages to a brand new asphalt shingle roof. If the roof leak happens to be from a storm, this can also be covered by insurance (please check with your insurance provider).
Learn about the new roof process here from Top Dog Home Pro:
Would you like to learn how Top Dog Home Pro separates itself from the rest? Learn about our trusted roofing process here.
---
Frequently Asked Questions
How do I know if I need a roof repair or a new roof?
The answer as to whether you will need a new roof or just a roof repair can be tricky. The best way to determine what you need is to look at a few factors:
The cost of repairing the damage
Is the repair/new roof covered by insurance?
What was the cause of the damage?
Is it under warranty?
When you have the answers to these questions, the best step is to see how long your repair will last or if you will be facing a similar problem in a few months or years. In events where roofing materials are old, it may be worth replacing the entire roof, vent pipes, pipe colors, ridge vents, and so on!