Roof leaks are never fun to deal with.
Typically, they are slow growing and often go unnoticed until, unfortunately, they are a more significant issue.
A recent customer called after non-stop rain when he noticed a blotchy, dark stain on the drywall above his bathroom sink. What he said was typical of a roof leak – moisture was penetrating the bathroom on the top floor of his home.
While this sign of a roof leak was obvious, the same can't be said for other causes of a leaking roof. That is why today we will enlighten you with everything about roof leaks in four simple steps:
How to determine if you have a roof leak
Causes of a leaking roof
What to do once you find the leak
The best ways to repair your leaky roof
Step 1: How to know if you have a leaking roof.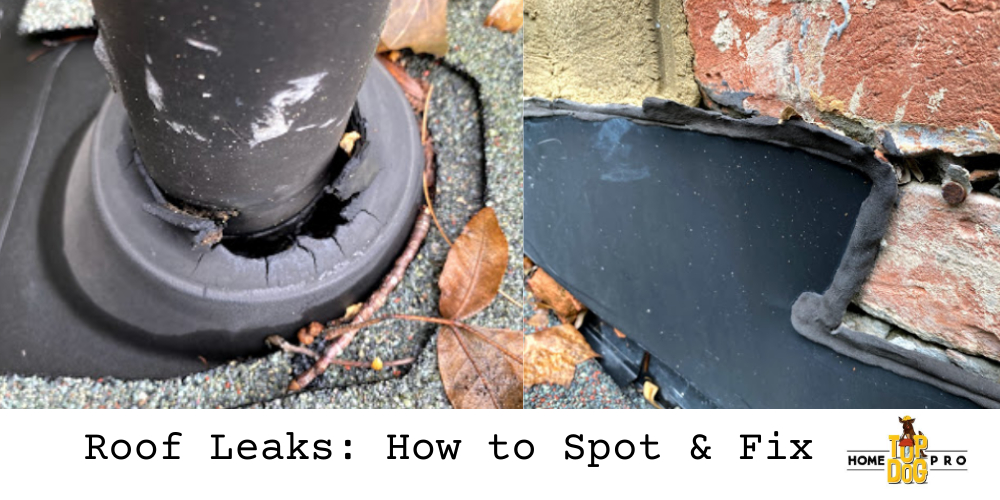 The first question I asked my friend that day was, "How big is the water stain on the drywall of your ceiling, and is it concentrated or all over?"
His answer, "A small stain in one spot, " immediately told me the leak was there, but it wasn't urgent. Most likely, a pipe collar had corroded and cracked, water was seeping in and dripping down the truss, causing a slight drip.
Sure enough, the day once the rain subsided, that was the case. The pipe collar had cracked and needed to be replaced – a simple fix!
All this to say, it is sometimes obvious when you have an issue, and not so obvious other times; let's look at how you determine if you have a roof leak:
How to find roof leaks:
If you see a water stain on your top-floor ceiling, this is a very evident sign of a roof leak of some sort
Go into your attic annually and look for any mold or soft/rotting wood (hopefully, you won't find this)
Has your roof been inspected annually? This includes inspecting your roof and attic for leaks and dark spots, mold growth, nail heads poking through, any damaged shingle(s), and more.
Observe the fascia board where your gutters are located. Rotting fascia boards can mean you have the potential for a leaky roof in that area.
Look for common "Water Penetration Areas." Anywhere you have skylights, roof vents, chimneys, dormers, or anything else that projects through the roof and cause a break in shingles, it's most likely the common cause of a leak. Very rarely is a wide-open space covered by unbroken shingles will you have a leak
Look for missing shingles and caps on your roof
Step 2: Identify the causes of a leaky roof.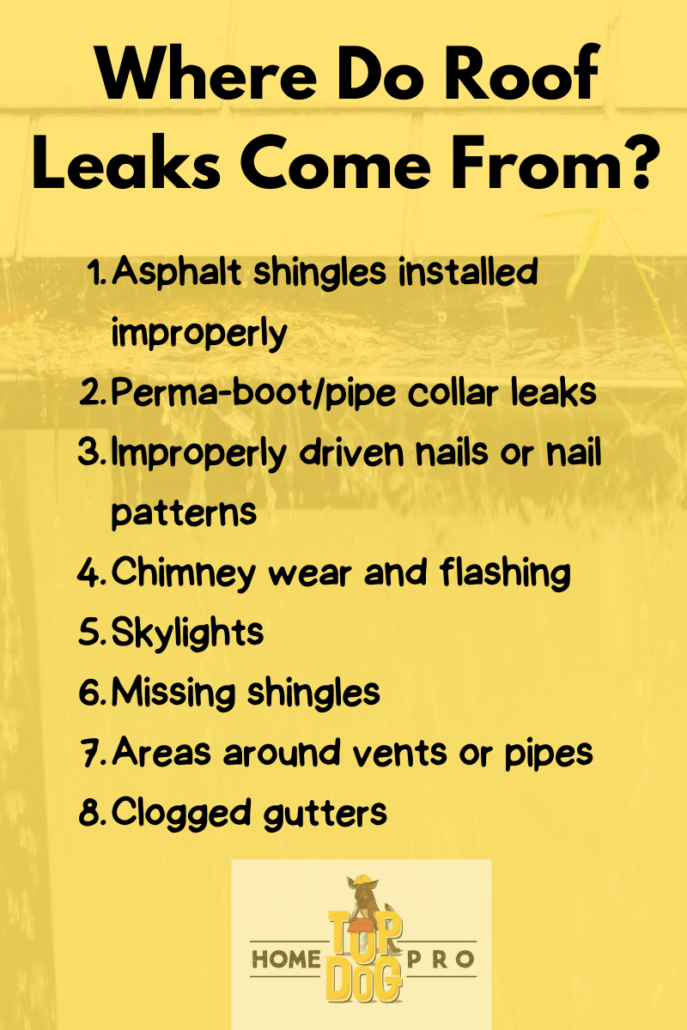 The most common cause of roof leaks is typically from missing shingles or where things like chimneys and skylights "break the chain" of shingles.
Areas, where shingles are missing or broken, can allow moisture and water to penetrate your roof's service. Things like rotting plywood and lost shingles can lead to bigger roof leaks.
Common causes of roofing leaks include:
Missing shingles.
Loose or broken shingles
Pipe collar seals that are cracked (the customer who called, this was their issue, and this is often a prevalent reason and, luckily, a straightforward fix)
Flashing leaks. Improperly installed flashing or outdated flashing is a common cause of leaky roofs.
Skylights, dormers, and chimney areas where moisture can penetrate
Clogged gutters (Clogged gutters collect debris which then doesn't properly drain water. This means your gutters will with water which can penetrate your home's interior from the roof)
Roof vents that leak. Roofing material matters, and over time, things like vents, skylights, and roof windows can be the common perpetrator or water in your home!
Holes in the roof. Broken seams, lack of regular roof maintenance, and other factors can lead to holes in your roof where rainwater can penetrate/
Improperly driven nails. Roofing nails have to be driven in a specific pattern to guarantee a roofing warranty and prevent holes and possible areas for leaks to pop up!
Age of your home's roof. Your roof has a life expectancy, and this can ultimately expire, meaning you need a new roof
Other gutter issues. Clogged gutters are a common cause of a roof issue, but the roof edge is more susceptible to leaks when your gutters are not performing correctly. Some gutter guards are also the reason your roof could be leaking!
Step 3: What to do if your roof is leaking:
If you happen to see shingles in your yard or notice some wet spots in your home – it's a sign your roof might be leaking. This also means you need to hire a professional roofer to help you.
Here are the best logical steps to take to address a possible or existing roof leak:
1. Call a Roof Repair Company
Here at Top Dog Home Pro, we specialize in roof replacements and roof repairs, and we always tell homeowners that if they suspect a problem, call quickly.
While it might be something simple like fixing my friend's pipe collar rubber boot, it could be a minor problem that, if not addressed – could become an even bigger issue! When a leak appears, you can usually repair it.
Either way it doesn't hurt to reach out and get your roof inspected! We recommend doing it annually!
2. Check Your Pipe Collars
Take a step back, far enough on the street to see if you're pipe collars look "OK."
While this might not be the most efficient check, just doing a spot check from the street doesn't hurt. Getting on your roof, using a ladder, and inspecting your roof is something we don't usually recommend.
However, if you insist on getting on your roof, use safety protocols and ladder safety steps!
Note: Get some binoculars! Use binoculars to check your roof and get a closer view!
3. Check your roof for lost shingles
The most common cause of roof leaks after pipe collar cracks in the seal missing shingles are a major cause for roof leaks!
It's really simple to check your roof for shingles that are missing – it's pretty obvious, so long as you get the right vantage point.
Using binoculars is a good idea too! Be sure to be extra vigilant when heavy wind storms sweep through your area!
4. Fix your roof leak
Once you determine where your issue is located, get the repair quickly.
A small leak can become a significant leak in a matter of weeks, and even sometimes days, depending on the time of the year (think heavy rains in the spring).
Waiting to fix your roof leak can lead to more damage, and fixing roof decking plywood, replacing more shingles, and even some interior cosmetic remodeling can start to add up!
However, the good thing is you have options for repairing your roof, from utilizing a family handyman to calling a roofer, learn below!
Step 4: Roof Leak Repair Options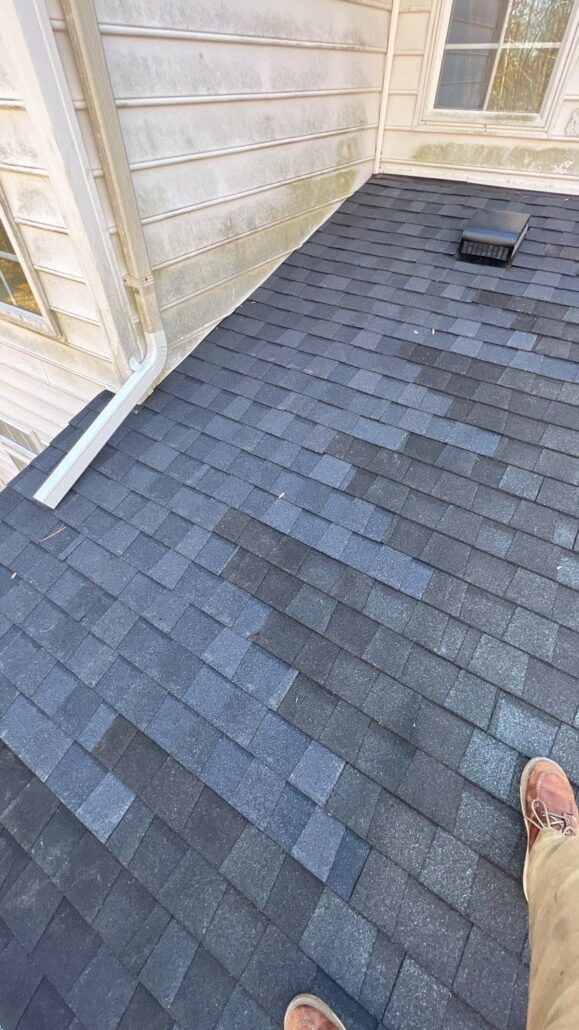 When it comes to fixing your roof leak, the options may vary depending on the size and scope of your roof leak.
Once you determine you have a leak the best options are to:
Call a certified roof company that can work with insurance companies (Such as Top Dog Home Pro of Woodbridge, VA)
Determine if the fix is worth just fixing OR contacting insurance and submitting a roof repair (We can do this for you, just learn about our video call option here). This will depend on size and scope.
Decide if the roof repair is sufficient or, depending on age, if the roof needs to be replaced (which is sometimes easier). A brand-new roof is common for older roofs.
Correct old flashing, utilize extra shingles, or in some cases in the event of needing a new roof use a large tarp to cover exposed roof decking.
If your roof is in good shape, you can hire a family handyman service or a professional roofer to help you.
If it is determined that a roof replacement is needed, that is most likely because the cost of a repair exceeds the benefits of the repair. Sometimes, depending on the age of the roof, it's best to consider a roof replacement.
➡️ Related: Roof Replacement Cost
The Final Word on Roof Leaks
As the joke goes, the Grand Canyon wasn't formed overnight.
The same goes for a leaking roof; leaks take time. While they might "Appear" overnight or after a storm, most of the time, they evolve slowly over time.
However, once they start, they don't stop until they're addressed.
That is why it's essential to do an annual roof check visually and even consider having a professional roofing contractor check your roof every few years – especially as your roof ages!
Get your roof repairs done fast!