Are you looking for the most popular architectural roofing shingles colors for the New Year?
When it comes to getting a new roof, we recognize the importance of picking the right color of shingles. We also understand that sometimes this can be a tough decision as trends change seemingly overnight!
You might even be asking yourself some shingle color-related questions like:
Do I stick with the traditional black shingles or consider using a lighter color?
What are the neighbors doing, and will these new shingles match my siding?
What about the cost? Are new shingles going to be expensive?
Choosing the right shingle color is a big decision, so we created this article to answer your questions and to help you decide on the best shingle color for your home!
Most Popular Architectural Roofing Shingles Colors & Trends:
The most popular shingle colors for 2023 depend on what type of curb appeal you decide looks best on your home.
How you choose a roof color boils down to the color of your shingles that match your siding/home. Generally, most homeowners want to pick a roof color that complements their siding.
Neutral Tones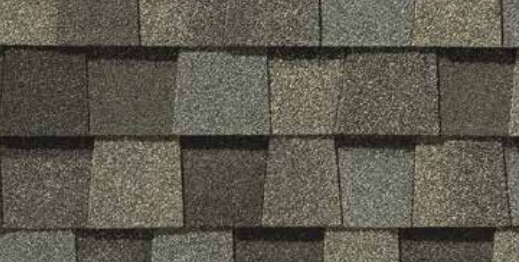 Neutral-tone shingles sound boring but ask any roofing contractor, and they will tell you how popular they are becoming. The beauty is in how each blend of colors accents one another, like in the photo above. The colors range from light to dark to give it a unique appeal over some of the classic looks.
Black (The Classic)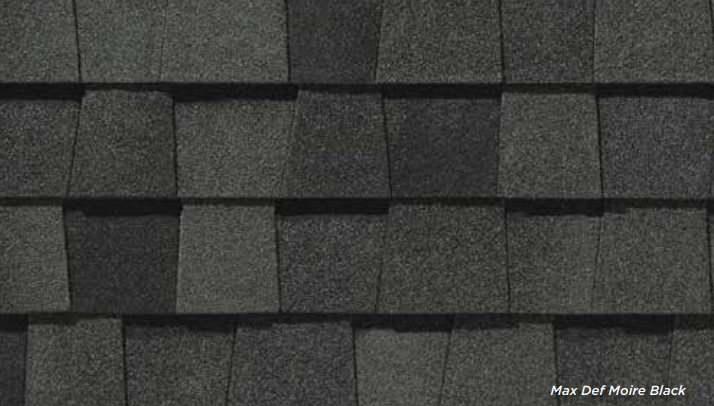 Thanks to the modern home look, a deep black shingle is trending and gaining more popularity. With the clean look often paired with black gutters, many homeowners replacing their roofs opt to go with a black shingle! It is one of the most popular roof shingles by far heading into 2023!
Earth Tones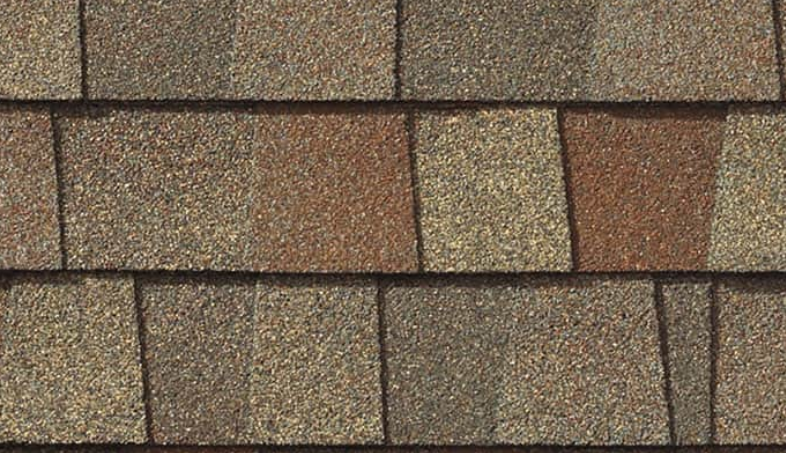 Earth tones utilize a combination of browns to make your roof look natural and complement the exterior of your home. The variation of shades really makes these shingles stand out and because of this, many owners are picking these!
How to pick shingles:
Shingles are meant to stand out but also complement the siding/exterior of your home. A classic look that matches trends in your location might be a safe bet, but you could also elect to use a bolder color. Here are a few questions to answer before picking shingles!
1. What are the current trends in your neighborhood?
Styles and trends change fast. Two decades ago, many homes had black asphalt shingles, and that was what contractors offered.
Today, you can pick from dozens of roofing colors and create the color palette of your choice (think white house, black gutters, and black roof!). Beauty matters, but so does matching the trends in your neighborhood.
If everyone has black shingles and you decide to get brown shingles, this could make your home stand out in the wrong way. Be sure always to consider what the trends are around you before making your pick!
2. Will the shingles match well with your siding?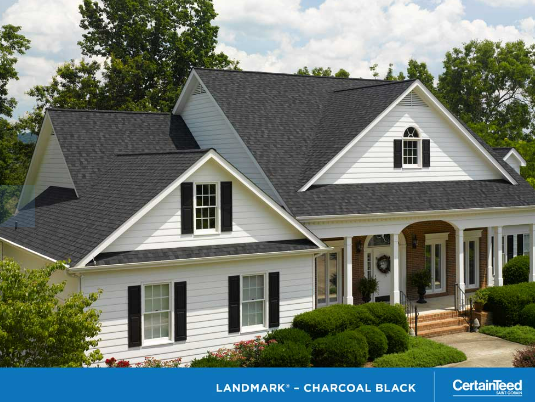 You might love one shingle color, but it might not be your best bet if your siding doesn't go well with said color.
Additionally, some HOAs have rules and regulations about shingle and siding color combinations to prevent someone from picking the wrong colors. Be sure to look at a few shingle color samples and check with your HOA before picking a shingle color.
Siding & Shingle Color Combinations:
Below are suggestions for matching your siding/fiber cement siding with the right shingles!
White Siding = The upside to white siding is you can choose from any shingle color. Of course, black shingles or any other traditional color works, but you can also use reds or greens.
Tan Siding = You will notice a trend of picking shingles that contrast with your home's siding, which is the same for tan siding. Black, dark gray, or dark brown often are the top picks!
Blue Siding = One of the more popular siding picks with new homes, blue siding pairs well with dark shingles, including black, gray, and even dark brown.
Red Siding = Dark shingles. It is easy to remember, but red siding looks best with the contrast of a dark shingle such as black. We recommend avoiding a gray or brown shingle if you have red siding.
Brown Siding = A home with brown siding can be tricky to match roofing shingles. Most homeowners will want to use a brown shingle, but the contrast and texture matter.
Gray Siding = More and more homeowners are electing to use gray siding, which means a darker shingle color is the best bet. Black or dark look great, but browns and light grays don't look so well due to a lack of contrast.
Natural Wood = Dark shingles such as black or dark brown look excellent with natural wood-colored homes. Some people in mountainous areas might use a green roof or even match the shingles to their home's exterior.
3. Will the texture of your home's exterior impact the color you pick?
In a second, we will share the most common types of shingles, but a solid roofing contractor will always share with you the importance of texture and design. Architectural roofing shingles are the best for adding extra dimension/texture.
The type of exterior you have can matter. However, most new roofs use architectural shingles vs. three-tab shingles.
Types of Shingles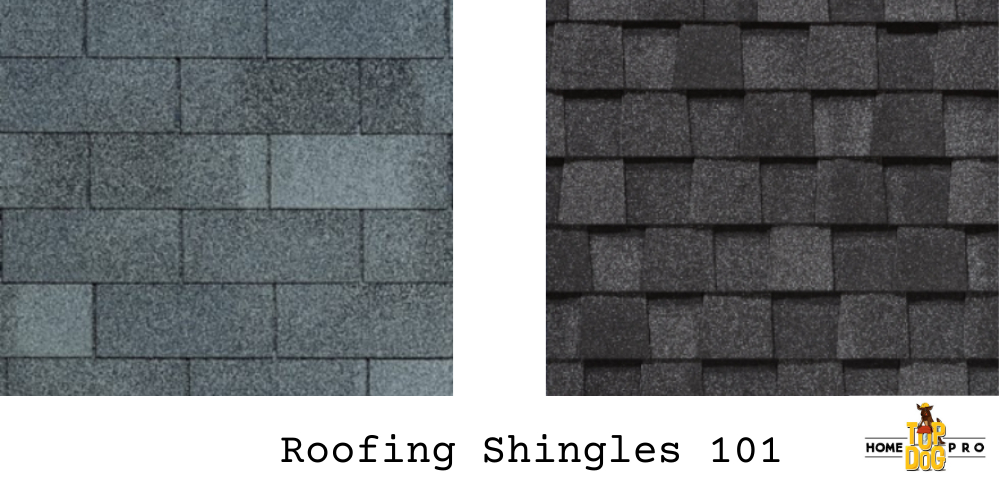 What you might not know is that there are not just a variety of shingle colors but also various shingle materials. The type of shingle you pick can dictate which color choices you have!
Three-tab shingles:
When most people think of shingles, they think of flat, three-tab shingles. The classic rectangular look has a variety of colors to pick from but lacks the style, durability, and feel that professional architectural roofing shingles give!
Architectural roofing shingles
Architectural roofing shingles are thicker and more durable, but they also offer a wide selection of colors! Since they are compromised of fiberglass and asphalt laminated together, the combination of granules can give a new dimension of look that three-tab shingles cannot offer.
The beauty of architectural roofing shingles is the look they can create. Unlike their three-tab counterpart, the blend of colors makes architectural roofing shingles look better. Three-tab shingles are the same color and can offer no variation.
Cedar & Other shingles
Some homeowners might want to go with cedar shakes for shingles, which are wood shingles. These are more expensive, and they are not as durable as asphalt shingles. Most people who use cedar shake shingles cannot provide many benefits other than aesthetics.
Of all the products on the market, most contractors will steer clear of cedar shakes simply because of durability issues, install problems, and lack of style diversity.
Roofing Shingle Color Info:
You figured out which shingle colors should work with your home's siding, and you peaked at what neighborhood trends look like. Next, you will want to pick a color.
However, before you pick a color for your roof shingles, the color you decide to go with could vary based on the following:
The shingle manufacturer
Availability of shingle color varieties
CertainTeed, GAF, and Owens Corning are the primary asphalt shingle manufacturers. Each offers a variety of three-tab and architectural roofing shingles with various color options.
The days of just picking from black, brown, and gray are no more, thanks to architectural shingles. Check out their guide here to learn more about the colors of CertainTeed's Landmark Pro shingles.
Architectural Roofing shingle Manufacturer Color Guides:
The Verdict –
Most people will choose their new shingles based on three factors:
Price
Color
Durability
If we were to throw in a fourth factor, it would be the product and labor warranty (which you can read about here). For planning purposes, we recommend you start with your budget but not let price be the only determining factor.
A square of shingles can cost anywhere from $300 on the very cheap end to $700, and most single-family homes will need 15+ square (enough to cover about 1500 square feet). You can ask your contractor or read our pricing shingle guide here to learn more about pricing.
When in doubt, stick with the classics and neutral tones and ensure that if you go with gray, blue, green, or red, you really like those roof shingles! We hope you learned enough about the components of picking a roofing shingle!