Traditionally speaking, we don't give much thought to things that keep the interior of our home warm, cozy and dry.
Those exterior "Things" like our home's roof, the windows, the doors, and even the rain gutters all serve an important role in making sure your interior is protected from the exterior elements.
Not only is the outside of your home vital for curb appeal, but also your gutters, roof, and siding all:
Help with managing storms (Rain, snow)
Protecting your home against strong winds
Saving on energy costs and more!
All this to say, that out of all the exterior components of a home we think of, very rarely do rain gutters pop into our heads… unless something comes up…!
That is why today we will be covering the following so you can understand everything you need to know about rain gutters:
What rain gutters are & what they do
How much new rain gutters cost
Where to find rain gutters
>> See Also: The Most Frequently Asked Gutter Questions!
What are rain gutters?
Simply put, rain gutters are long, narrow, shallow troughs that are mounted on the edges of a home where the fascia boards meet the roof. Rain gutters are designed to collect the rainwater off the roof of a home, to then gather water and transport it down the downspouts into designated run-off areas.
Chances are you know what we are talking about, gutters come in many colors, sizes, and styles, however, most of the time we recognize rain gutters as the white things near the edge of our roof on our home.
We also recognize when a gutter is broke or missing based on seeing:
Water flying off our roof during a storm
Obvious missing gutter sections
A visible gap between our rain gutters and where they are mounted on our home
Properly working gutters are vital for helping with storm water management. Improperly managed rain water, aka underperforming rain gutters can lead to:
Erosion issues
Flooding of basements
Leaks inside of your home
Foundation issues
Landscaping problems
And even mosquitos!
All that to say your rain gutters matter. So if they're not cared for, cleaned, nor do they have gutter guards – they may flounder and break.
In the case of needing new gutters, or simply wanting to add curb appeal with even a new color of rain gutters, we will now help you estimate and budge for them!
How much do new rain gutters cost?
The first question most homeowners ask when the time comes for new gutters is the price question, "How much do new rain gutters cost?"
That is what we are going to answer below!
Most rain gutters are made from aluminum. While there are vinyl gutters (which are cheap), copper, and steel – almost all gutters are made from aluminum.
Aluminum rain gutters are:
Durable
Customizable, cut to fit
Cost-effective and affordable
Seamless (so they don't leak)
Sizes come in 5″ or 6″
So now you know some of the quick benefits, how much do aluminum rain gutters cost per linear foot?
Depending on the size, rain gutters can range from on average $5 to $10 per linear foot. However, we tell customers that they should be paying somewhere around $6 per foot (factors like aluminum prices and location may mean more or less depending on where you live).
Put another way, new 6″ aluminum rain gutters usually cost:
Townhome = Around $1,000
Single Family Home = Around $1,500 (give or take)
Larger Homes or homes with large porches = $2,000+
However, once again, it's all based on linear feet!
Use a Gutter Calculator
Don't want to guess? Here is what you can do to accurately price out new rain gutters and gutter guards:
Use this instant, online, Gutter Calculator Tool (don't worry it's our sister companies tool)
Gather your measurements for your gutters. You can use Google Maps and its measuring tool to get a close estimate. For downspouts, every floor is typically 10′ of rain gutter downspout. So, two floors would be ~ 20′ give or take.
Input your measurements, get an instant estimate for new rain gutters!
How to find a rain gutter company near you:
You know what rain gutters do. You know how much they cost. Now, how do you find the best rain gutter company near you?
Well, chances are, if you live in Northern, VA and the surrounding areas, you're on the best gutter company website right now :). While we are not kidding, what we will say if you don't want to go to Home Depot and buy your own gutters, this is not something that is a DIY project.
We repeat, custom seamless rain gutters are never DIY. In the case you don't live near Northern, VA but you found this article, the best way to find a gutter company near you is to:
Ask friends and family
Request a recommendation on Facebook
Go to Google Maps and search, "Rain Gutter Company Near Me"
Or simply search for rain gutters by me.
Just be sure, when looking for a gutter company, you take into consideration reviews, they're quoting system, and their professionalism: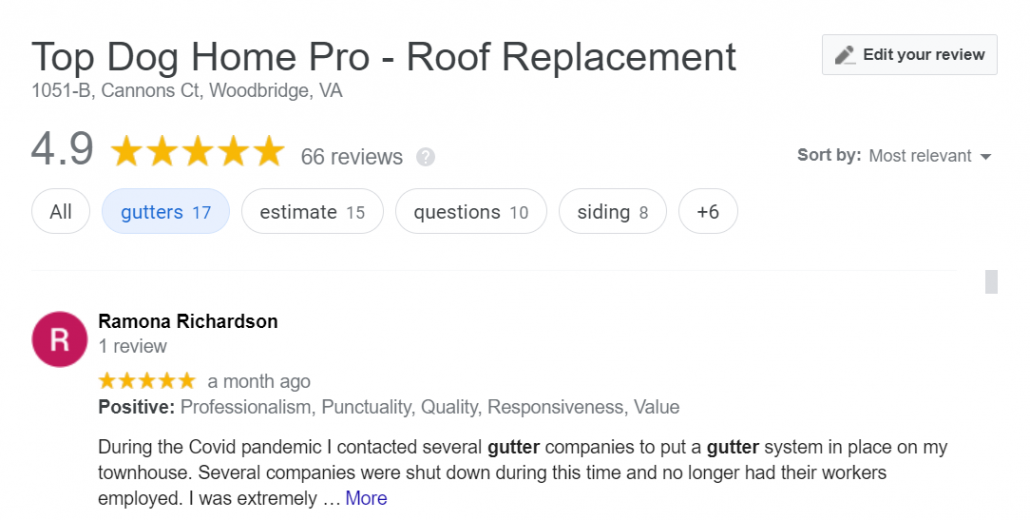 On another note, never underestimate the power of a great YouTube channel and rain gutter testimonial:
Lastly, be sure to select a rain gutter company that has a gutter warranty!
For example, here at Top Dog Home Pro of Virginia, we offer a lifetime warranty for our products and labor that you can read here: Full Gutter Warranty Info.
Final note on Rain Gutters –
What most of us do in life is we wait until the problem emerges that then requires our full, undivided attention. This is only human nature, and it's the same for rain gutters/home improvements.
Typically, we don't really pay attention to our rain gutters until we notice them overflowing or falling off our home's fascia boards.
So as we part, here are some great tips to help you stay on top of keeping your rain gutters in tip-top shape!
Always clean your gutters if you don't have gutter guards, ideally after all leaves are done falling in the fall
Check your gutters in the spring to make sure they're clear before the heavy rain season. Also, be sure to make sure birds are not nesting in your gutters (they mess things up fast!)
Lastly, highly consider getting gutter guards such as Raindrop Gutter Guards, that are self-cleaning and long-lasting!