Are you looking for gutter parts to buy online, or perhaps, you want to know more about your gutter system?
Regardless of your reasons, today, we will share with you the following about gutters to help you with your search:
What gutters are
Types of gutters
Common gutter supplies/parts!
What are rain gutters?
Rain gutters are long, narrow channels or troughs that are installed on the fascia boards of your home where your roof meets the exterior walls. In any area with a downward slope in your roof, gutters are installed to catch rain accumulation during storms.
Gutter systems are designed to collect the water and then displace it down the downspouts away from the base of your home. Without gutters, many problems are possible, from erosion to foundation issues.
To learn more about gutters, check out this comprehensive Gutter 101 Guide! ⬅️
Types of Gutters:
Not all gutters are created equally, similar to how most roof shingles, windows, and other outdoor features can vary.
1. Most Popular: Aluminum Seamless Gutters
Seamless aluminum gutters are the most common and preferred choice of both installers and homeowners. As the name states, seamless gutters come in one piece and are custom-made on-site to fit each area of your home.
They can come in a variety of sizes, but the most common length is 5″ or 6″ gutters.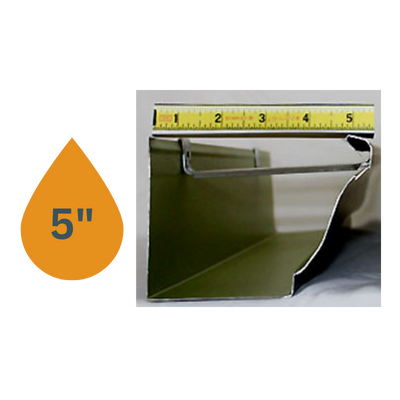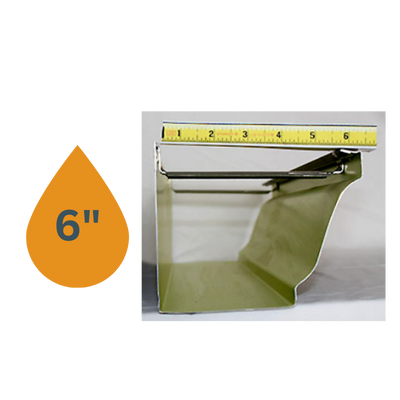 Unlike gutter sections, each run of the horizontal gutter trough is custom measured and made for that specific area when you use aluminum gutters. Most of the gutter products you will find online or on gutter supply websites are geared toward aluminum gutters.
The upside behind seamless gutters includes:
They look great, with over 30 colors to select from
Durability is no concern when regularly cared for
Perform much better because they have no areas of possible leaking within the middle of the run.
Cost efficient
Types of seamless gutter materials can also include:
Aluminum – most popular, least expensive
Copper gutters
Galvanized steel gutters
Stainless steel gutters
2. Least Popular: Vinyl Sectional Gutters
The other type of gutters are sectional ones; like the name states, they come in sections. These are gutters typically found at your local hardware stores like Home Depot or Lowes and are often made of vinyl.
Vinyl is the cheapest in price, but also in quality. Sectional gutters are almost never used unless someone uses them for DIY purposes. We DO NOT recommend ever installing them on your home; they will cause more issues and cost more in the long run.
3. Most Expensive & Nice Looking: Metal, Copper, Steel Gutters:
We mentioned metal, copper, and steel gutters earlier, which are by far the strongest and most elegant. The downside to using any of these gutters is that they are incredibly pricey. Most homeowners want to add some curb appeal, but you can do that on a budget with aluminum gutters in most cases.
Are you looking for a place to buy gutter parts?
The Gutter Parts & Supplies to Know!
Below is a quick list of the gutter parts and supplies most commonly purchased online or used in a repair/installation.
Downspouts
Downspouts are fully enclosed vertical pipe that runs along the vertical edges of your home and meets the end of an entire gutter run. Downspouts have one primary purpose: to let all the water collected by your gutters run down them. Strap-like brackets are used to install them, and sometimes they are called pipe cleats.
➡️ See more; Downspout Solutions
Gutter Elbow
The last part of your gutter system from top to bottom is the "Elbow," which is the bent metal (typically aluminum) attached do the end of your downspout. The elbow connects to the vertical downspout and channels water away from your home's foundation onto a splash block.
Splash Block
Speaking of splash blocks, these are the plastic blocks you see at the end of a downspout section where water runs out. Without these, you could look at erosion issues as the water will slowly erode anything it hits, including cement or pavement (not kidding).
End Cap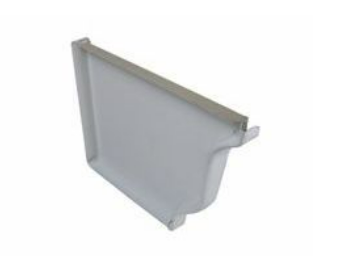 Your seamless gutter runs are shaped like a k-style or half-round trough that comes in 5″ and 6″ sizes. However, at the end of a run, where the water exits using the downspout, there are end caps made of metal to seal the gutter run. These end caps are also caulked with gutter caulk to form a complete seal.
Fascia Boards
Fascia boards are not technically gutter supplies, but they are the boards at the edge of your roof where your gutters are mounted. In order to ensure your gutters are mounted correctly, it is always as must to have healthy fascia boards. Sometimes these need to be replaced before installing new gutters.
Ferrule & Gutter Spikes
Gutter spikes are no longer commonly used, but they were once popular. The ferrule is the small piece of cylindrical-shaped metal that a gutter spike would go through. The old-fashioned way of using a gutter spike and ferrule to mount gutters has been replaced by a more efficient and more robust process – the hidden gutter hanger.
In the event, your gutters are older and you have questions about what appears to be loosened gutter spikes, feel free to reach out to us here and learn about possible solutions!
Screw-in Hidden Gutter Hangers
The gutter spikes we just discussed are no more, thanks to screw-in hidden hangers that clip to the front of your K-style aluminum gutter. From there, they are screwed into your fascia board along the back side of your gutter runs. These screw-in hangers are much stronger and will not loosen like a spike.
Miter
Do you have a hip roof?
Homes with a hip roof, a wrap-around porch, or any corner where two gutters meet need what is called a miter. Miters are custom-cut to fit or ready-made to be installed to connect two seamless rain gutter runs. They are also caulked to prevent leaks!
Rain Chains & Accessories
More stylish ways of disposing of rainwater include using gutter accessories such as rain chains. These are decorative chains that can hang at the end of your gutter runs and replace your downspouts.
Water runoff can be an issue with these so just be sure you know the possible issues you can run into if you forgo downspouts.
Gutter guards
Lastly, debris can easily find its way into your gutters. In this case, gutter guards are a must, but you can't select just any guard/leaf filter. Instead, read our full article about the top gutter guards to choose from here!