You walk outside and notice it's that time of the year. Warmer weather, people getting out and about, and of course whether you like it or not, that laundry list of spring maintenance check-ups you need to do around your house comes due. 
If that sounds like you, you are not alone, there are a lot of things that we may see on a daily basis around our house that we simply don't know too much about. We more than likely can point out where the gutters are on our house, identify weeds in the garden, and all that good stuff, but quick, do you know what's the long drainage thing coming from your gutter?
You may know what it is or not, but it definitely is an important part that serves a great purpose. It's actually called a downspout! Today, we are going to give you a rundown about what they are! 
What is a Downspout?
A downspout is probably one of the most important structure attachments on the exterior of your house, and what's cool is that it is pretty easy to understand! Essentially, they are drainage chutes from your gutters that help gutters get rid of excess water that may accumulate due to rain. The water is drained from top to bottom in the direction away from the house.
Depending on the side of your gutters, downspouts, in terms of their width, generally come in one of three sizes: 4 inches, 5 inches, or 6 inches. You'll actually find that most households have 3×4 inch gutters, but aside from gutters, the following are determinants of the dimensions of your downspout:
Location of house
Size of house
Functionality of Downspout
Downspouts also vary in the material that they are made out of, including aluminum and vinyl.
Downspout Maintenance Issues?
Issues with your downspouts come back full circle to the quality of your gutter guards. Gutter guards that lack quality preventative material against the elements can cause bothersome blockages in your downspout! Such blockages commonly consist of sticks, leaves, and other organic matter.
Blockages especially formed throughout winter (e.g. ice, etc.) can be very especially damaging!
If you are not careful, here is a list of things that can come about as a result!
Progressive Erosion or detachment
Pest Infestation
Leaks
Problems usually come up naturally, nothing to worry about, just be proactive. There are viable solutions!
Solutions?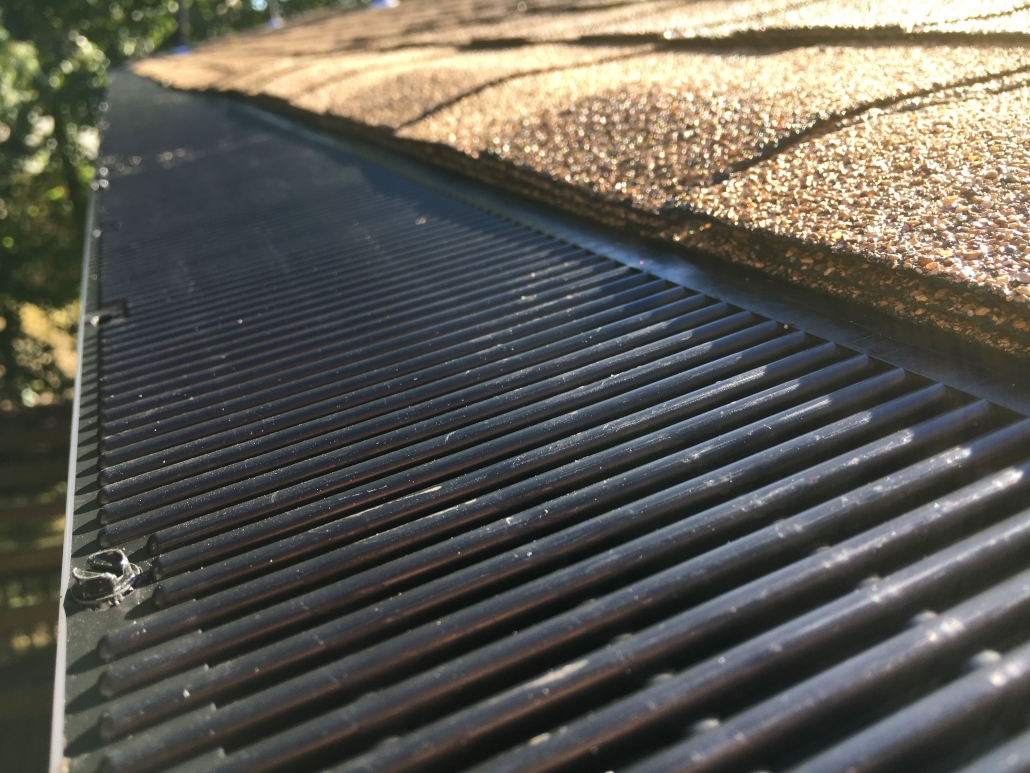 The first solution for clogged downspouts is actually prevention – gutter guards. Self-cleaning Raindrop gutter guards will prevent any downspout issues.
Get this! In March of 2021, we actually had a customer call about a possible downspout clog. Unfortunately, it was a bird that had been trapped trying to nest! Birds commonly clog gutters and downspouts, making gutter guards well worth it!
Next, cleaning gutter downspouts is generally very straightforward, even to the most beginner DIY type of people. However, there can be parts that require more thought and preparation! 
Generally, you can use an extension ladder to be able to see if there is anything obstructing the opening of the downspouts and remove it to be in the clear (via removable wire mesh if present). However, you want to keep in mind that being on a ladder is a safety risk and it is up to your full discretion to do so.
Another way is actually running water from a garden hose at the top to see if it comes out with the same intensity at the bottom. You'll know right away if you have a blockage. If you think you do, use a plumber's snake to dislodge the blockage or call a professional to be able to get it out for you.
Be sure you are checking in on your gutters and giving them the proper cleaning they need to stay strong!
The Verdict!
Downspouts are easy, simple structures that carry a lot of importance to the well-being of your house's exterior, so treat it that way! Proactively clean your gutters and you won't have to worry about any maintenance issues that are recurring.
FAQ Gutter Downspout Questions:
What do you put under the gutter downspout?
Under a gutter downspout generally, it is advisable to attach an aluminum extension or place a splash block as it helps channel the water away at least 4 feet from the house, which is the main goal. Very inexpensive, effective measures.
Other examples include:
Rain barrel
Drain sleeve
Underground drain pipe
Stealthflow
How far apart should gutter downspouts be?
There are a lot of variables that play a role in deciding that including but not limited to the size, design and overall slope of your roof, but the general rule of thumb is at least 40 feet or every 40 feet for that matter.
Where should gutter downspouts be placed?
Gutters are generally placed all around the side of the house along the roof's edge, extending beyond the eaves of the roof. However, keep in mind that the architectural design, size, and location of your house are all determinants as to where your gutter downspouts will be placed.
Should gutter downspouts touch the ground?
Yes, as long as it is away from the house at the appropriate distance. The rule of thumb is for water being expelled from the gutters at a minimum of 4 feet away from the house. If not, it can undermine the foundation of your home in the threat of water damage that is a real possibility. Water infiltration in your basement is not the type of problem anyone would like to deal with!