Are you looking for a drainage solution for your home's gutter downspouts?
If you are reading this article, chances are you are worried about the water pooling around your house from your gutter drainage. Protecting your home from mother nature is always vital, but sometimes the process can be confusing.
Don't worry; today, we will provide ten simple solutions that are affordable and can be easy DIY projects!
10 Gutter Drainage Solutions for Your Gutters
1. Seriously consider installing gutter guards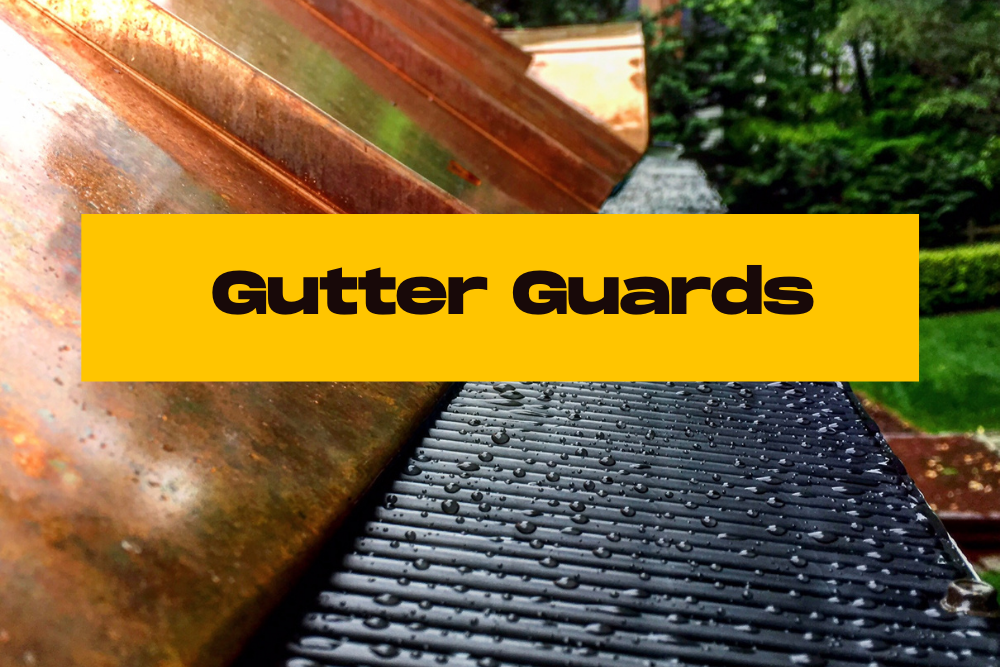 While this might seem overly simple to your gutter drainage problems, having high-quality gutter guards can be a game changer! Gutter cleaning is a pain in you know what, and self-cleaning gutter guards not only protect your gutters but they also prevent you from ever having to clean your gutters again. Raindrop Gutter Guards for example, will protect your gutters from leaves, sticks, bird nests, etc.
All of this is vital for preventing damage to your gutters and overflowing. In summary, the first step is always to avoid gutter issues to ensure proper drainage.
2. Be sure to clean & inspect your gutters regularly
If you are hesitant about installing gutter guards, you will need to make sure you at least inspect your gutters one to two times per year. At the very least, you will want to ensure they are clean and your downspouts are free and clear of debris. Birds love to best right at the top of your downspout, which can cause issues in addition to leaf accumulation in the fall.
Always be sure to keep your gutters clean or install gutter guards.
3. Always have splash blocks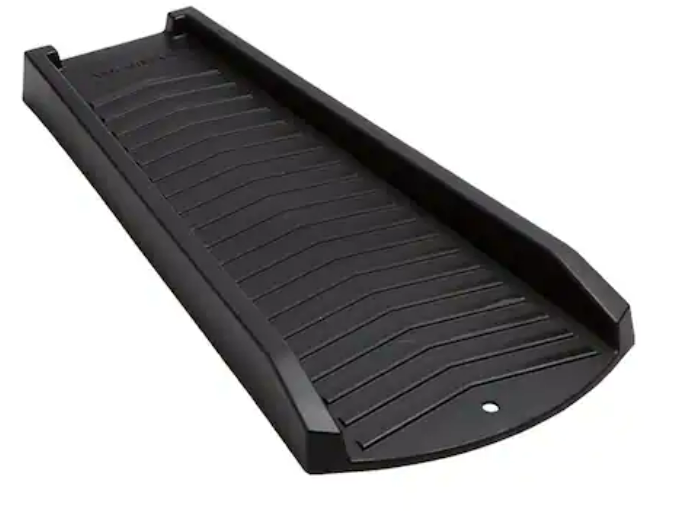 When your downspouts, water flow is coming down rapidly and shoots out from the downspout. In order to prevent damage from erosion, you should always have a splash block to catch the water.
This prevents holes from forming around your foundation, in your yard, or even on the pavement (yes, we have seen this). Over time, the constant pouring of water can cause erosion issues when splash blocks are missing.
See the photo below of what happens when you don't have a splash block for gutter downspouts: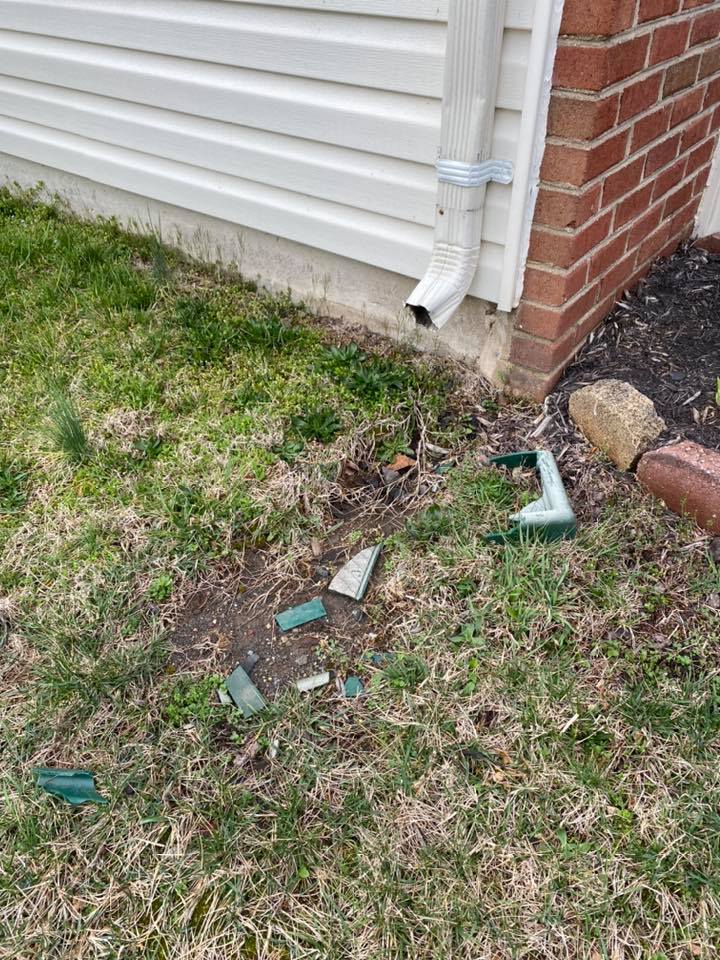 4. Install underground gutter drainage (corrugated pipes)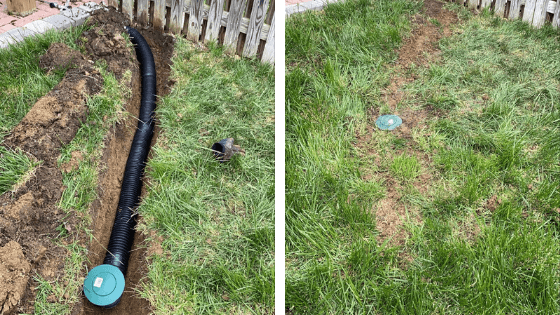 Using corrugated pipes – the black round pipes at hardware stores – you can entrench your downspout and allow the water to flow into your yard. This process is more tedious, time-consuming, and requires digging, but looks great and utilizes the water effectively.
In order to install an underground gutter drainage system, you will need to first:
Have your utilities marked before digging
Plan it out and get your supplies, including corrugated pipe, a downspout connector, and a pop-up drainage emitter.
You need to dig a small trench approximately 5-6 inches in width and at least 12 inches in depth. To do this, mark your trench, edge each side with a shovel to save the sod, then dig the rest out.
Consider installing gravel at the base of your ditch so that the pipe can sit on a solid base.
Lay your corrugated pipe at your desired length away from your home.
Cover and fill with dirt, and replace sod back on top of the dirt.
Dispose of extra dirt in a garden or elsewhere.
5. Use a rain barrel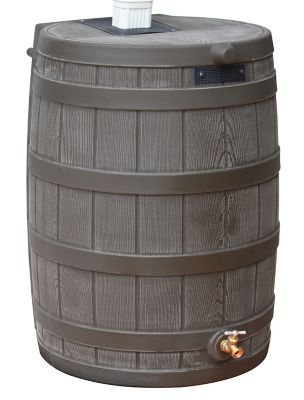 Have you ever seen a rain barrel?
Not only can a rain barrel help you with your drainage system, but it can also collect rainwater to use for your garden and yard. Purchase a rain barrel online at a store like Tractor Supply, then install it by cutting or removing a section of your downspout.
The challenging part of tall this will be getting your downspout to the proper length, which might require some expert help or at the very least, a hand saw that can cut aluminum.
6. Install river rock to create a drainage system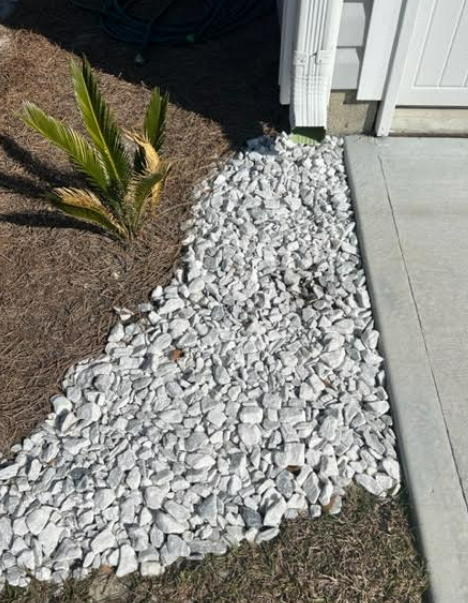 One of the best gutter downspout solutions is installing a rock gutter system that collects water, prevents erosion, and utilizes the water effectively. This solution can be simple to install like in the photo above or can be a large hardscape style project.
Think of rocks as a permanent solution to a splash block that can also add curb appeal. You can go all out or simply use a few bags of rock from a hardware store like in the photo above. Water damage no more!
7. French drains
French drains are certainly a more complex solution to your gutter drainage issues, but they work well when installed properly. A french drain is a drainage system that can prevent laying water by creating an underground gutter drainage system. The drain consists of piping, gravel, and soil and, when properly installed, is very effective. Of all the solutions on this list, a French drain and the next one are perhaps the most complex and more extensive in scale.
8. Fill low spots and fix the yard slope
If you don't want to install an underground drainage pipe, another solution is to simply fix the slope of your yard so your gutters drain properly. Depending on where rainwater flows in your yard and how much of a slope you have to fix, this type of solution can range from easy to extremely hard.
Another way to get rid of standing water after heavy rains is to fill in low spots with dirt or use one of the solutions from above.
9. Extend your downspouts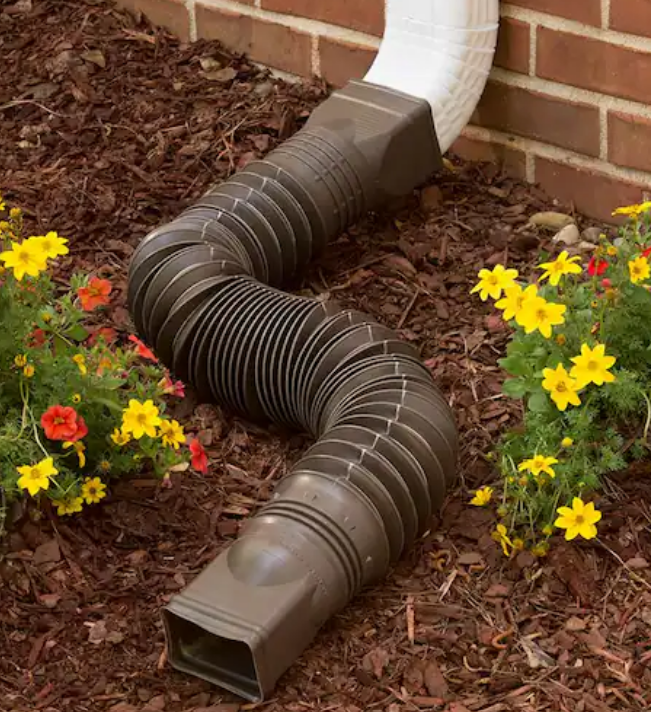 A really easy way to prevent water from pooling around your home is to use a downspout extender. These can easily be purchased online or at a hardware store and will extend your downspout into an area where your water can drain properly.
Rainwater can be very powerful and, without proper drainage, can lead to many issues like erosion or foundation issues. Downspout extenders are easy to install and cheap to purchase, making them one of the top rainwater drainage quick fixes!
Downspout extenders will also help protect your landscaping!
10. Use a rain chain
A rain chain is more of an aesthetic option, but instead of using a downspout, you can consider installing a rain chain from your gutters/roof. Rain chains are not as efficient as downspouts, and is essential to note that they do not control the water flow like a downspout would.
That stated you don't have to worry about debris inside of your rain train and they can add curb appeal. They are best paired with a dry well or rock bed of some sort or where you don't want a downspout displacing water (think on a patio, or driveway).
Other Tips for Gutter Drainage:
In addition to addressing your gutter's downspouts, you will want to make sure you consider some of these other gutter tips:
Always check your gutters for buildup, debris, or any kind of leak
Make sure the water is flowing out during storms and not shooting off your roof
If you have a clog, fix it ASAP; don't wait around
Don't think you have to spend a bunch of money for your downspout drainage, the average downspout extender starts at just $9.
If you decide to use a gutter guard, be sure it is not a cheap gutter guard. Your gutters will not drain properly if you install gutter screens and they can actually end up clogging your gutters even more than without them.
Frequently Asked Questions:
Can standing water from my gutters damage my foundation?
Standing water damage is a prevalent cause of rotted wood and foundation issues. When water pools around your foundation, it can lead to leaks and cracks. These can range in severity but you will want to be sure you have a drainage pipe or downspout extender if you suspect water sitting around your home's foundation.
How can I divert water from my gutter drainage system?
There are countless ways to displace rainwater from storms, including an underground gutter drain, downspout extenders, gutter guards, proper gutter cleaning, and other drainage solutions. An underground downspout drain is aesthetically pleasing and very efficient, but it requires more digging if you are doing it yourself.
What are the best underground drainage pipes?
Most homeowners and contractors will use corrugated pipes (black pipes with holes in them) to install underground drainage pipes. You can also use heavy-duty PVC pipe if you would like to connect multiple drainage pipes.
How hard is it to install an underground gutter drainage system?
An underground gutter drainage system can vary in complexity and can be tricky depending on what you need. If you are simply just extending your downspouts and entrenching them, the process isn't super hard, but the digging can be physically demanding.