"When should I get a new roof?"
There are a lot of essential pieces that make your home a "home," but chances are you didn't think of the one element that provides the most significant amount of protection: Your roof!
Roofs come in all shapes and sizes made up of different roofing materials and therefore require different forms of maintenance. However, all good things come to an end at some point!
No matter how much routine maintenance you do, a partial or complete replacement is imminent; maybe not now or anytime soon, but that day will come. Chances are you don't know the warning signs, and that's ok. Today, we will cover what to look for that shows you may need a new roof.
Roof replacement: Why is it such a big deal to consider?
Your roof is your home's first line of defense against the constant barrage of seasonal weather conditions and ensures your home's structural integrity. While it's sturdy, well-built, and lasts long, it's not immune to underlying problems.
Cracks, leaks, and everything in between overtime causes significant roof damage as your roof and home age.
Lack of due diligence in proper maintenance can lead to a compromised roof with unimaginable structural damage, cost, and trouble to other parts of your home. Avoid the worst and consider roof replacement when you see telltale signs (explained below).
☑️ Related: Life Cycle of a Roof
How do you know it's time to get a new roof?
There are many warning signs for roof replacement, but only with background knowledge can you truly identify and understand them. Here the area:
1. You Notice Exterior Damage
Exterior damage looks different based on the roofing material. If you have an asphalt shingle roof or have wood shingles, you may see missing shingles or shingles that are cracked and warped out of shape. On the other hand, if you use clay, slate tiles, and concrete tiles, you may see missing pieces and thin spots. Roof damage like this is often caused by hail damage, strong winds, and ice dams/water damage, among others!
Keep in mind vulnerable spots!
Roof valleys are one of the lowest points of your roof. Damage in roof valleys can create a leaky roof. If you find loose granules via your gutters, this is a telltale sign that your roof is experiencing wear and tear and soon needs repair and replacement.
2. You have a sagging roof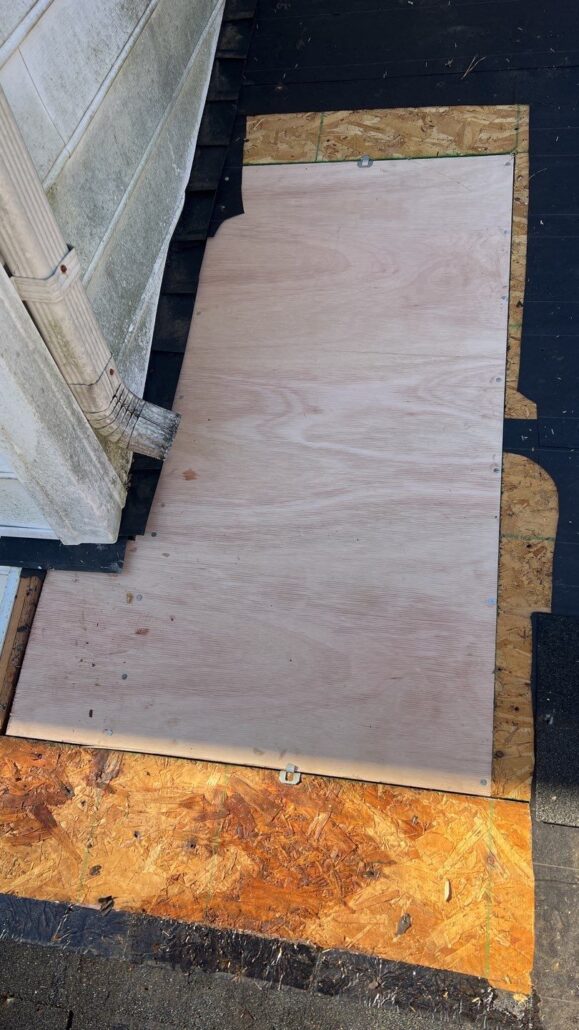 When you have a sagging spot(s) on your roof, it is often a result of damaged, rotting roof boards in your roof deck due to built of moisture. Get immediate assistance as roof decking is nothing to let sit around. Your roof's structural integrity is vital for your entire home.
If you suspect you have a sagging roof or rotting roof decking, always get it checked out ASAP!
3. Dysfunctional Attic
An attic that is properly installed is adequately ventilated in order to reduce the build-up of moisture as well as help cut your energy bills and keep your home cool during warm seasons. Poor ventilation leads to trapped moisture, which can cause leaks identified by water stains and rotting boards that support the roof's foundation.
A leaking roof can quickly lead to the need for a new roof!
4. Declining curb appeal
When your roof is near its end and not in good shape, you will gradually see a decline in curb appeal from your roof. More often than not your roof will exhibit dark streaks, such as black streaks running across your roof from airborne algae, discoloration, shingle aging, and granule loss from the roofing material. The latter most noticeably in asphalt shingles over time.
If you see all of this, roof replacement may be an option soon.
5. The chimney flashing is damaged
Chimney flashing helps prevent leaks via its water-tight seal around your chimney and other roofing components. When properly installed, it lasts for years, but when compromised, it can cause water damage in your home. Water can compromise your roof's structural foundation and very well lead to roof replacement.
Note: Chimney flashing and another roofing flashing typically costs $15-$30 per linear foot to repair, often requiring a minimum of 10-15 feet or more.
What time of the year is the cheapest for roof replacement?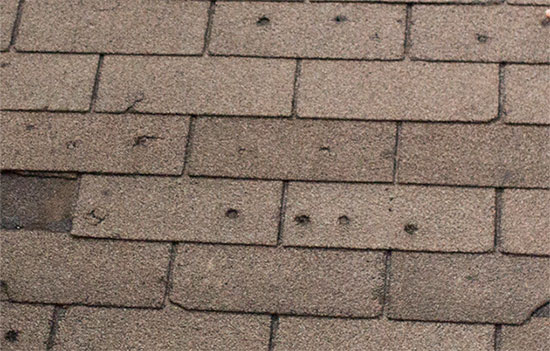 During the late winter and spring, roofing services are not at their peak, and many off-season discounts are generally offered, yielding traditionally lower prices keeping regional variables into account.
Summer and fall months are usually when roofing services like roof replacement are in high demand and, therefore will result in seasonally higher prices.
Need Help? Call your local Roofing contractor/Roofing Company
Properly identifying roof warming signs requires knowledge, but resolving such challenges requires extensive expertise. If you need a second opinion, contact your local in roofing contractor/roofing company for expert advice to point you in the right direction!
What's the Verdict?
Your roof is one of the most valuable assets of your home, and it should be treated as such. More often than not, the signs that you may need a new roof will present themselves, most of which telltale signs will be caught with proper maintenance.
However, if you don't do your due diligence to care for your roof, it will come back to haunt you at some point.
Get in touch with professional help to make sure your upkeep is adequate. It never hurts to be proactive and commit to proper prior planning to prevent the unthinkable from happening. Be vigilant and reach out to prevent further damage!
Frequently Asked Questions:
What if I don't have home improvement records?
Don't worry if you don't have your home's records, a certified roofing inspector can inspect your roof for things like curling shingles, roof leaks, hail damage, or if you suspect you have an old roof that might need to be replaced!
How hard is it to notice damaged shingles?
Before you replace your roof, you will often notice visible damage to your roof's shingles. The most common sign is missing shingles or curling shingles. Asphalt roof shingles are now more durable and come with better warranties, so the upside to replacing your roof is the durability!
Roof Company Rankings in Northern Virginia: