Wait for a second! Did you know your roof has attic screen vents?
Your roof vents are some of the most critical aspects of your roof due to their role in proper ventilation, but chances are you have no idea that it even exists!
Attic screen vents come in many different shapes and sizes depending on your roof and are usually set up during a roof replacement or new installation. Chances are you are experiencing some trouble with your Attic's ability to ventilate or want to learn more; hey, you came to the right place!
Today, we will talk about Attic Screen Vents and how to get new ones for your home! Let's get after it to keep you in the know!
What are attic screen vents?
Screen vents for your attic are the base of your roof's ventilation system, which allow adequate airflow and help protect your roof from building up moisture and damaging heat in the summer, the elements such as rain, etc. These types of roof vents, however, are built with a galvanized screen mesh with ventilation holes.
Ridge Vents vs. Gable Attic Vents vs. Soffit vents
Ridge Vents – A roof vent installed adjacent to a sloped roof's peak to allow warm air to escape from your home's attic. Most attic vents are typically found in the marketplace as they are common in residential, shingled roofs.
Gable Vents – A roof vent is installed in your roof's exterior walls to help regulate temperature.
Soffit Vents – Roof vents installed underneath the eaves of your roof that help regulate proper airflow.
Attic Vents: The importance of Attic ventilation
Proper attic ventilation is essential for the health of your roof because, via roof events, it curtails the build-up of trapped heat and moisture. As the saying infamously goes, "Hot air rises."
When attic ventilation is inefficient or non-existent, it puts your roof and, therefore, the structural integrity of your home at risk for the accumulation of mold, rotting wood, and damaged roofing material such as your roof's decking because of the hot air being trapped.
Think of your home's roof as a breathing organism. Your roof consists of decking, shingles, and flashing. However, all the other parts allow it to breathe, as we mentioned:
Soffit around the edge of your roof
The ridge vent at the ridge of your roof
Vents and pipe collars throughout your roof
Your roof needs to breathe and stay dry. Gutters help your roof stay dry, and your vents will let it breathe!
How to Put a Mesh Screen on an Attic Vent?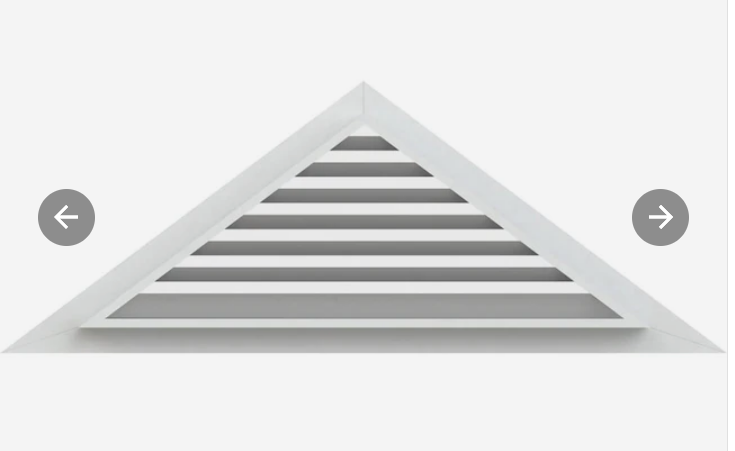 If you want to know how to put a mesh screen on an attic vent, here is a step-by-step guide to help YOU out!
Note: Keep in mind that any home improvement project requires extensive prior knowledge and expertise due to the job's complexity and inherent risk of bodily harm and death from an elevation above ground.
We highly recommend that you always consider hiring a professional in the roofing industry for anything roof related. The structural integrity of your roof is essential for your entire home. Something as small as a leak can compromise your entire roof system, and roof DIY projects are highly advised against.
That said, if you insist on installing an attic vent, here are the steps:
1) Gather Materials
Materials that are required on this project include but are not limited to:

Tape Measure
Flashlight
Extension Ladder
Hammer
Tin snips
Heavy Duty Work Gloves
Galvanized nails and wire hardware cloth mesh (width of mesh may vary)
2) Thoroughly Examine and Inspect Ventilation holes
Utilize an extension ladder, and ensure the ventilation holes underneath the eaves are clear from obstructions using a flashlight, including but not limited to pests, organic matter, etc.
After clearing out the ventilation holes, use the measuring tape and measure the area, adding an extra inch to the measurement of hardware cloth mesh.
3) Use measurement obtained and cut hardware cloth mesh accordingly
Use the tin snips to properly cut the hardware cloth mesh based on obtained measurement, wearing the heavy-duty work gloves for hand protection. The key is making cuts along the wire to avoid sharp, jagged, and protruding ends.
4) Cover holes with hardware cloth mesh
Use cut hardware cloth mesh and cover holes, securing it flat on the wood surface by hammering in the galvanized nails every 2 to 3 inches.
How do I get professional help?
While it does seem these steps are pretty simple, chances are you don't have a clue to perform these steps to precision. That's okay! Given all the preliminary steps of expertise and mitigating risks, contacting your local roofing company is the best approach.
Prepare a list of local companies in your area, gather quotes for attic screen vent installation services, and choose the most cost-effective and quality company to help! Pretty simple, right? 100%. You'd instead get professional help than make a mistake that requires money, time, and peace of mind to repair.
What's the Verdict?
Attic Screen vents are essential to your roof ventilation system and mediate between proper function and destruction of your roof from the inside out. While most people don't know what it is or how it works, there is an indicator to get ahead and learn all about it!
If you feel nervous about installing a mesh screen on an attic vent? I am sure it is a thought in the back of your mind. Hey, all good! Don't hesitate to give us a call, and we will be sure to best assist you based on the context of your situation.
Simply reach out here if you need a roof repair, screen replacement or have a general question: