Similar to living beings, your home's attic and the roof have to "Breathe." While your roof doesn't have lungs, it does have vents designed to ventilate your attic and home.
Where the ridge of your roof meets at the center ridge board, there is at least a one-inch gap on both sides where the roof decking ends. This opening is a continuous vent, also known commonly as a ridge vent.
Most homeowners shouldn't have to worry about their home's ridge vent, but there may be instances when you will need to replace your old ridge vent, perform a roof repair to your current vent, or when you get a new roof – install a new ridge vent.
Today, we will cover this entire process for you so you will know which route is best for you!
First, what is a ridge vent?

Sometimes referred to as a continuous vent, a shingled roof ridge vent for a gable or hip roof is a must for your home in order for the attic space to properly ventilate.
When your home was constructed, where the two sides of your roof meet there is a space, and this space is designed to allow for proper attic ventilation. Without this, you can not only compromise your energy efficiency but even lead to other issues (don't worry, builders know this and it is code to leave a continuous vent at the ridge of your roof).
In order to ensure moisture and water do not enter this space, a ridge vent is used to properly cover the area.
The purpose of ridge vents:
Your roof keeps your entire home dry during storms. With the help of gutters, water moves down your roof and is displaced away from your home by downspouts.
Similar to how your home's gutters have a purpose, both hip and gable vents are designed to keep your attic space dry, but still, allow for ventilation. The main purpose of your home's ridge vent is to let the damp, warm air escape from your attic.
In the event this moisture and air cannot escape, excessive moisture can cause numerous issues including visible damage and even mold. Luckily, these occurrences are rare thanks to ridge vents and current building requirements!
Types of Ridge Vents:
While the top ridge vent installation style is the shingle over vent system, there are older styles that were once common such as aluminum. Below, are the common types:
Shingle-Over Style Ridge Vent
A shingle over roof vent is the most common type of ridge vent because, with this vent, condensation escapes at the most effective location – the ridge. The shingle over the vent allows for a cap shingle to be placed over the vent to blend in with the roof.
Most ridge vents are installed and covered with 12-in width hip and ridge cap shingles and common brands include:
CertainTeed 12-inch filtered ridge vent
GAF Cobra Snow Country ridge vent
Metal Ridge Vent
Depending on your roof structure or the type of roofing material you use, a metal ridge vent might be necessary. A standing seam metal roof is not going to look right with a shingle over the vent system, therefore you would need a metal ridge vent.
Aluminum Ridge Vent
We are somewhat biased about vent material so we never recommend installing an aluminum ridge vent. Some houses may still have aluminum vents from the initial construction, but overall aluminum ridge vent installation is a thing of the past.
In some cases, a homeowner or roofing contractor may prefer an aluminum ridge-styled vent which is similar in functionality to the shingle over vent style. The key difference is durability and taking into consideration other factors such as rust or leaks.
Ridge Vent Installation: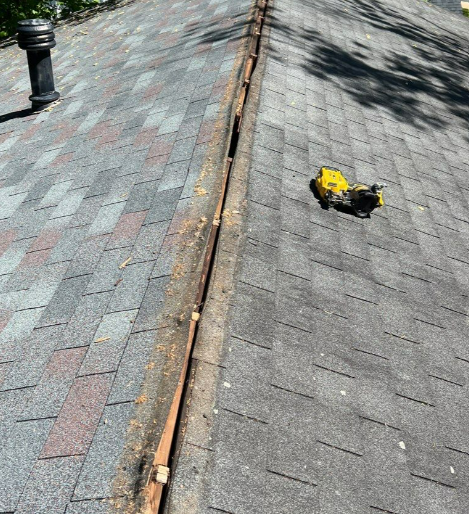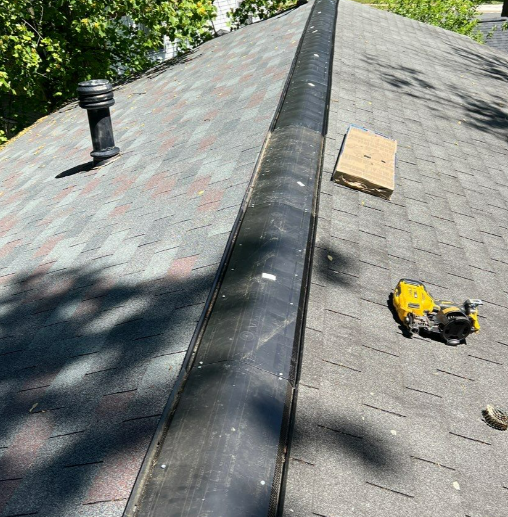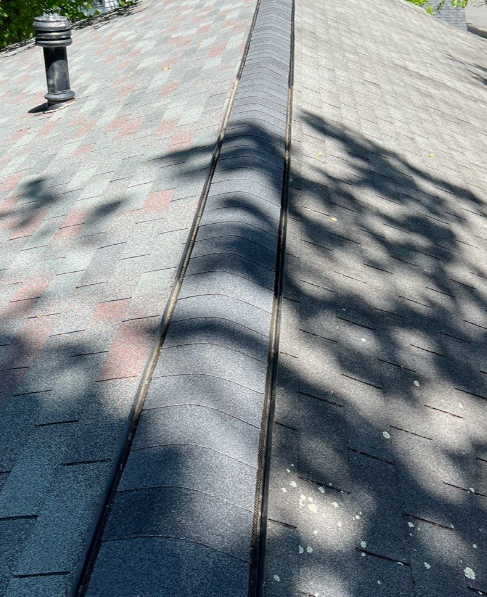 Don't worry, you won't have to replace the entire roof deck to install a new roof ridge vent.
The old method for installing ridge vents was to use the aluminum ridge vent or just aluminum strips, however, nowadays the preferred method is a shingle over ridge vent system. We do not recommend trying this at home or DIY unless you have construction and roofing experience.
Too many factors such as ladder safety, roof safety, and even knowing how to properly install a roof ridge vent system make this not a normal DIY job. The steps we take to install a ridge vent include:
Remove sheathing or older ridge vents
If a new roof, end shingles at the proper distance and make sure roof decking ends form an opening at the top near the ridge board (there needs to be one linear foot of vent for every 150 square foot of attic space)
Make sure field shingles are installed correctly
Install a ridge vent like the Certainteed filtered ridge vent
Using the correct roofing nails, install cap shingles over the ridge vent
Gable Vents
We recently wrote an article about the difference between a gable roof vs a hip roof. A gable roof is the standard roof you drew in your kindergarten class.
A sloped roof on two sides that meet in the middle forms a ridge, sort of like a triangle. With this particular roof, the vent is one continuous piece from end to end and is often less expensive than its hip roof counterpart.
Hip Roof Vents
Hip roofs are known for their superior self-bracing design, and look like the sides are pulled in, forming two more sides of the roof. That said, it also forms an additional four ridges that must be accounted for.
Hip roofs are generally viewed as classier, but they tend to cost more because of the additional materials and construction required to form the roof. Luckily, you won't have to worry about how to install a ridge vent to promote adequate ventilation, this is not a DIY project considering how hard it is to walk on hip roofs!
How is a new ridge vent priced?
How much does a new ridge vent cost?
Roof ridge vent pricing is measured by the linear square foot. This means if your home has a standard gable roof with a 45′ ridge, your ridge vent would need to be 45 feet long. Priced per square foot and depending on the roofing company you select, just the ridge vent material itself can run $5 or higher per linear foot.
Keep in mind, that there is also the cost of the shingles that go on top of the ridge vent and labor costs associated. Hip roofs require more vents, more material, and more shingles, which is why they're more expensive.
The verdict on roof ridge vent installation –
Square vents, roof vents, soffit vents, intake vents, flashing, pipe collars, ridge vents – at this point you probably know way too much about your roof and its ventilation systems.
Proper ventilation is a must to rid your attic space from hot hair and to make sure your home remains energy efficient. Roofing shingles, your roof's decking, and the inside of your home are all one system and require your attention when there is an issue.
While we hope there is never an issue with your home's ridge vent, replacing the entire length is required with a new roof or if you have a roof leak caused by the ridge vent. For any questions, reach out below!