Just the other day, a really good friend asked me a question about roof pricing.
His exact words were pretty straightforward, "Luke, if I want a new roof for a detached garage, what am I looking at price wise?"
While I said there are differences in roof replacement costs vs a brand new roof cost, the followup questions I asked him helped figure out just how much his new roof cost would be.
He was amazed, in fact he exclaimed he had called around and every company wanted to send a representative to come look at his roof to give him a "accurate price."
However, based on some simple questions and some rough calculations, I was able to help him get a accurate ball park of what a new roof would cost him!
His next words were simple – you need to include this stuff on your website!
After giving it some consideration, here at Top Dog Home Pro we realized that everyone shops online nowadays, so why can't people shop for roofs online?
So today we are excited to share with you two amazing features:
Our roof replacement cost & build online page
This article helping you understand all the pricing metrics behind new roof costs!
New Roof Costs (Everything to Know!)
Today, in our article we will be sharing new roof costs from a homeowner's perspective as if they're replacing their existing roof.
In other words, when we refer to "New Roof" we are referencing new shingles and underlayment for an existing home, not a new construction home.
Understanding what makes up a new roof or roof replacement is the key to estimating the cost of your new roof. A high-quality roof replacement will consist of the following:
Removing the existing shingles and underlayment
Inspecting the condition of plywood on roof (we will never put new shingles on plywood that is damaged)
Installation of underlayment – Certainteed DiamondDeck
Application of ice shield, CertainTeed Winterguard along edges
New shingles (selected below)
This is of course standard with any new replacement that Top Dog Home Pro does and is all included, aside from any damaged plywood that requires replacing (we will dive further into extras later).
And while this seems pretty straightforward, the reason we let you know about what a new roof first consists of is because though rare, some companies in the past have simply installed a new roof on the existing roof to cut corners.
So now that you know what exactly a roof replacement consists of, let's look at the costs.
How roof replacements are priced:
Roofs are priced by what is commonly referred to in the roofing industry as a "Square."
A roofing square is equivalent to 100 square feet of shingles.
For example, a town home that has 1,000 square feet of roof would require 10 "Squares" of shingles.
Almost all companies use this term to price roofs and costs such as underlayment, tear off, etc are factored into the square price.
Factors that determine the amount of square required for a roof include:
The size of your home,
The pitch,
The slope,
Eaves/crevasses.
Hip-roofs
Chimneys, skylights, and areas that require more shingle usage
Now that you know how roofs are priced, let's explore the three major components of new roof costs!
New Roof Cost: Size of Home
The size of your home's roof matters when it comes to pricing (this is a given).
A town home with a roof that is approximately 10 square is naturally going to cost less than a single family home with a hip roof that requires 30 square.
That being said, on our Roof Build & Price page, we let homeowners pick out the features of their roof and get a rough ballpark estimate for what their roof will cost!
As you can see in this photo below, the amount of square (roughly estimated) per type of home is as follows: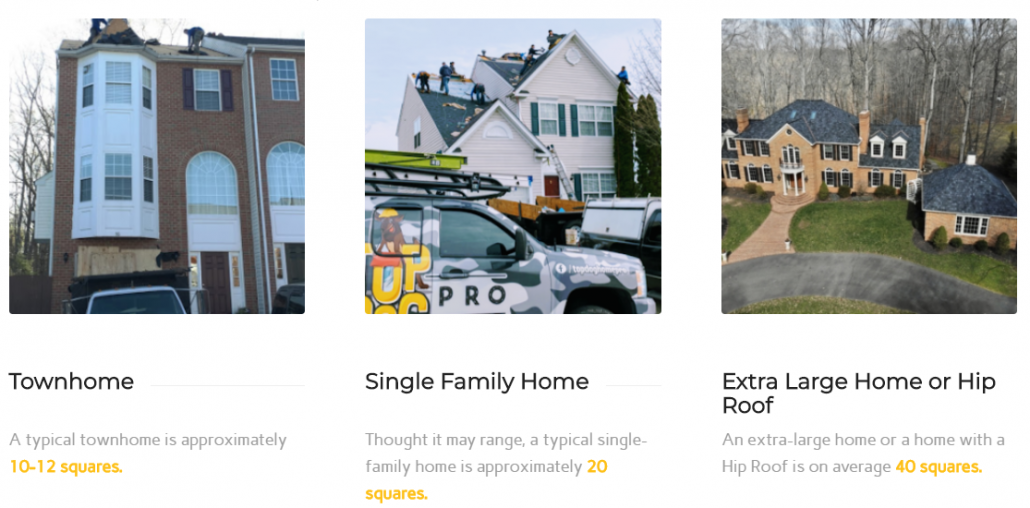 Typically the following square is required (on average) for each of the following types of homes:
Townhome: 10-12 roofing square
Single Family home: 20 square
Extra Large or Hip Roof: 40 square
While the exacts are actually measured using GPS technology and satellites provided by EagleView so that slope and pitch are spot on, the final amount of shingles that are needed come from these reports.
However, this will help you get a roof ball park for what you will need square wise to estimate your roof cost, but first you have to pick your shingles!
New Roof Pricing: Type of Shingles
The type of shingle you select for your new roof matters in more way than just price.
For starters, the shingle warranty, the quality of the singles you select, and what type you ultimately choose all have features that can make them better (or worse) than another asphalt shingle.
Think of shingles like cars.
You have a base model car, followed by your average model, followed by the top-end model. Shingles are very similar.
Here at Top Dog Home Pro we offer three shingles, though we hardly install the first:
Three-tab shingles (base model)
Landmark Architectural Shingles (consumers top pick)
Landmark Architectural Pro Shingles (best warranty)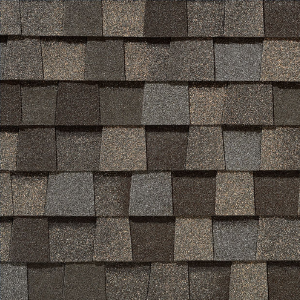 To help, we have included this pricing table below which includes the three shingles we offer
| Type of Shingles | Townhome | Single Family | XL Home/ Hip Roof |
| --- | --- | --- | --- |
| | 10 Square: | 20 Square: | 40 Square: |
| XT25 Three Tab | $3,800 | $7,600 | $15,200 |
| Landmark | $4,000 | $8,000 | $16,000 |
| Landmark Pro | $4,250 | $8,500 | $17,000 |
While this is based on square footage averages for the normal roof for a townhome, single family home or an extra large home, what you will first notice is that the price difference between basic three tab shingles (XT25) and Landmark Pro Architectural shingles is typically a couple hundred more…
Why does this matter?
For starters, the material and quality of a architectural shingle is worth every penny compared to the lesser three tab counterpart, but REALLY, it boils down to the shingle warranties.
In our warranty article we explain the specifics of roofing warranties, but for a quick glance here is a comparison:
3 Tab Shingles
Landmark PRO
Prorated
Non- prorated
-25-year, limited transferable warranty
-5-year SureStart™ warranty (100% replacement and labor costs due to manufacturing defects)
-10-year StreakFighter® warranty (on available colors) against streaking and discoloration caused by airborne algae
-5-year, 60 mph wind-resistance warranty
-Lifetime limited warranty
-15-year algae resistance
-10-year SureStart protection includes
-15-year 110 MPH wind warranty with an upgrade to 130 MPH available
New Roof Cost: Extras
You have your home's roof size figured out… check.
You selected your shingle style… check.
Next, it's time to see if any extra is needed or if you want to add extras to your roof! These types of things are always discussed prior and included in pricing, with the only thing not being discussed up front is the plywood replacement.
Hopefully we don't have to replace any plywood, but that is something that can happen with a new roof and it isn't known until the old roof is torn off. Our team can sometimes feel "Soft Spots" ahead of time and roughly guess how many boards may need replacing.
That said, here are common extras that can sometimes impact new roof costs or homeowners may want to add:
Extra
Unit of Measure
Price
4 Ply 1/2″ Plywood 4×8
each
$65
Additional layer of tear off
per square
$35
Tear Off of Wood Shake
per square
$55
Steep Pitch 8/12 or >
Step Flashing
per square
$30
Ridgevent
per foot
$4
Chimney/Skylight Flashing
each
$125
New Skylight
each
Varies ($1,000)
Pipe Collar and Permaboot
each
$35
Power attic fan
each
$550
Eagleview Roof Report (If not submitted)
per home
$40
As you can see the extras vary and some are necessary (like the ridge-vents) and some are extras for curb appeal (like adding a skylight).
Things like an extra layer tear off (older roofs that have two layers of shingles) or cedar shake tear off require long amounts of time and are not included in the normal price.
As mentioned, these things are all talked about and discussed in the price up front, however, these are the extras that can be added to a new roof cost.
Final Word on New Roof Costs
As you can easily see, there are no exacts when it comes to replacing your existing roof and your new roof costs!
We are very transparent with roofing costs for the simple fact that we want YOU the customer to be able to accurately gauge your roof price without getting the run around from other companies!
This is also why we offer video call scheduling ahead of time, something most companies don't offer!
So in parting, we hope you learned about roof replacement costs and if you have any questions, please don't hesitate to reach out and ask below! We proudly serve Northern Virginia for all roofing and gutter needs!