Roofing Company Woodbridge
When finding the best Roofing Company in Woodbridge, look no further.
Sure, at first glance, what roofing company wouldn't say that on their website (we get that), but there is a reason why Top Dog Home Pro has over 50 Google Five Star Reviews from clients.
That reason is simple: We take immense pride in being the leading roofing company in the area.
As a small business, we understand where we can provide the most value to homeowners while carving out a solid reputation. That starts with recognizing that will affordability should always be on a homeowner's mind, we also make sure we always go further than just "Checking the box" when it comes to the following:
Providing high-quality work and roofing material
Adhering to scheduling and quoting timelines
The affordability as mentioned earlier
Staying up to date with the most recent roofing trends and research
No high-pressure sales techniques
Typically, most exterior contractors can offer two of the five, sometimes three. We guarantee we can provide 5 for 5 (and no that doesn't correlate with the review).
Let the Top Dog Home Pro team show you how we quickly became the "Top" roofing company in Woodbridge, Va!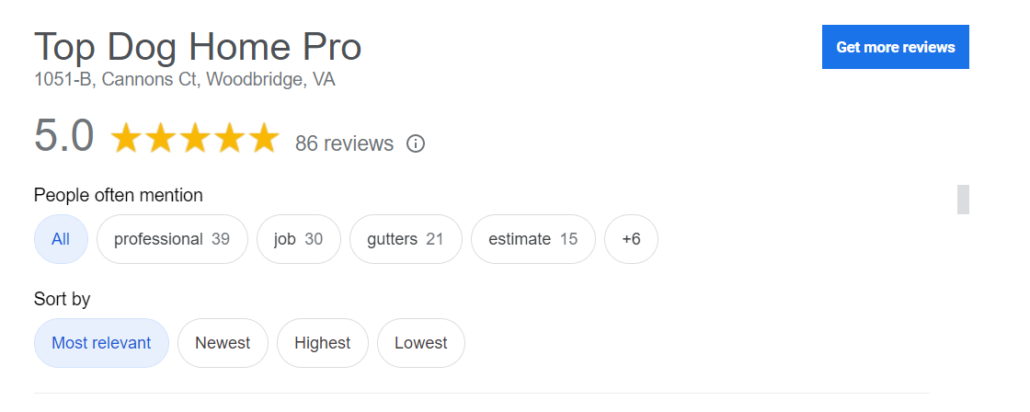 Roofing Company Woodbridge: Top Dog Home Pro
As the premier roofing company in Woodbridge, we offer the following roofing services for homeowners:
Free roof inspections
Our process is highly streamlined and after working in the roofing industry (specifically along the Northern Virginia 95 corridor) we have learned how to make sure every roofing replacement job we complete is top-notch and high-quality!
This starts with first visiting your home to assess the condition of your current roof. If we notice missing shingles, visible damage, and other issues, we immediately know there is at least some roofing work to be done!
However, we never make an assumption, and after inspecting the roof, the plywood below the shingles, and assessing the age of the roof, we properly inform the homeowner of what we recommend.
Sometimes roofing issues are not apparent to the eye, and things like soft spots, damaged plywood, missing seals, and/or capping exist high up on your roof!
Top Dog Home Pro takes pride in being the leading roofing company in Woodbridge so we are always very transparent with homeowners regarding their roof! If we think a new, full roof replacement makes sense we let you know.
If a roofing repair makes sense or in the chance you got a few more years with your existing roof, we let you know too! Since we inspect every roof, it doesn't hurt to request a roof inspection here!
What Roofing Contractors do:
Sometimes you might wonder, what do roofing contractors do in the first place? While this quick list is not all-encompassing, for the most part, roofing contractors will usually:
Complete roofing system replacement
Offer a variety of roofing service options from fixing roof leaks to replacing your roof
Roof repairs
Gutter replacement
Siding, windows, and doors
Always go with a great roofing company that is locally owned and owner-operated. Owner-operated is VITAL because it means the owner is hands-on involved. As the home improvement expert, you want an owner with core values and roofing insider insight.
Roofing Products & Shingles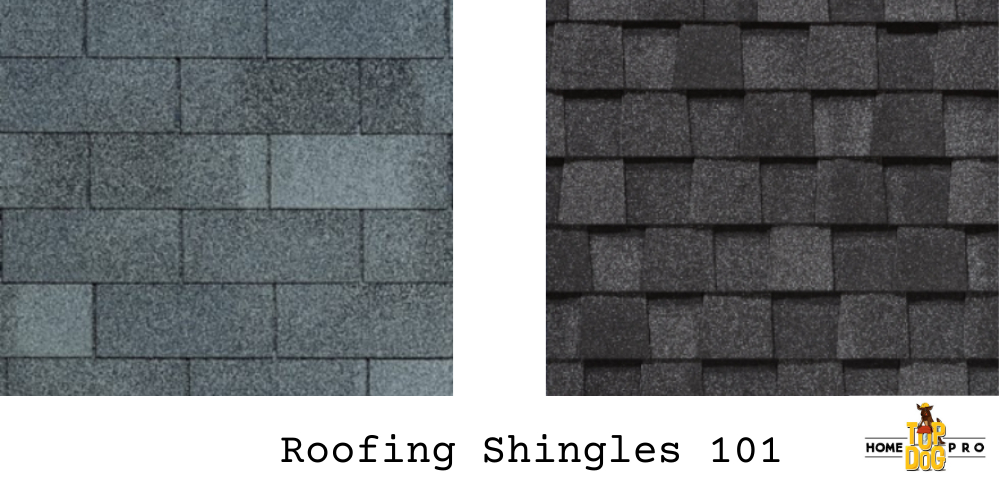 At Top Dog Home Pro, we are proudly accredited with the title of CertainTeed Shingle Master Company.
CertainTeed is one of the leading companies when it comes to manufacturing asphalt shingles. Specifically, the tried-and-true architectural laminate roofing shingle, Landmark, which is designed to replicate the appearance of cedar shake roofing available in an impressive array of colors.
Aesthetically pleasing is one factor, but the durability and product warranty is why we prefer CertainTeed products for your roof! With varying degrees of wind warranties, we help you select the best shingle to last your home the longest.
Additionally, as most residential roofs in Woodbridge are sloped, the aesthetics of chosen materials should reflect your personal style and flow with the design of the rest of the home. CertainTeed Roofing offers a wide selection of residential roofing shingles that are as beautiful as they are durable.
How to Choose a Roofing Company Near You:
Not only do we try to make sure we are always transparent and diligent when explaining our roofing process to homeowners, we also like to educate homeowners about their roofs in general.
This is why we created this short list to help you learn the key characteristics of what a solid roofing company looks like and how to choose the right roofing company for your home!
Has experience and ability to work with insurance companies
Possesses high-quality workmanship and credibility
Price isn't everything but is affordable with quality
Can offer to finance services for homeowners
Is efficient, prompt, and has a reputation as a great company
Is a local company to the area (in this case, Woodbridge, Va)
Knows how to file insurance claims
Is NOT A STORM CHASING company
To make a statement on the last point, storm-chasing companies flood areas after wind storms and damaging tornadoes or hurricanes. While we don't get hurricanes in Northern Va, in 2018, with the wind storms in the spring, many companies from around the country moved in, otherwise known as storm chasers!
It is always best to work with local contractors who know the area because not only do they offer the most quality and craftsmanship (think about it, they have to work in the area all the time) they also know what products work best!
Additionally, one thing we take immense pride in at Top Dog Home Pro is making sure we not only have quick turnaround times on roof replacement jobs but also that we stick to self-imposed deadlines when it comes to meeting with homeowners!
We use ZERO high-pressure sales or door-knocking techniques in addition to always being on time for an appointment!
Roofing services we specialize in:
Roof Replacement
As a certified CertainTeed Master Shingle TM installer, we specialize in roof system replacement which includes replacing the existing shingles and underlayment with new architectural asphalt shingles.
The process is fast, seamless, and easy for homeowners because of our roof replacement system. Our roofing crews are outfitted in matching attire and we always clean up everything using magnets and inspections so you have the best experience (not all roofing companies do this)!
Roof Repair
Many roofing contractors don't mess with roofing repairs. For them, the money isn't "Big Enough," and a roof repair can be very tedious and difficult. However, at Top Dog Home Pro of Woodbridge Va we get that you need an expert when you have a roof leak or roofing issue.
Gutters
Accompanying your roofing project is often new gutters! That is because a new roof and gutters will prepare your entire home for any storm! New aluminum gutters are seamless and secured with screw-in hangers. No more old-school roofing spikes!
For all of our services, our installation team always does a great job cleaning up after themselves and of course you can get a free estimate, even online!
Final Top Dog Home Pro Roofing Thoughts:
Luke started Top Dog Home Pro with a simple thought process:
Work as the owner/project manager for every customer
Ensure a fantastic job for each project (see our reviews) and you will have customer satisfaction
Become one of the TOP roofing contractors in Woodbridge
What you may or may not know is that your roof is fundamental in protecting your house from mother nature but your roof is also imperative in conserving energy and helping curb appeal.
While you may not directly notice an old roof, it is very evident when you see a new one! Not to mention, many home buyers are often considering the age of the roof when they buy. A new roof is not only a great selling point if you're looking to sell in the next few years, but studies have shown the return on investment for a new roof can be 70-80%.
A new roof is almost always worth the price, especially when needed!
If you notice visible damage to your roof, don't hesitate to reach out here for a free roofing estimate and if you have concerns about your roof, feel free to reach out!