What do gutters do?
We get this question all the time and today we will answer just that. But lets first start with the genesis of gutters.
The roof of your house is an absolutely vital component of your home's exterior due to its role in maintaining your home's structural well-being; however, I am sure that there is one aspect of the home of your roof that you've heard of before: The Gutters!
Gutters are vital to your home's protection from the elements. Sitting on your home's roofline, from the ground level gutters can be overlooked, but the power of fully functioning gutters makes all the difference even if you may not see it in action.
Today, I will be discussing what Gutters do to help give your home maintenance skills a boost! Let's get after it.
Gutter System: What are Gutters?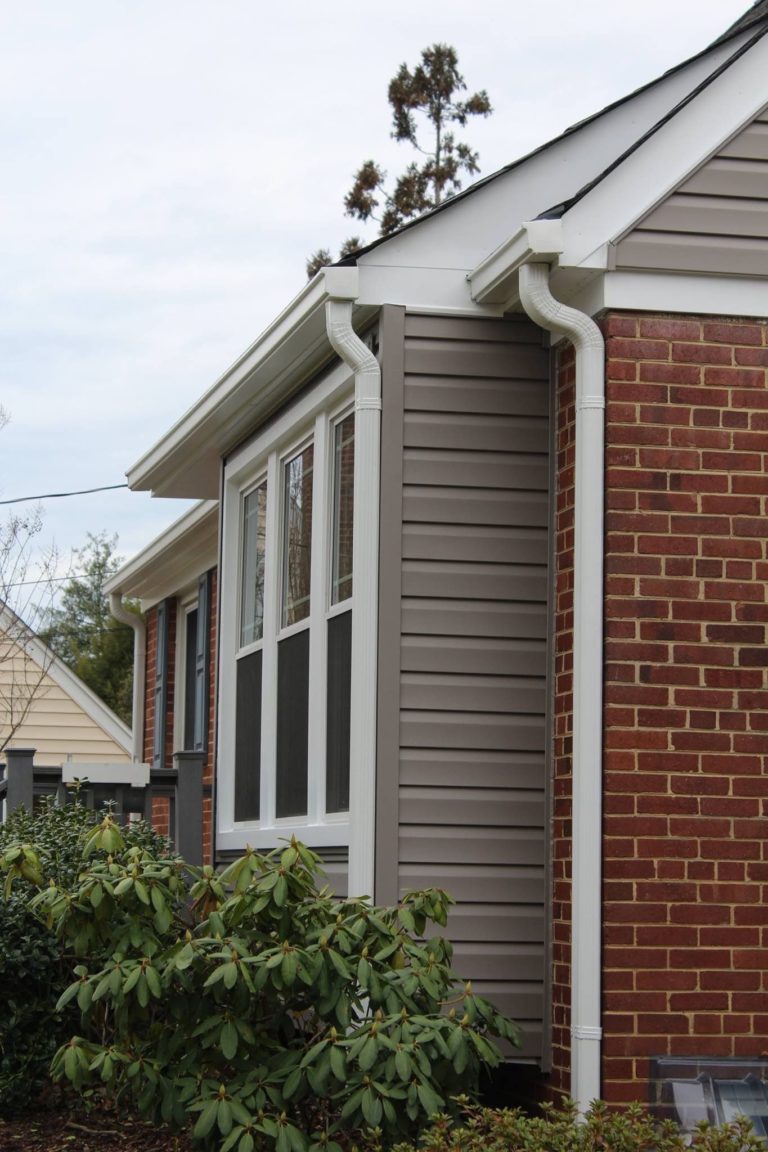 Gutters hold and control rainwater during storms by displacing the stormwater collected on your home's roof.
Rain water and other debris on your roof due to rainstorms and snow are collected and then disperesed, thus keeping your home dry.
Your gutters serve as the home's main defense against water damage by properly draining and guiding rain via downspouts in rain barrels or onto a splash block away from the house in an efficient and safe manner.
They simply protect your home from excess moisture that could invite problems such as basement leaks and flooding as the foundation line erodes, the spawning of mold and mildew, and worst of them all, pests!
This is why gutter maintenance is so vital!
✅ See Also:
Gutter Maintenance Tips and Importance
As alluded to in the last section, gutters on your home can do a lot of good, but without regular maintenance, they can wreak havoc in man different ways, shapes, and forms. Here are some tips and tricks to better keep you aware of what you need to do to properly care for your gutters.
1) Get your gutter cleaning on!
Hiring a professional gutter cleaning crew will ensure that your rain gutters are clear from excess debris that can and more often than not will cause clogged gutters (and downspouts).
When you have clogged gutters, water can not effectively be drained via the downspout and that rainwater trapped begins to pool and exposes your home's foundation to serious leaks and ultimately water damage.
The excess moisture from the leaks gives life to mold, mildew, and their ilk that can result in structural instability over time. If you thought it could get worse, it does! Rodents, termites, mosquitos, and the like love conditions like that, so choose your maintenance options carefully!
Cleaning gutters saves time, money, and most importantly peace of mind – BUT there is actually a better option below!
2) Consider Gutter Guards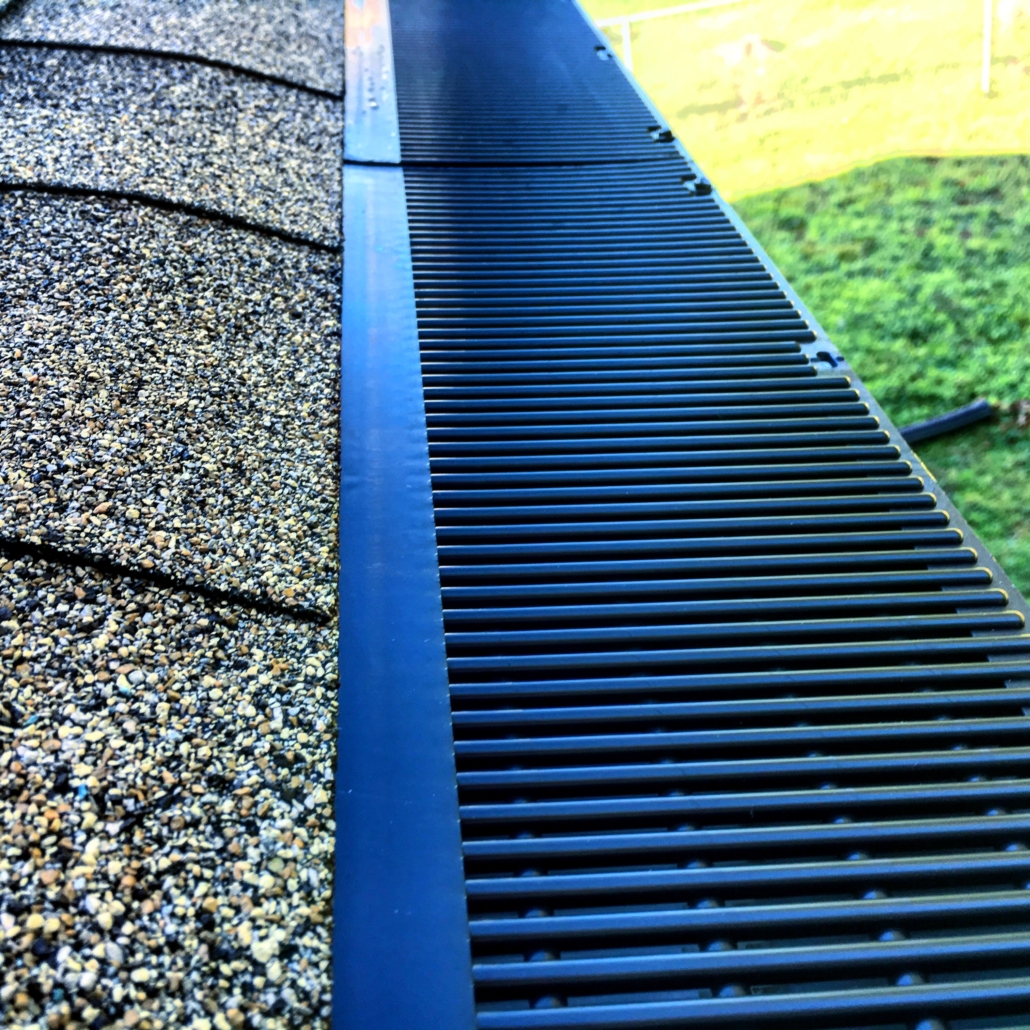 Gutter guards are designed to prevent debris and birds from getting your gutters. However, not all guards are created equally.
There are variety of types of gutters including:
Screens
Mesh guards
Vinyl guards
Tension guards (the best are Raindrop)
Here at Top Dog Home Pro we recongize there are pros and cons to gutter guards:
Pros to Gutter Guards
Cons to Gutter Guards
– Affordable
-Self cleaning gutter guards mean you don't have to clean your gutters
-Protect the durability of your gutters
-Protect gutters from being clogged
-Can prevent birds from nesting in gutters
-Cheap gutter screens actually cause clogs
-For some guards you have to clean the guards themselves
-Not all guards are created equally
That said, the RIGHT gutter guards are efficent and in fact, we actually warranty our Raindrop guards. We have a no-clog gurantee for guards we install and they are self cleaning.
Most gutter guards start at $15 a foot for a high quality guard and you can use a gutter calculator to get a estimate.
3) Control Runoff of Storm Water from Rain Gutters
All that stormwater has to go somewhere, so be prepared with a plan! Negligence to do so is killing lawns and other vegetation and creating ditches especially in low-lying areas, which are prone to flooding. In the aftermath of episodes of rain, even gentle rain falls, it is important to safely manage stormwater.
Stormwater should be either contained in rain barrels or directed away from the house and foundation line via splash blocks. Guiding rain effectively can be your best to also prevent erosion, making your lawn keep its beautiful look. It pays off 100%.
4) Consider Change in Seasons
Summer and spring are like brothers, but when winter arrives, you could be inviting problems if you are not proactive. Contractors install gutters to be able to withstand the elements, but the ice and freezing temps make everything that could go wrong with gutters, 2x worse.
Ice can expand and crack your gutter's foundation let alone your downspouts, so be sure before winter, you are periodically cleaning and draining your gutters if necessary.
Gutter Materials and Styles
The gutter system is relatively easy to understand in the grand scheme of things. While all homes are not equal, all do require rain gutters. However, keep in mind that there are different aspects of gutters that ensure they are working properly based on your home's roof and subsequent needs. Some factors to consider are gutter materials and styles. Super important!
Types of Gutter Materials:
Gutters come in different materials that serve practical purposes but also can add a decorative element for aesthetic appeal. However, the material you choose will greatly influence methods of gutter installation and is largely dependent on the structural framework of your roof. Such examples include:
Vinyl
Vinyl gutters are the most popular gutter material that you will see in the marketplace that makes your gutter installation easy and save you money as it's a more cost-effective option. Regular maintenance may be needed as vinyl material can experience gradual wear and tear which is why we do not recommend vinyl guards.
For one, they are cheaply made and sectional, meaning they break and leak as soon as one year after install!
Metal & Aluminum Gutters
Metal gutters are strong, durable, and can withstand extreme weather, however, they are more of an expansive option and do require professional installation.
Some examples include Zinc, Aluminum, Copper, and so forth. If you live in an area with consistent heavy impact from the elements, dents may occur over time and will require corrective maintenance.
Note: Copper is often a luxurious choice for mere adornment and aesthetic appeal, and is one of the most expensive if not the most expensive gutter material on the marketplace.
Most homeowners go with aluminum gutters as they are the affordable and durable!
Gutter Styles to Choose From:
K-shaped Gutters AKA "K-Style Gutters"
K-shaped gutters have signature "k" shapes that are commonly found on a new house or newer models of housing these days. They are lightweight, strong, can hold more water, and are not easily deformed by the impact of elements. However, they are more susceptible to corrosion and are more challenging to clean.
Half-Round Gutters (Traditional Gutters)
Half-round gutters are more of an archaic choice, but nevertheless, they are smooth, efficient at draining, durable, and easy to clean. However, installation can be tricky. It is recommended to hire roofing contractors that professional install gutters to best assist you.
How to Hire a Gutter Contractor
Contacting a gutter contractor can be as easily done with a simple search on your favored search engine. Look up roofing contractors in your area, but the numbers in your favor, and compare and contrast prices and services offered.
Heads Up!
Keep an eye out for a transferable warranty, because it ensures that professionally installed gutters are insured from one homeowner to the next in the case that you move!
What's the Verdict?
Gutters are more than meets the eye, and if you thought the same, I wouldn't blame you! Gutters protect your most valued asset, your home, by draining and steering away needless stormwater from your house, mitigating and eliminating the risk of undue harm by water damage.
Also, be sure to do your due diligence with proper maintenance and care for your gutters. If you are unsure or need some advice, contact us and we will help get the ball rolling for you!