Do you suspect your roof is damaged and want to learn more about the homeowner's insurance claim process?
When it comes to the insurance restoration process and your roof, you will need to know things before you ever submit a claim. Today, we are here to help guide you through the process with our easy-to-read guide below!
How Does Insurance Roof Replacement Process Work?
The roof insurance claim process is similar to anything insurance company related – it can be paperwork intensive and nuanced if you're unfamiliar. Luckily, we make the process pretty straightforward and simple:
Start by assessing your home and taking an inventory of potential property/complete a damage assessment.
If you suspect damage, you must contact certified roofing contractors to inspect your roof and help with your insurance claim.
Based on the roofer's recommendation, you will file a claim with your insurance company, and they will send out an insurance adjuster to assess your roof.
Depending on your homeowner's insurance coverage, your claim adjustment and approval will be handled.
You hire a roofing company to replace your roof after going through the claims process. Typically, the best roofing contractors will help you with this every step of the way!
So before you file a claim, know what is covered and how coverage works, starting with what types of damage are usually covered (this depends on insurance companies).
Types of Roof Damage Covered by Homeowners Insurance
The most common sign of roof damage is missing shingles, and prior to filing any claims with your insurance company, you need to first assess any damage. A quick way to assess for damage is to look at the following:
Was there a big storm in the area, and are there others with storm damage?
Are there down trees on your home or roof?
Were your gutters missing or damaged (this could mean your shingles were too)?
Does any of your home's exterior have wind and hail damage?
Do you have a roof leak?
Do you have missing shingles or parts of shingles in your yard?
Once you have made a quick check and before you file a roof damage claim, it is important to familiarize yourself with the most common roof insurance claims from below:
1. Wind and Hail Damage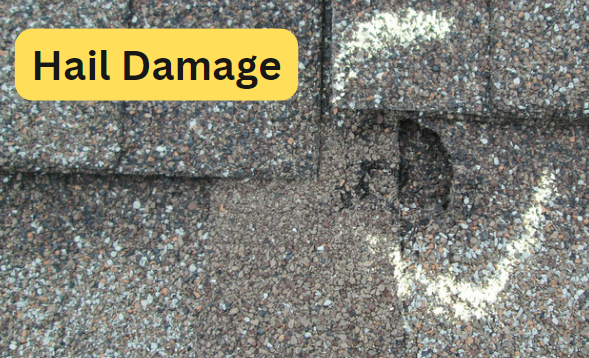 A powerful windstorm or hail damage is usually the top cause for roof repairs and insurance claims. In most cases, your insurance coverage accounts for this, and your shingles, depending on their age, may or may not have a warranty.
Roof insurance claims for hail damage or wind damage are widespread, and after assessing for giant holes or missing shingles, you should call a roofing contractor to inspect your roof.
2. Missing Shingles from Storm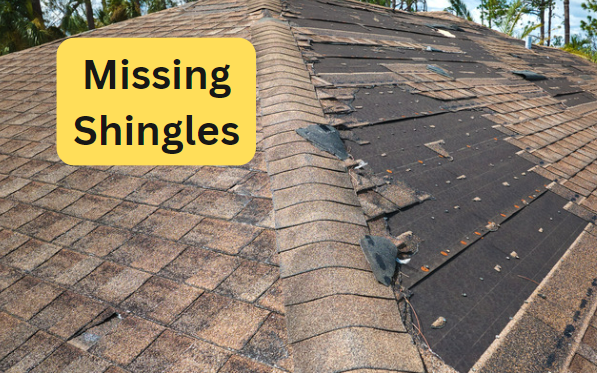 New roofs are typically installed using architectural shingles that have wind warranties. However, depending on the age of your roof or if you have traditional three-tab shingles, your roof might be susceptible to missing shingles from storms. In this case, you have to have these repaired asap or in some cases your entire roof replaced.
3. Hurricane or Tornaodes
In the unfortunate event of a hurricane or tornado coming through your area and causing extreme damage to the exterior of your home, your shingles, gutters, windows, and more could be impacted. If you experience one of these, be sure to have your home inspected afterward for any possible damage.
Actual Cash Value (ACV) vs. Replacement Cost Value (RCV)
When it comes to replacement cost coverage, there are few terms you will need to understand and familiarize yourself with. Actual Cash Value vs. Replacement Cost Value will depend on what your insurance company covers.
Actual Cash Value coverage refers to your insurance company accounting for the depreciation of your roof's lifespan. For example, if your roof is 20 years old, the asphalt shingles have potentially passed their lifespan, and this could be adjusted for.
Replacement Cost Value refers to no consideration for depreciation of your roof. In an ideal scenario with roofing insurance claims, you hope your coverage is RCV coverage. If your roof costs $10,000 to replace, once you file a claim, your deductible is subtracted and you get the money to pay the roofing company.
Actual Cash Value = Roof replacement cost, minus depreciation, minus deductible and what is left over is paid for by insurance (usually means more out-of-pocket expense for the homeowner)
Replacement Cost Value = Roof replacement cost minus the deductible; what is left over is used for the roof replacement.
Tips: What to Do If You Get Roof Damage
Get a Roof Inspection
If you suspect or see roof/storm damage, the first step is to always get your roof inspected before filing a claim. Have a company come out and assess the damage. Sometimes your out-of-pocket expense might be less than your deductible for a roof repair. You can avoid a full roof replacement in this case.
Temporary Fixes
In the event of a roof leak or missing shingles, a temporary fix like a tarp will suffice while you go through the claims process and wait for your insurance payment approval.
Don't Let your insurance company boss you around.
This is a tip from a roofing company that knows how insurance companies work – don't let them boss you around. Some insurance companies will throw up roadblocks to deter you from making a claim, but if you have damage and homeowners insurance, that is what it is for – to protect your home and fix issues.
Get your new roof paid for by insurance.
Once you have gone through the insurance claim process and you get your insurance check, you will need to get your roof replaced. You cannot pocket the check and not get your roof fixed – this is technically insurance fraud. Most insurance companies will inspect your roof after the work is complete.
Watch out for roof repair scams
A point to note is that you want to avoid roof insurance claim scams and repair scams. Some storm chasers and less than reputable companies will try to say they can help you file a claim and fix your roof for cheaper than insurance, etc. If something feels funny, trust your gut.
Get a second opinion and always use a certified contractor who is licensed, bonded, and insured – but also has roof insurance claim experience. Remember, the lowest price that can help you "Save Money" can sometimes cost you more in the long run.
FAQ Roof Insurance:
What if my roof insurance claim is denied?
If your roof insurance claim is denied by your insurance company, you can appeal this claim and go through an appeals process. Having a written inspection from a roofing company can help with your appeal.
What do insurance adjusters look for on roofs?
An insurance company will send out an adjuster to look at your roof when submitting a claim. The insurance adjuster has to look at the age of your roof, the installation's quality, and any storm damage. Granule loss for asphalt shingles, hail damage, missing shingles, and debris damage are all common issues spotted by an adjuster. They might recommend minor repairs if your roof is in good shape. It is in your best interest to do whatever your insurance company recommends and is willing to cover.
Does my home insurance cover roof damage caused by a hurricane?
In the event of a severe storm, such as a hurricane, your homeowner's insurance should cover your roof damage. Homeowners' insurance policies determine what is and what is not covered; however, your roof is almost always included in your policy. Where most homeowners have issue is dealing with flood damage issues. Most roofs that are impacted by the wind from hurricanes are pretty simple to claim with your insurance company.
Will my insurance go up after a new roof claim is filed?
Sometimes homeowners are apprehensive about submitting a claim because their homeowner's insurance might increase. Depending on who you use as your insurance provider, your insurance premium may or may not increase. If you are considering having a new roof installed but wondering if your insurance will go up, you can always ask how much it goes up (if it all), and that will vary by insurer. In some cases, the slight increase will still be significantly less than if you paid out-of-pocket expenses for your roof.