Roofing repairs are a pain to handle yourself and simply dealing with the process can be tiresome.
Here at Top Dog Home Pro, we understand how annoying some home improvement projects can be, but a roofing repair is almost never your idea of a fun time. We make sure that if you happen to be a Stafford, VA resident and you need a roofing contractor to help with a repair, we have you covered (literally).
Today, we will share with you some of the information regarding Stafford Roofing Repairs and how your roofing project can quickly be handled. First, what is a roofing repair?
What is a roofing repair?

There are a variety of roofing services that you can pick from, but most of the time you will hire a roofing contractor to either fix a small issue or replace your entire roof. In the case of a traditional roof repair, it simply means addressing and fixing something small or minor that requires attention but you can't do yourself.
A few examples of common roof repairs include:
Curling shingles
Missing shingles (need to replace shingles to prevent a leak)
Broken pipe collars & pipe collar replacement
Ridge vent repairs
Installation of new flashing or a new ridge vent
Fixing hail damage, wind damage, or other storm damage
[Note:] We recommend never attempting a roof repair on your own for numerous reasons. First, you can hurt yourself by being on your roof and using ladders. Secondly, a roofing issue must be corrected or it can lead to larger issues. Trying to fix your roof yourself can actually make matters worse in the long run leading to further issues such as attic leaks, the need for decking replacement, or more.
Roof Repair vs. New Roof
Sometimes we are asked what is the difference between a roof repair vs. a new roof. The difference is pretty simple:
Roof repair: Correcting the present issue, typically does not require insurance and can be handled by the homeowner and a roofing contractor.
Roof Replacement: A new roof or roof replacement refers to completely replacing the underlayment and shingles on your roof (decking is not included in a roof replacement unless it is needed).
How to know if you need a roofing repair:
Now you know the difference between a roofing repair vs a new roof, but which one is the best choice for you?
The following factors will typically determine which route is best for your home:
The costs. If it costs almost just as much to repair your roof as it does to replace it, it might be worth just getting a new roof. However, if the repair is minor and only cost's a few hundred dollars, a repair is justifiable.
Insurance. Sometimes the determining factor for a roof repair vs a roof replacement is what insurance says. Some insurance companies may say a replacement is required, or they may pay to repair a specific number of shingles.
Damage. Ultimately, the amount of damage will usually determine whether or not a repair or roof replacement is needed. If a roof's repairs are so major, sometimes a new roof might make more sense.
Most roofing contractors will conduct a roof inspection to determine the best course of action. If your roof can be repaired, they will often give you a price. On the other hand, if the roofing contractor thinks you need a new roof, now you might have to go through insurance.
A point of note regarding roofing repairs is making sure you hire a reputable roofing company for your home improvement project. Some roof companies struggle to appropriately fix
What about the gutters?
Sometimes we are asked by homeowners whether or not their rain gutter system will be left intact or need to be replaced. Truthfully, it really depends on the condition of your gutters and the fascia boards they're mounted to.
If the fascia boards need to be replaced or the gutters are in really bad shape, it is usually best to replace them while also replacing your roof. However, if you have a small roof repair and your gutters aren't the cause of any leaks, your gutters will be just fine!
Example of a roof repair in photos:
Below is an example of a roof repair where the customers did not need a brand new roof. Instead, the homeowners were in need of a ridge vent replacement.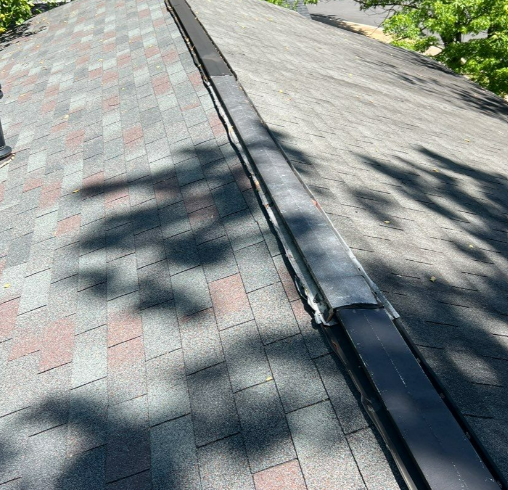 This ridge vent was causing leaks and issues for the homeowner, however, the roof was still in great shape and the three-tab shingles were holding up.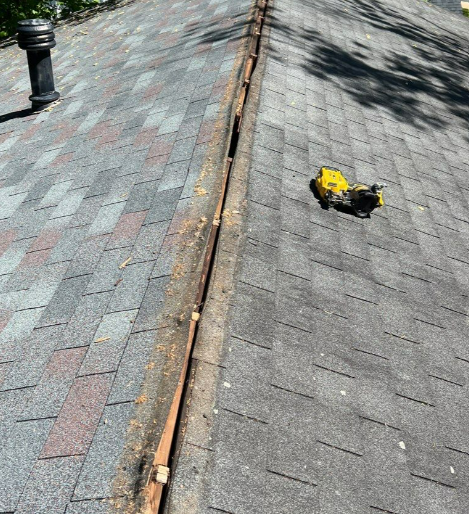 The only correction required for this roof repair job was replacing the existing ridge vent with a new modern shingle ridge vent!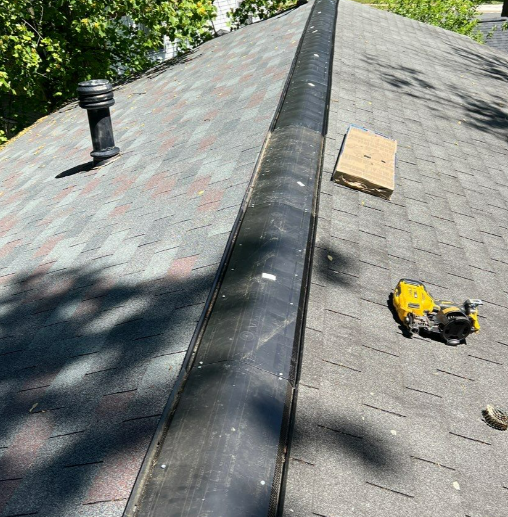 After getting rid of the old ridge vent, the new ridge vent is installed.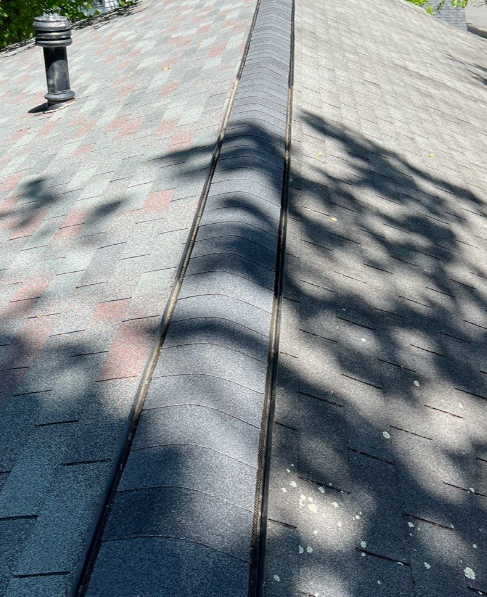 Roof repair complete! LIke that, after installing the ridge vent, it is topped with singles to match!
In this roofing repair, the gutters, roof decking, and shingles were all experiencing precipitation issues due to runoff water. Water damage can quickly deteriorate a roof, and as you can see, sections of the wood decking had to be replaced, followed by adding new shingles.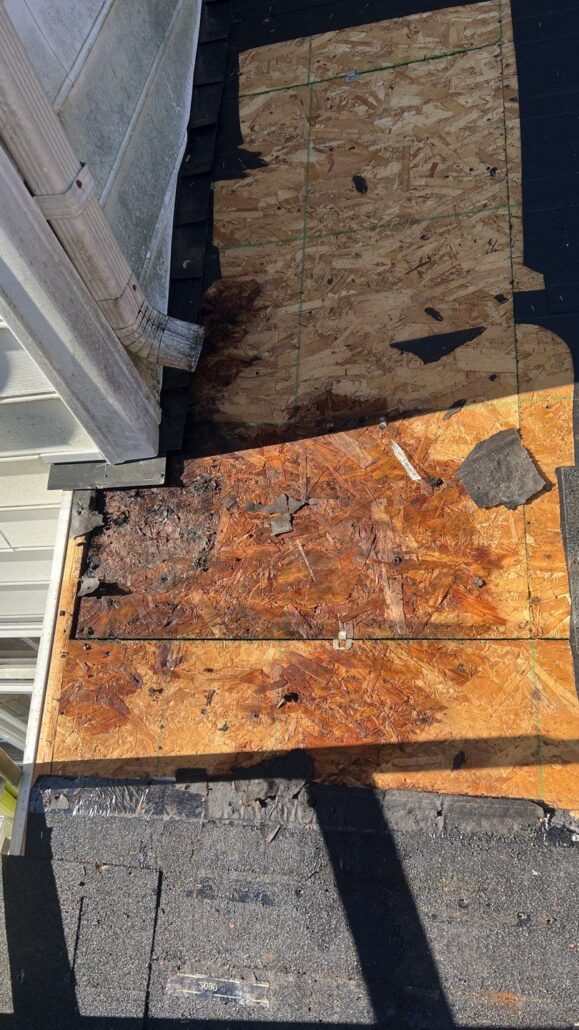 This was the rotting wood decking due to the gutter downspout pouring on top of the shingles directly. The plywood decking needed to be replaced and the spot needed to be reshingled!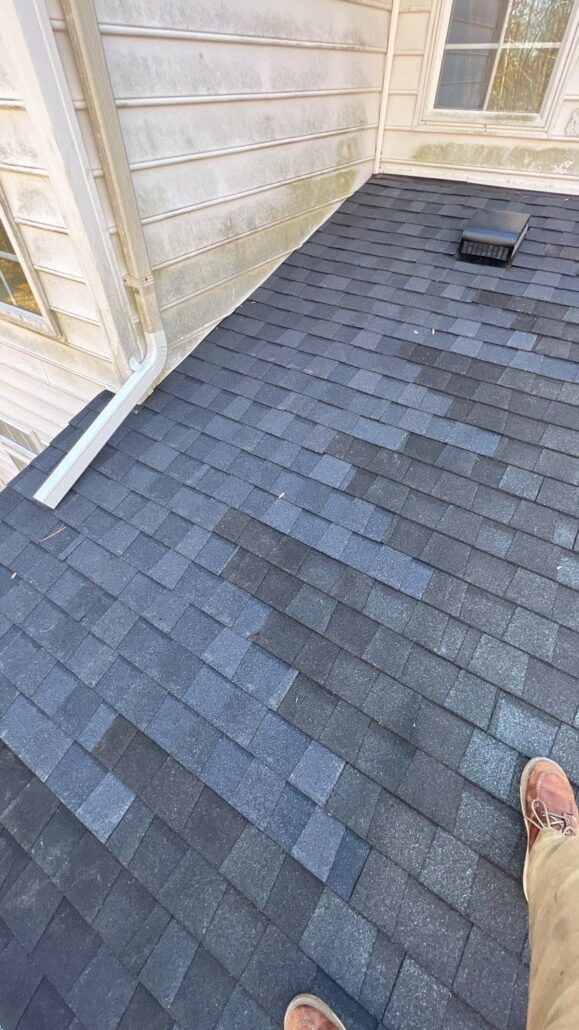 New decking, new underlayment, and new shingles tapered into the existing shingles was the roof repair solution for this home. Also, re-routing the downspout was vital for making sure to avoid an issue like this again!
The important factor true roofing professionals will always consider is whether or not the repair costs are warranted. If the repair costs are sizeable and the roof might need more repairs or to be replaced in a year or even four, it could be worth getting a new roof now.
If you think you need a roofing repair and live in Stafford or the surrounding areas, get in touch here:
Frequently Asked Roofing Repair Questions:
What about a roof replacement?
Roofing installation, new roof, roof replacement – all of these refer to the same thing which is replacing the old shingles and underlayment with new shingles and new underlayments. When a roof is being replaced, the priority is a dry roof and home along with customer satisfaction.
Installing shingles does not mean replacing all the plywood on your roof. This is only done if there are issues and this comes with extra costs. Retrofitting your roof with new pipe collars, flashing, and a ridge vent is also part of the replacement process.
That being said, some customers are torn between a roofing repair and a new roof. Extremely professional companies will give you the honest answer as to which is best for you.
How much do new asphalt shingles cost?
We wrote an entire new shingle cost guide here that will help you understand how roofs are priced. While the exacts are hard to pin down because of shingle shortages and rising costs to make changes, most companies will charge $500 on the low end and up to $800 on the high end per square of architectural shingles.
Houses are measured by square feet and every 100 square feet equals one square. A standard home will typically amount to approximately 15-25 square.
Metal roofs are much more expensive and while they can last longer, the premium costs upfront are typically substantial. Asphalt shingles have a more affordable price.
How do you find reputable roofing contractors?
You can search online, ask friends, or go to social media to find a roofing contractor for your roof repair, but vetting them is where the real search begins!
Verified reviews and a reputable status are key indicators that you have found a great exterior remodeling company. You will want to make sure that whatever roofing contractor you decide to go with for your Stafford roofing repair is insured, licensed, and certified.
The planning phase for a roofing repair can be tedious so be sure to look for a roofing company that is known for:
Great service
Great communication
Planning expertise & timelines
Compare quotes from multiple companies
A solid business reputation
Has a great service side
Some roofing contractors want nothing to do with repairs and only want to install new roofs, new siding, or new windows. Companies like Top Dog Home Pro love helping homeowners get a small business feel and price, but an authoritative job is well done!
If you find yourself searching "Roofing repair near me" or "Roofing repair Stafford, VA" we got you covered! Simply drop a line and let us know what your roof's issue is and we can get the ball rolling for you!