Your roof is one of the largest parts of your house that often tends to get overlooked. You know it's there, it has always been there, so you don't have to worry too much, right? That couldn't be further from the truth!
There is more than meets the eye as your roof can be prone to leaks if proper maintenance and care is not done and chances are if you didn't, you see leak stains on your wall. That may or may not be you, but nevertheless, you should be in the know! Today, we will discuss how to tune up your leaking roof!
Why is it important to act on a roof leak repair?
Leaks are a serious issue that can wreak havoc on both the interior and exterior of your home costing tons of money, time, and peace of mind.
Water moisture that builds up due to leaks can be especially damaging as they can slowly break down the structural composition of your home let alone spawning mold, mildew, algae, and so forth that have their own negative health consequences.
Getting them fixed by being proactive as best as possible will save you from the headache of being reactive!
5 Ways to Help Fix Your leaking Roof
Below we will detail some of the common roof issues that cause roofing leaks and also how to fix them!
1. For small leaks, locate and clip your shiners!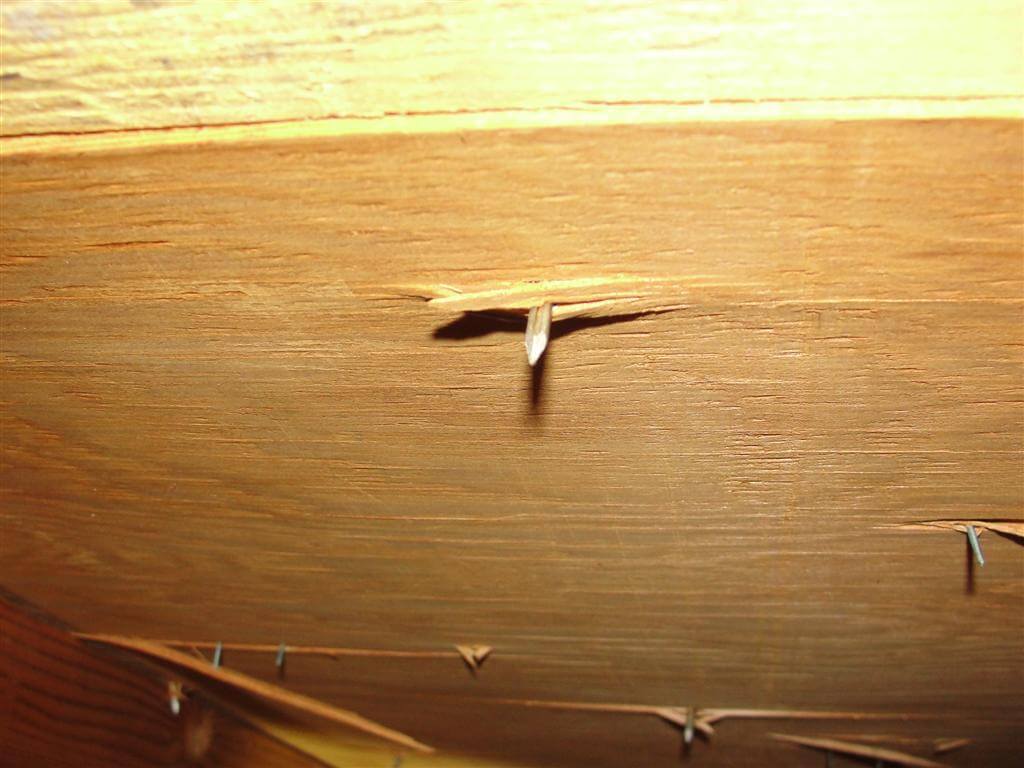 Carpenters are responsible for nailing roof sheathing to rafters, but sometimes those nails miss the framing member, thus being called shiners. Shiners are a great resource at detecting smaller level leaks because moisture escapes from them and either frosts or condenses during colder temps and drips in warmer terms.
You'll know, either way, you got a leak! 
Snipping shiners will help prevent moisture from escaping into places you don't need it to go! This is a quick and easy solution, but most of the time you want to hire a professional roofer to do this for you so you don't mess anything up!
2. Repair Roof Vents
Roof vents, responsible for keeping moisture out of our attic, can be especially vulnerable to leaks if compromised. Cracked foundations, missing nails, and faulty or broken seams are red flags for replacement, and truthfully short term methods like caulking are ineffective to say the least. It has to be replaced in its entirety!
If replacement is needed, remove existing nails slowly and gently so as not to damage roof shingles, replace the base, substitute nails for rubber-washers screws, and finish by caulking the base between shingles. 
Additionally, we will talk about it in the next section, sometimes it is not the vent itself but instead the flashing near it.
3. Repair Step Flashing
Step flashing is installed at the intersection of the wall and the roof, helping to guide water away from the roof. However, over time the elements can break down step flashing causing it to become loose or break. This spells disaster because once it's compromised, water will therefore flow behind it and leak into the house. Yikes! 
If needed, replacing is tricky and requires you to adjust siding and remove shingles, before a caulking finish can take place. Expertise is recommended due to the complexity of the job and is advised that professional help is called.
4. Repair Plumbing Vent Boots (Pipe Collars)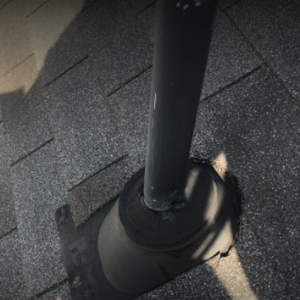 Plumbing vent boots are typically rubber, weatherproof holders for roof vent pipes that seal the bottom to prevent leaks. However, the base let alone the rubber can wear down, crack, and become brittle, causing leaks to happen.
The easier solution is to invest in a new vent boot and have a new one installed by gently removing surrounding shingles and using rubber-washers nails if no nails are present or are compromised to secure it to its base. If it's the base that's faulty, replace and caulk it and use rubber-washers nails, while salvaging the boot. 
✅ See More: Pipe Collar Repair Info
5. Protect Walls and Dormers
Windows, corner boards, and siding can be vulnerable to leaks with the persistence of the elements, penetrating through small cracks and crevices around your window and behind fleshing of your dormers. Over time, as mentioned, this poses a structural risk for mold and mildew to build up and eat at your home's foundation. 
Make sure to effectively replace flashing on dormers, sidings, and so forth, and remove and apply new coats of caulking as necessary to seal off points of contact where water can enter. Great preventative measure against pesky leaks! 
Frequently Asked Roof Leak Question:
Can you repair your roof yourself?
These tips are tricks to help tune up your leaking roof are great to know, but knowledge is only as good when we can apply it!
Let's be honest, you might not be suited to make those repairs and truth be told, why bother? Roofing work requires expertise as mentioned due to complexity of the work and inherent risks. Call a professional, and save your time! 
Also, keep in mind, it is important that you don't try to DIY when it comes to roof leaks. They are nothing to mess with and a roof leak can lead to bigger issues if not corrected the right way. Water damage in a house can be catastrophic when not accounted for!
This is also why you working gutters in conjunction with your roof is so vital!
What's the Verdict?
Repairing leaks is not the easiest thing to do! It requires precision and expertise to know how to effectively spot and repair them.
 However, the best thing you can do is stay proactive and periodically do proper maintenance and care, so you can best avoid being in a position where leaks are prone to happen! Seek counsel from a professional like us. We would love to serve you and address your needs for the future! 
To learn more, simply reach out below to the team here at Top Dog Home Pro!