Purchasing a new roof for your home can be a significant expense for some households, so roof financing options must be considered.
Whether you need a new roof because you have an older home or because of storm damage, sometimes a roof repair isn't going to cut it, in cases like this, a new roof replacement could cost $10,000 or more, depending on the size of your home's roof.
Some roofing companies (like Top Dog Home Pro) offer roof financing options, and today, we will share what you need to know.
Roof Financing & What to Know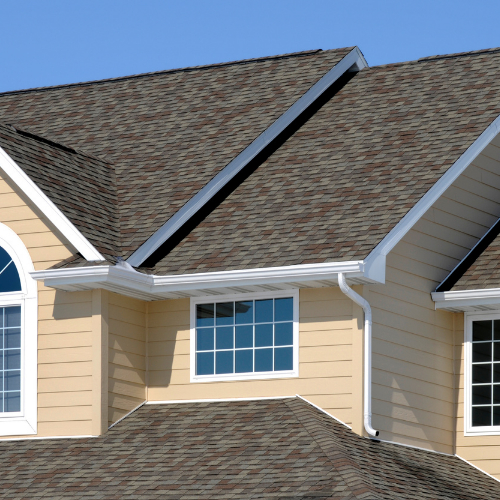 Roof replacement costs are often just out of reach for most homeowners to pay 100% with money from savings. Or, in some cases, when you do have significant savings – getting a new roof might tap your reserves more than you would like.
In this case, many people will turn to alternative measures to purchase a new roof which includes financing.
Financing options for a new roof come in one of two ways:
A personal loan earmarked for your roof
A home equity loan for an amount to cover your roof costs
For roof replacement financing, the personal loan route is typically more ideal than a credit card and it is often an unsecured loan, meaning you don't have any collateral. The downside is that rates are typically higher than a HELOC.
Most reputable roofing companies will offer special financing and roof loans, but always weigh the pros and cons!
Pros & Cons of Roofing Loans
With any loan, there are pros and cons associated with taking out personal loans. Here are some specific pros and cons for roof replacement personal loans:
Pros
No collateral is needed (Unlike home equity loans)
Quick process and fast funding
Lower interest rates compared to credit cards
Most terms allow for quicker paybacks
Cons
Higher interest rates compared to a home equity loan
Can impact your debt-to-income ratio
With any loan, interest costs
No tax benefits with a personal loan
How to get a roof loan:
Get a new roof estimate: How much do you need for your new roof? Personal loans come in a lump sum, meaning if you underestimate the costs, you can't request more funds. With roof financing, you want to make sure you have several solid quotes for your new roof or roof repair.
Review your budget: Before jumping into a loan, be sure to factor all of the costs with regard to your savings, credit, and ability to make monthly payments. Perhaps you want to put 50% down and finance the rest. Before applying for a roof loan, have your estimate and budget finalized.
Apply for a roof loan: Once you have determined that a personal roof loan is the best route, you can apply for the loan amount you need for your project. Here at Top Dog Home Pro, we have vetted lenders that can help make this process smooth and straightforward. Of course, you can always look for roof financing options online to compare.
Once you take the necessary steps to procure roof financing, now it is time to get your new roof! If you happen to still be on the fence about roof financing, below are some additional ways to pay for your roof!
➡️ Related Article: What is ROI on a New Roof?
How to pay for your roof:
Below are some of the most common ways homeowners can pay for a new roof. A reputable roofing company can accept all forms of payment (Please note, we do not aim to indicate one way is better than another. Financing options are available but it is vital always to understand financing terms and rates).
Cash or Check
Before you take out a roof loan, always check your budget to see about paying for the project with cash or a check makes sense. We encourage homeowners to always consider all the variables when purchasing a roof:
Do I have the money set aside?
How much of my savings will I need?
Do I want to incur debt or simply pay cash?
The upside to using a check or cash is that some companies will offer discounts.
Credit Card
Some homeowners will use a credit card to purchase their new roof, collect the points or rewards, then pay off their credit card. Always remember that if you use a credit card to purchase a new roof, interest charges can add up quickly with a significant purchase such as a new roof.
Often times, a personal loan is a better route than a credit card if you plan on only making the minimum payments for your roof.
Personal Loan
A personal loan is the most common way to finance a new roof. If someone doesn't want to use their cash savings or put the purchase on a credit card, the next option is to consider using a personal loan.
When applying for roof financing, you are essentially getting a personal loan that will utilize the funds strictly for your new roof. A "Roof Loan" is a personal loan used to cover the expenses of your roof repair or replacement.
Like all loans, there are terms and interest costs associated with these loans. Your credit history also impacts your ability or inability to receive a loan.
HELOC
A HELOC is a home equity loan or line of credit that allows you to cash out a portion of your home's equity for personal use, like a roofing project. A new roof for some homeowners is too much to deplete their savings, but not so much that they have to get a personal loan.
A home equity loan is very similar to a personal loan in cases like this. Only you are using your equity. Home equity loans are contingent on your home's equity and value. Terms vary for home equity loans, and you will want to ensure you understand the repayment options.
A home equity line of credit allows you to pull as much as you need for your project, such as a new roof.
Insurance Claim
One way to pay for a new roof that has been damaged in a storm or can be justified in an insurance claim is to use the insurance money. This is not something everyone can do, but only those who are submitting an insurance claim.
When hail, wind, or other natural disasters destroy your roof, you can get a roof repair out of pocket or pay for a new roof. Filing an approved claim with your insurance company results in the roof replacement being covered by the insurance company. You have to pay the deductible and whatever else your homeowner's insurance company dictates.
The Final Word on Financing Options –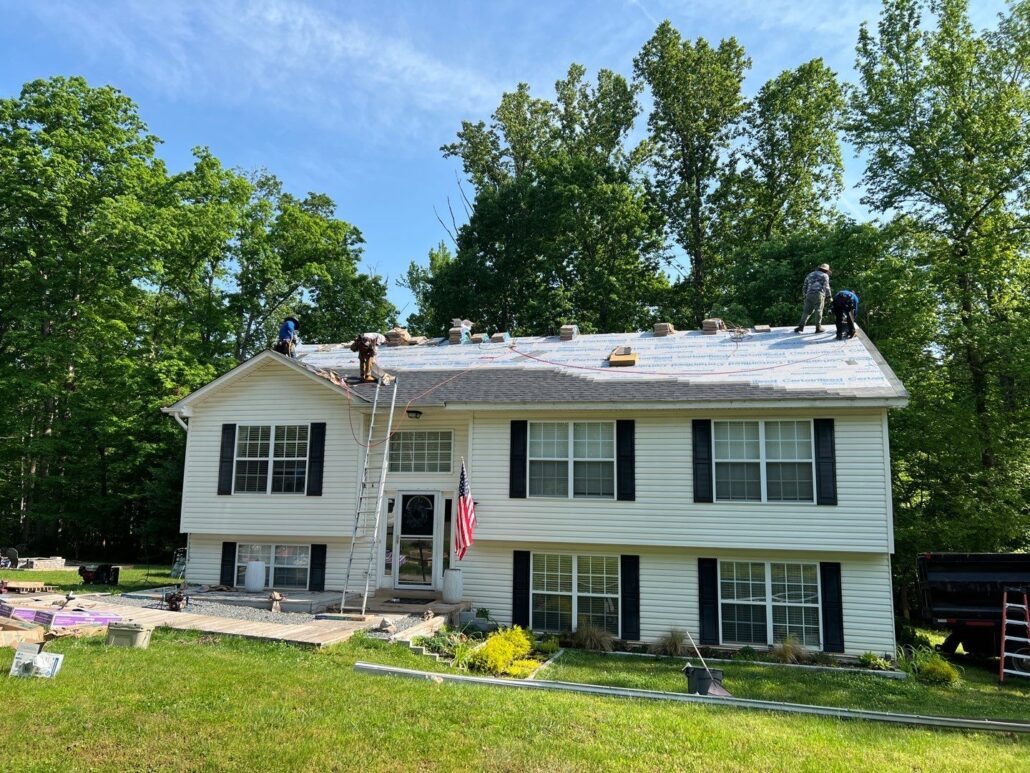 When it comes to financing a roof, here are the key takeaways:
You need a minimum credit score to get the best rates and lowest monthly payment
With any home improvement project, be sure to consider all the factors
Check first to make sure your roof is not covered by homeowners insurance before securing lending
Keep in mind roof loans have to be paid back, so don't get them if you can't afford them
Know the terms of an unsecured personal loan and always look for fixed-rate loans
Got any questions about roof financing? Feel free to reach out to our team here!