Wood shake shingles vs asphalt shingles – which ones are better?
Asphalt shingles often take the cake when it comes to being the most popular while wood shakes are aesthetically popular in certain regions around the country.
Your roof is one of the most essential part of your home and we recognize when you are fixing or replacing it, what roofing material you decide to use is a big decision.
However, what you decide has heavy implications on the health of your home, and therefore, deciding on roofing materials is a critical task to get right. If you are like most homeowners, you probably don't know about the nitty gritty, and that's ok!
Today, we will discuss two of the most common roofing materials: Wood shingles and asphalt shingles.
First, why do roofing materials matter?
You already know the roofing material you select is significant to your roof, but why exactly is it so vital?
The answer is short and simple; not all roofs are the same!
Therefore, it is crucial to understand the context of your situation to ensure your roof's needs are being met appropriately. Depending on where you live and the climate your home is in can mean you need a different roofing material.
Wood shingles (aka cedar shake shingles) and asphalt shingles are:
Made up of different compositions,
Have different methods of installation,
Costs vary between the two (asphalt shingles are less expensive)
Availability in the marketplace in terms of supply and demand.
So many variables that require professional expertise to dissect! Keep reading, and we'll go into the details of what you need to know!
The Difference Between Wood Shingles and Asphalt Shingles:
Both wood shingles and asphalt shingles are entirely different in how they are manufactured and overall made up from raw materials, as mentioned to help them give off a distinctive appearance.
Asphalt shingles are made up of asphalt, and fibrous glass, and organic materials.
Cedar shakes and shingles are cut and crafted from real wood. Cedar and California redwood is the most common wood to manufacture wood shakes.
In terms of curb appeal of the final product, wood shakes come in different dimensions in width and thickness and use age to further their cosmetic prowess in giving off a rugged, woodsy appeal.
Note: A cedar shake roof will differ from a cedar roof (wood roof) with wood shingles in appearance due to the former.
Asphalt shingles are more meticulously, even layered and overlapping with a modern aesthetic most homeowners find attractive hence why it's the most popular roofing material on the marketplace. Recently, architectural asphalt shingles have given the same appearance as their cedar shingle roof counterparts!
Wood Shingles
Pros:
All for better airflow in the case of moisture build-up
Energy efficient, and can help save money on energy and cooling bills
Resistant to high winds and impact as well as pests, including but not limited to insects, etc.
When properly treated with chemical preservatives and routine maintenance, they can last up to 30 years.
Can boost curb appeal to increase your home's value
Cons:
A cedar roofing material is not designed for a DIY project due to inherent risk and need for expertise.
Routinely in need to be cleaned for moss and fungi every 2-4 years
Unless properly treated, there's no fireproof quality.
Despite airflow advantage, can retain moisture.
Asphalt shingles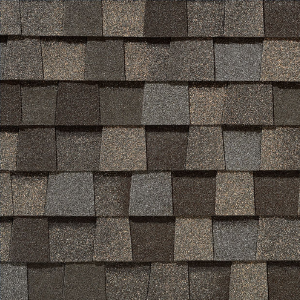 Pros:
They come in a variety of colors and patterns and conveniently provide a DIY option.
Energy efficiency
A cedar shake roof will differ from a cedar rood with wood shingle
A versatile installation is an option open to most roofs.
Strong wind resistance coupled with a Class A fireproof quality rating
Cons:
More vulnerable to volatile weather – increase the likelihood of damage from nearby trees and tree branches.
Ideally need to be installed in warmer seasons for better finish and seal.
Incur granule loss, cracks, and leaks due to inclement weather over time with protective layers.
Despite being an easy and convenient choice, not as attractive or eye-catching as other wood may be in terms of curb appeal.
FAQ:
Cost-Effectiveness: An asphalt shingle roof or a cedar roof?
According to the roofing industry, asphalt shingles cost less per square foot than wood shingles due to the composition of the roof shingles, the nature of the roofing system, and the expertise required from a roofing contractor/roofing company to install them.
In terms of roof replacement, Asphalt shingle roofing will cost about $3-5 per square foot and for cedar shingles/shake roof; you are looking at a more expensive option at $8-$15 per square foot.
Regarding your new roof or the one you have now, cedar and asphalt shingles are roofing options that could be on the table for you with proper consultation from a roofing contractor.
How can I get wood shingles or asphalt shingles installed on my roof?
The answer is simple and easy. Seek out local roofing contractors in your area that specialize in installation services for both wood shingles and asphalt shingles. Staying local helps address the context of your situation much better. Services can vary depending on geographical region and supply and demand; however, with us, we got you covered!
What's the verdict?
Wood shingles and Asphalt shingles are two incredible roofing materials on the marketplace that serve a common greater purpose, your home's roof!
You are probably waiting for an answer on which is better, but you'll sadly be disappointed. The truth is it depends on you! Your situation is much different from anyone else, but with proper professional guidance, you can be steered in the best direction for your home.
Some key takeaways to consider:
Are you looking for aesthetics or durability?
Do you currently have a cedar roof or asphalt shingle roof?
With cedar shingles, can you manage the necessary upkeep they may require?
When it comes to roofing shingles, what is your budget?
What do the roofing professionals in your area specialize in?
We're here to help and here to serve you in every way we can! If you need help, feel free to reach out, and we'll get the ball rolling.