Any kind of exterior home renovation is an investment, both in terms of money and time.
When choosing which roofing or gutter contractor should hire to help complete exterior remodeling, it's important to take the time to ensure the right choice is made.
Even if the highest quality replacements are chosen, their correct installation is essential to functioning correctly. Things like price, professionalism, quality communication, and haggle-free scheduling – they all matter. 
That is why here at Top Dog Home Pro we stand by our guarantee to be the best in Roofing & Gutters in Woodbridge/surrounding areas! 
[READ MORE] 
Who is Top Dog Home Pro (Woodbridge, VA)?
Top Dog Home Pro was founded in the spring of 2016 by owner/founder Luke Mitchell.
After graduating from West Virginia University in 2009 with a degree in business, Luke worked for his father's exterior renovation company for several years before moving on to an extensive product distribution company to run their install division.
However, before college, Luke started working side by side with his father before he could even drive, gaining valuable insight on how to renovate roofs and gutters for homes (You can read all about the start in detail here).
---
UPDATE 2020:
Presently (as of Fall 2020) Top Dog Home Pro has no served countless customers in and around NOVA to help with their roofing and gutter needs.
In fact, we now have 63 5 Star Reviews!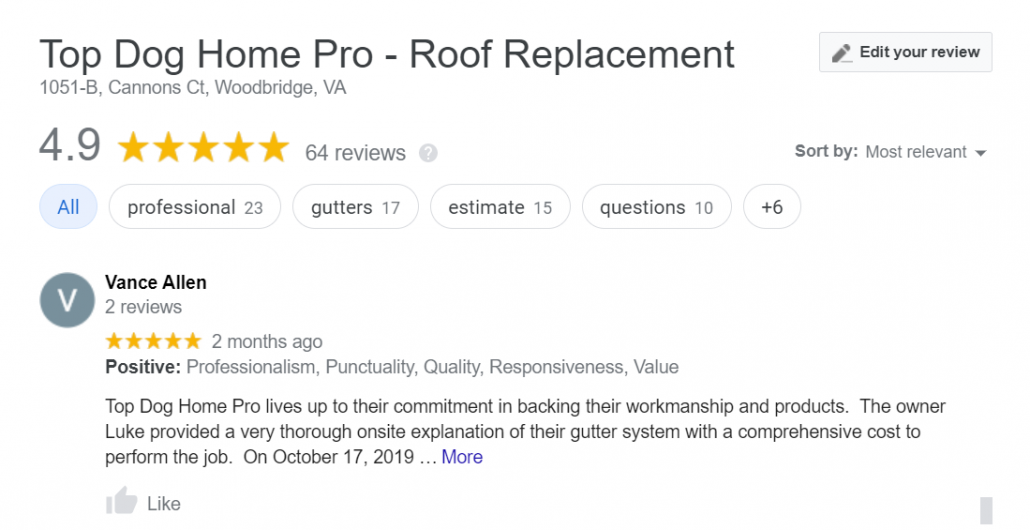 ---
Keys to Exterior Home Renovation:
Pricing:
A low bid might mean low quality. This kind of renovation is an expensive, long-term investment. It can be even more costly if it is not done right. Thorough research should be done to ensure a true professional expert is hired. It's important to contact at least three contractors for consultation. Be sure to verify each is an established, insured company.
Transparency
A good contractor listens to their customer and is open to answering questions. A window and door replacement professional should have no problem explaining their process, sharing their work stats, or providing licensing certificates, references or proof of insurance.
They should also be willing to provide a written proposal that outlines every aspect of the project. If the initial meeting results in confusion, it may be a red flag that they are not the right fit.
For example, our warranty info and transparent pricing can be found online!
Pricing
Every homeowner has different needs and a different budget. Many contractors sell only certain brands or initially push stock that is the most expensive. A trustworthy expert will understand individual needs and work with the homeowner. If purchasing replacements through them, be sure to gain a solid understanding of the associated warranties and details of the products selected.
Homeowners make important, long-lasting decisions when it comes to windows and door replacement. That same thought process and the above tips can help make it a little easier.
We can help with pricing! We put all of our prices online to make the ease of home exterior renovation simple!
Final Thoughts –
At Top Dog Home Pro, we are enthralled to be one of the leading exterior home renovation companies in Woodbridge, VA and the surrounding areas!
When it comes to exterior remodeling renovation for your roof or gutters, we got you covered and can help your home stay on TOP!
~Luke, Top Dog Home Pro