Do you want to know what the average exterior remodeling costs will be for your next home project?
Did you know that exterior remodeling has almost a 60%-90% ROI depending on what you complete to your house exterior?
Depending on what type of service you're looking for – roofing, siding, windows, landscaping, gutters – the price can and will almost always vary (we will elaborate more on that).
The actual costs of giving your home an exterior upgrade are somewhat elusive, and it can be challenging to get a good idea of how much you'll have to shell out. Don't worry; today, we'll share the average exterior remodeling costs to guide you on your journey!
First, why do the real costs of an exterior upgrade often vary?
Home improvement projects for the exterior of your house, in all respects, are extremely enjoyable when you get to pick out colors and add curb appeal. However, we all know it can also be super expensive!
Exterior remodeling prices may vary, and it often depends on several factors. For example, we can tell you that gutters will average about $7-1$10 per linear foot, or that a roofing square can range from $400 to $850, depending on the shingles. But the final costs always depend on the size of the project. All of the variables can add to OR decrease the price.
If you have come to the conclusion that there is no one-size-fits-all approach when it comes to finding the average cost of exterior upgrades, that is because of three specific variables:
1. Your Home's Size
The cost of home improvement projects will always be directly proportional to the size of the home because more or less material is required to be able to get the job done. This is a significant barometer of the average overall cost.
For example, roofing costs are based on "Square" or 100 square feet. A home that only requires 10 square shingles will always cost less than a home that requires 25 square!
Price Per Square Foot:
Just about every component of interior and exterior remodeling projects is based on square footage. Contractors can accurately estimate costs based on the total square footage of a project.
Whether it is a new roof or new paint, most contractors will measure for square footage, then use the total and multiply it by their price per square foot. Building materials can increase or decrease the price. For example, new siding can vary greatly depending on whether it is insulated or not.
Something like a new exterior door or window are often priced based on material costs and labor cost.
2. The Quality of Materials
Each house has its own unique needs to support its structural integrity and, therefore will require different sets of materials, including but not limited to special siding, gutters, roof composition, and so forth to address those needs. This certainly is a confounding variable that will impact the total average cost.
3. Other Exterior Components
When it comes to exterior upgrades, you have to understand that each part of your home's exterior and property has a different price tag. Pretty straightforward, right? However, don't let this piece get away from you; once on the job, it is easy to underestimate/overestimate budgeting costs.
Average Exterior Remodeling Costs:
While taking these variables into account when determining the price range, you will more than likely be looking at a price between $6,000 – $20,000 overall for the average exterior upgrade costs for your home and property.
Exterior upgrades consist of painting, refurbishing/replacing siding on your home, patio, decks, siding, gutters, fencing, landscape and lawn services, and so forth.
It can be costly, sure, but what's satisfying is that you're getting at least, if not more than an 80% return on your investment as a whole. Still not sure you're getting a good deal? Consult with your local home remodeling project for a free quote and estimate.
A long-term investment that is with it when all is said and done, and plus, it makes your home look good and stand out!
The 6 Most Common Exterior Upgrades:
1. Siding
When it comes to siding, the above variables will apply concerning the size of your house and the quality of used materials. On average, siding costs $3-$11 per square foot, totaling a cost of roughly $4,000 – $15,000 remodeling project from vinyl on the low end to fiber cement boards on the higher end.
Fiber cement siding – aka James Hardy board – is a more expensive siding but adds the ultimate curb appeal and is worth considering for exterior renovations when you plan on staying or adding home value.
Related siding articles to help:
2. Landscaping
Services include but are not limited to, landscaping trimming, edging, mowing, lawn design, and numerous outdoor installations (pool, sprinkler system, drip irrigation system, sod).
Landscaping costs are dependent on the size of the property like siding, but also with that, labor is needed. Very important to consider! On average in the marketplace, labor costs are calculated by the hour, roughly $50-$100 per hour, with a price range of $4,000 to $12,000.
Full landscape projects are between $3,000-$15,000 on average. Obviously, there are lots of variables, and most landscaping will really depend on what you get done.
3. Roofing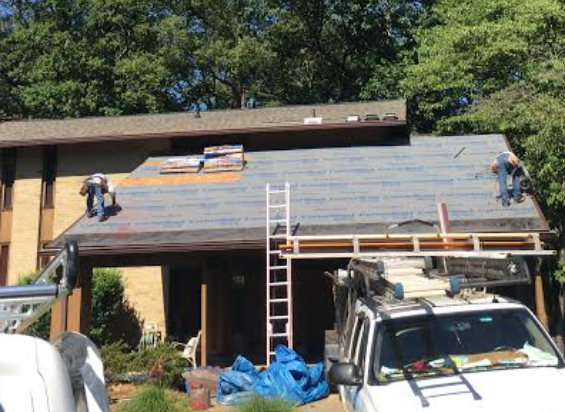 Roofing prices may vary – sounds like a commercial, right?
As we mentioned earlier, roofing prices can vary, and typically the most common determining factor is the size of your roof. Roofs are priced 100% based on size first and the material second. Most homeowners choose an asphalt shingle roof since it offers the most durability and affordability. It also helps that the most common roofing material is asphalt shingles, and the recent technological upgrades in shingle selection/colors have made it a go-to choice!
That said, asphalt shingle roofs have a few options in shingle quality and the roofing warranty associated with the installation. A leaking roof is always something you must fix and we have written extensively about roofing prices here.
Other Great Roofing Articles:
4. Patios
The most common patios are paver patios. For paver patios, size, material, and labor required will be the determinants of the cost you pay.
Whether it be brick, stone, or concrete, factoring other miscellaneous materials needed, the price range will generally come out to $4-$6 per square foot. On top of that, the marketplace on average, charges $6-$11 per square foot for labor. Again, account for the above-mentioned variables.
For a full patio installation or remodeling, the average price range comes out to be roughly $2,000 – $7,000.
5. Exterior Paint
Are you painting a few doors or your home's entire exterior?
A fresh coat of paint goes a long way and to paint the entirety of a home's exterior will typically start at $3,500 and go up from there according to Remodeling Contractor. To have your fascia boards painted or maybe a few doors can cost a few hundred dollars, depending on the contractor you hire.
In the next step we recommend potentially purchasing new windows and doors, but a cheaper alternative is to simply paint your front door. By painting your front door a new modern color, you can instantly increase your home's curb appeal!
6. New Windows & Doors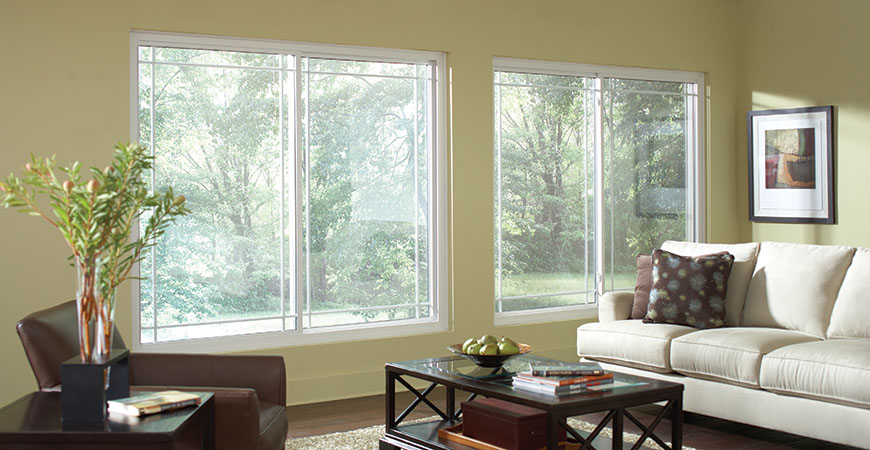 New windows and door replacement costs really depend on two things:
The product you select
The number of items being replaced
The average cost to replace windows can vary from $300 all the way up to $1,000 per window. A window replacement project can quickly escalate in price if you have twenty windows or more.
A home renovation project that includes replacing doors can cost anywhere from $500 per door and up. Super elegant front doors can vary depending on the composition of the door and can get pricey.
A new garage door(s) can cost anywhere from $700 to $3,000 to replace – once again depending on your selection and the contractor's pricing.
Pricing Tips:
Whatever aspect of your exterior renovation project you determine to tackle, here are some quick tips to always consider:
Remember, almost all prices factor in installation costs, so always ask for the material price on things like doors and windows
For siding, remember there is a big difference between vinyl siding and cement fiber, so be sure to consider the ROI.
When it comes to selecting shingles, many homeowners will choose an architectural shingle that offers color variety. Just be sure to clear it with your HOA if you change your colors.
A modern tip for updating your home is to swap out your gutters and use a new gutter color! For example, white homes with black roofs and black gutters look modern and can make any home look updated!
Always ask for estimated costs and consider options that are low maintenance, promote energy efficiency, and could attract potential buyers down the road.
Exterior home improvements can go a long way and are typically cosmetic in nature OR they will increase energy efficiency.
What's the verdict on exterior home remodel pricing?
The price of your exterior makeover really boils down to your budget, but then again that first impression matters!
Home remodeling is exciting because they are out with the old and in with the new, right? Totally understandable. However, you should always be in the know of how much you have to invest in doing the upgrades you want to do!
Price varies heavily, and there are many variables to account for; no two ducks look alike! It can be challenging to budget it all out; however, there's no need to fret! Most home remodeling services will offer free quotes and estimates to help match your needs both financially and in regard to the suitable projects you need to be completed.
Keep it simple and easy. Reach out to a professional for prices when in doubt!