Do you want to know what the average exterior remodeling costs will be for your next home project?
Depending on what type of service you're looking for – roofing, siding, windows, landscaping, gutters – the price can and will almost always vary (we will elaborate more on that too!).
Home improvement projects for the exterior of your house, in all respects, are some of the finer things in life, because you have the opportunity to put the creativity of your ownership to good use and make sure everything is looking great when it comes to curb appeal. In addition, to curb appeal, you want to make sure any exterior remodeling is functioning well. If that's you, more power to you, but the costs behind your upgrade could use a second glance. 
The real costs of giving your home an exterior upgrade are rather elusive and can be difficult to get a good idea of how much you'll have to shell out. Therefore, if you thought that, you probably ended up here. Smart choice, because today we'll talk about the average exterior remodeling costs you have to keep in mind! 
First, why do the real costs of an exterior upgrade often vary? 
Exterior remodeling prices may vary and it often depends on several factors. For example, we can tell you that gutters will average about $7-1$10 per linear foot. But on the other hand, other projects have variables that can really add to OR decrease the price.
If you have come to the conclusion that there is no one-size-fits-all approach when it comes to finding the average cost of exterior upgrades that is because of three specific variables:
1. Your Home's Size
The cost of home improvement projects will always be directly proportional to the size of the home because more or less material is required to be able to get the job done. This is a significant barometer of average, overall cost.  
For example, roofing costs are based on "Square" or 100 square feet. A home that only requires 10 squares shingles will always cost less than a home that requires 25 square!
2. The Quality of Materials
Each house has its own unique needs to support its structural integrity, and therefore will require different sets of materials including but not limited to special siding, gutters, roof composition, and so forth to address those needs. This certainly is a confounding variable that will impact the total average cost.
3. Other Exterior Components
When it comes to exterior upgrades, you have to understand that each part of your home's exterior and property has a different price tag. Pretty straightforward, right? However, don't let this piece get away from you, once on the job, it is easy to underestimate/overestimate budgeting costs.
How much does an average exterior upgrade as a whole cost?
While taking these variables into account when determining the price range, you will more than likely be looking at a price between $6,000 – $20,000 overall for the average exterior upgrade costs for your home and property.
Exterior upgrades consist of painting, refurbishing/replacing siding on your home, patio, decks, siding, gutters, fencing, landscape and lawn services, and so forth. 
It can be costly, sure, but what's satisfying is that you're getting at least, if not more than an 80% return on your investment as a whole. Still not sure you're getting a good deal? Consult with your local home remodeling project for a free quote and estimate.
A long-term investment that is with it when all is said and done, and plus, it makes your home look good and stand out! 
Here's a list of 4 common exterior upgrades: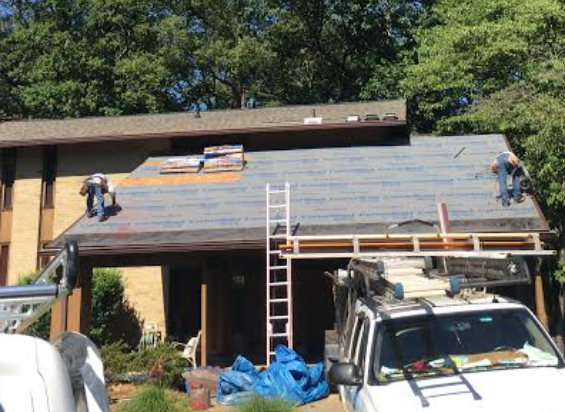 1. Siding
When it comes to siding, the above variables will apply, concerning the size of your house and the quality of used materials. On average, siding costs $3-$11 per square foot, totaling a cost of a roughly $4,000 – $15,000 remodeling project from vinyl on the low end to fiber cement boards on the higher end. 
Related siding articles to help:
2. Landscaping
Services include but are not limited to, landscaping trimming, edging, mowing, lawn design, and numerous outdoor installations (pool, sprinkler system, drip irrigation system, sod).
Landscaping costs are dependent on the size of property like siding, but also with that, labor is needed. Very important to consider! On average in the marketplace, labor costs are calculated by the hour, roughly $50-$100 per hour with a price range of $4,000 to $12,000.
Full landscape projects are between $3,000-$15,000 on average. Obviously, there are lots of variables and most landscaping will really depend on what you get done.
3. Roofing
Roofing prices may vary – sounds like a commercial right?
As we mentioned earlier, roofing prices can vary, and typically the most common determining factor is the size of your roof. Roofs are priced 100% based on size first, the material second. Most homeowners decided to go with an asphalt shingle roof since it offers the most durability with the most affordability.
That said, shingle roofs have a few options in shingle quality and the roofing warranty associated with the install. We have written extensively about roofing prices here.
Other Great Roofing Articles:
4. Patios
The most common patios are paver patios. For paver patios, size, material, and labor required will be the determinants of the cost you pay.
Whether it be brick, stone, or concrete, factoring other miscellaneous materials needed, the price range will generally come out to $4-$6 per square foot. On top of that, the marketplace on average charges $6-$11 per square foot for labor. Again, account for the above-mentioned variables.
For a full patio installation or remodeling, the average price range comes out to be roughly $2,000 – $7,000.
What's the verdict?
As mentioned earlier, home remodeling is exciting, because they are out with the old and in with the new, right? Totally understandable. However, you should always be in the know of how much you have to invest to do the upgrades you want to do!
Price varies heavily and there are many variables to account for, no two ducks look alike! It can be challenging to budget it all out; however, there's no need to fret! Most home remodeling services will offer free quotes and estimates to help match your needs both financially and in regards to the right projects, you need to be completed.
Keep it simple and easy, reach out to a professional for prices when in doubt!