Consumers will often ask, "How do I calculate how much siding I need?"
Most homeowners ask about calculating siding needs because they want to make sure in the hiring and selection process they're getting the best deal when it comes to pricing. Understandable.
Here at Top Dog Home Pro, we understand being informed matters, and when pricing your potential siding replacement you will want to know the siding styles and amount of siding required to price shop. Today, we will share with you how you can calculate how much siding you need for your home by teaching you the best way to estimate the size of your home.
What you will learn:
How is siding measured and calculated
What is a siding square
How to estimate siding squares
---
First, how is siding measured and calculated?
When it comes to measuring your home for siding, similar to roofing measurements, everything is done in what is commonly referred to as a "Square."
A square simply means 100 square feet of surface area. So a 10 by 10 area would equate to 100 square feet or one square.
An estimator will typically measure a home, determine how many squares are required to replace the existing siding, then based on color, style, and siding type, provide an accurate estimate of how much the siding replacement would cost.
Typically, most siding comes in boxes of two squares or 200 square feet.
Contractors use the square method because it is easiest to estimate the time it will take to replace for labor purposes and give homeowners the most accurate price.
---
How to estimate squares of siding for your home:
Estimating the size of your home's siding is actually quite simple. In order to calculate how much siding you will need, start by measuring the four walls of your home.
Measure the four walls of your home. For example, if the front of your house is 40 feet across and each floor is typically 10 feet and you have two floors, your home measures 40 feet by 20 feet or a total of 800 feet.
Do the same for the sides and garage. Any area that is a rectangle or square, measure the width and estimate 10 feet for each floor for height purposes.
For example, the same home that is 40X20 in the front is also 40X20 in the back, or a total of 1600 square feet front and back.
The sides are 20 by 20 or 400 square feet, for a total of 800 square feet for the sides. The total square feet for this house is 2400 square feet. BUT we can't forget about the gables.
Pro Tip: To get in the ballpark of your siding calculations, you can actually just assume it will be around the size of your home. For example, a 3,000 square foot home will need approximately 3,000 square feet of siding or 30 squares.
---
How to measure for siding gable walls:
The yellow areas in the above photo are called gable walls. These are the angular areas of your home that will meet the roof's edge and are triangle-shaped.
Measuring your home's gables are not very hard to estimate and calculate how much siding you will need, it just requires a trip down memory lane to geometry class.
Remember the area for a triangle formula? Area = base x-height, divided by two.
In the example house form above, let us assume there is a gable on each side. The width of the sides is 20 feet, and the gable is 8 feet high.
20 X 8 = 160 square feet, divided by two = 80 square feet.
| Area of Siding Measurement | Total Square Feet: |
| --- | --- |
| Front of home | 800 square feet |
| Back of home | 800 square feet |
| Side 1 | 400 square feet |
| Side 2 | 400 square feet |
| Gable 1 | 80 square feet |
| Gable 2 | 80 square feet |
| Subtract windows & doors | -260 square feet |
| Total Square Feet | 2,300 square feet |
As you can see, the above example of a home that has four standard sides and two gables and is approximately 2,000 square feet in size, will require 2,560 square feet of siding, or 26 squares (always round up).
Of course, windows and doors are going to be factored out and if your average window is 6 square feet and you have 20 windows, you can factor out 120 square feet from the overall siding calculations. Factor in the doors and even the garage, and you can really save some money with siding.
What you might notice is that the total size of a home is approximately the same for the exterior siding. So in general, a 1600 square foot home will need roughly 1600 square feet in the siding (give or take a few hundred feet). While this isn't 100% accurate, it does give you a ballpark!
Which leads to the final question you might be asking yourself, how much does a square of siding cost?
Related: How to Find The Best Roofing Company Near You
---
How much does a square of siding cost?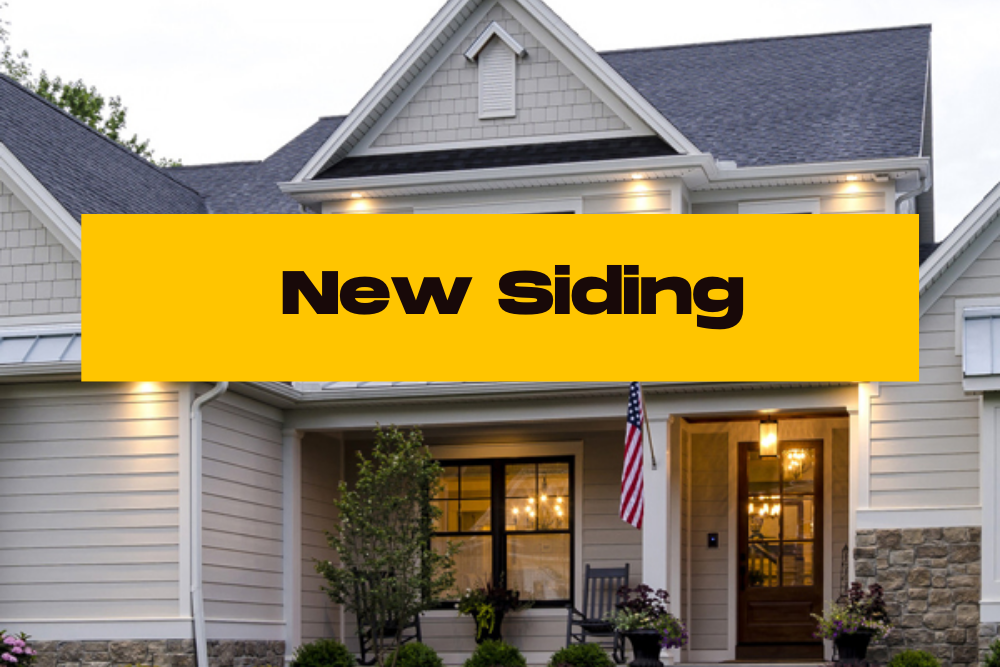 On average, the price for a square of siding installed can vary on a few factors:
Type of siding
Labor requirements (some siding material is harder to install)
Location of where you live (supply & demand)
Trimming and existing material
For example, vinyl siding is always going to cost less than reinforced (insulated) vinyl siding, which is also cheaper than fiber cement siding (Hardy board). Aside from an occasional anomaly or two, here are the breakdowns for the national averages of siding (installed):
$100 per square (extreme low end)
$650+ per square (higher end)
Using the example 2,300 square foot house from above, the cost to replace the siding by varying styles would look something like this:
| Style of Siding | Cost |
| --- | --- |
| Wood | $11,500 |
| Vinyl | $18,000 |
| Reinforced Vinyl | $20,000 |
| Hardy Board | $23,000 |
The Verdict on Measuring Siding –
These prices above are just average guesses, however, it does help you understand what type of costs you are looking at when you replace your siding.
When it comes to measuring your siding, it doesn't have to be exact if you're a homeowner. You just want to have a brought estimate of how many squares you will need to buy and have installed.
Here are some parting tips:
To answer, "How do I calculate how much siding I need?" simply roughly use the square footage of your home
If you want to be exact, measure it, draw it out some, and get an accurate measurement and convert it to square
To covert square feet into a square, divide by 100 (1800 divided by 100 = 18 square).
Still got questions? Ask us below!