BOOM! You hear the crack of what sounds like golf balls crashing into the side of your home and it's the middle of the summer. Immediately, your brain recognizes this loud noise as hail, pelleting the side of your home.
Or perhaps, in another storm, the wind throws your grill across the deck and you go outside later that day and find you have some missing siding. Whether it is a hail storm, wind, or you simply are looking to finally upgrade your old siding, the first step is to find a siding contractor to help you with your home improvement project.
When it comes to your home's siding, there are a lot of variables including:
How do I finding a siding contractor near me?
What type of siding material to go with (vinyl, composite, Hardie board)
How much is your budget for siding?
Will insurance help you with replacing your siding?
Today, we will help you with the first item on that list – how to find a siding company by you!
Easy steps to find Siding Contractors 'Near Me'
Google and search engines are not the only way to find siding contractors (or any contractor for that matter). In fact, while search engines provide some reputable options, it can also mean those contractors are simply paying to get your eyes through advertisement services.
However, today I will share with you (and yes we happen to be siding contractors) how to find a siding contractor the easy way. Here is how:
Start by using Google Maps. Simply type in the search terms "siding near me" or "siding contractor near me." This will populate a list of quite a few contractors to begin learning about.
Next, look at reviews. While reviews are certainly not an end-all-be-all, the number of reviews is a sheer indicator that a company has done quite a few jobs and worked well with its clients. If one company has 5 reviews and another has 75, well this can aid in you deciding which company to go with.
Ask them to come to look at your home's siding. Once you have narrowed in on a list of the top three companies your considering for siding, be sure to call each and set up an appointment! Be sure to be aware of high-pressure sales techniques that get you to sign on the dotted line without having all of your questions answered!
Other ways to help you find siding contractors:
Using Google Maps is not the only way to find a siding company to help you out. You can also use perhaps the best form – word of mouth – or social media as well.
Simply asking a few friends who always seem to "have a guy" for this and that can help you find someone to help you with your project. Hearing real testimonies when looking for a contractor makes the task that much easier.
One of the best ways to find a siding company fast is to ask on Facebook or social media like the photo below: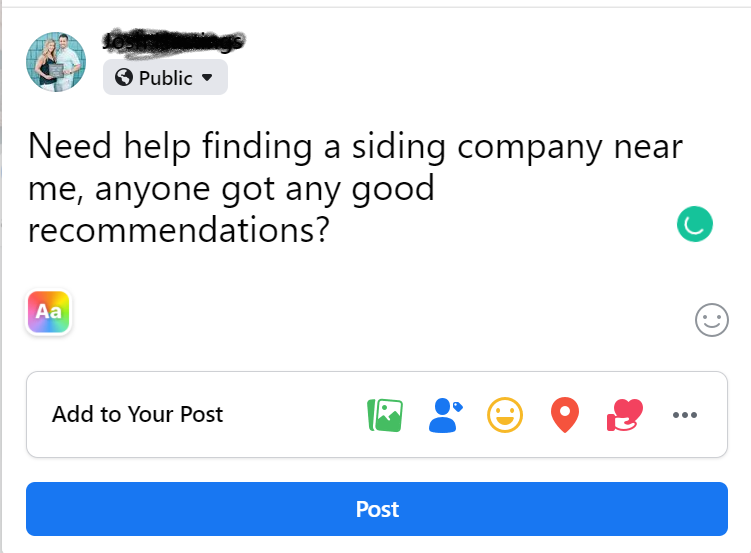 Posting to Facebook and asking for recommendations will lead to you hearing from people you know who have ACTUALLY used the company they are recommending -OR- they know from experience what company to work with.
Based on their recommendation, you will find yourself with a list of quite a few exterior remodeling contractors who can help you out!
---
The Verdict –
If you are looking for a contractor, it is best to always talk to a few before hiring. We proudly say that, even though we know we uphold one of the best reputations in all of Northern, VA as an exterior remodeling contracting company.
At Top Dog Home Pro, we have completed siding jobs in Woodbridge, Stafford, Dumfries, Fairfax, Alexandria, Tysons Corner, Arlington, Fairfax Station, Lorton, and countless other cities.
For more information, be sure to check out our siding page here which details everything you need to know! There you will find our product listing as a Alside backed company!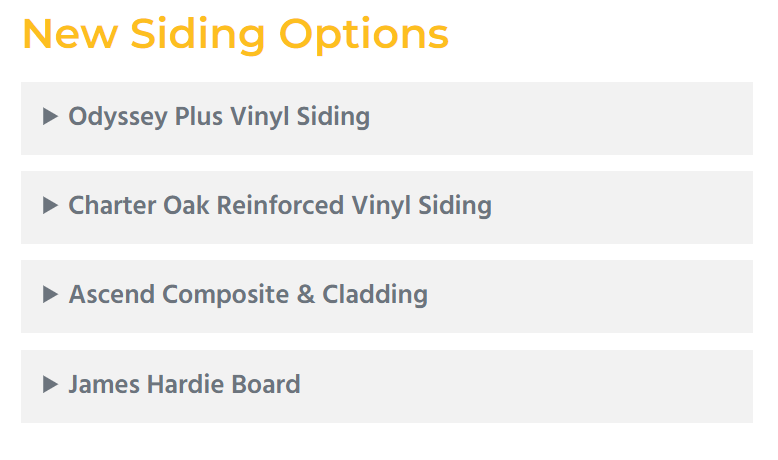 ---
FAQ Siding: Frequently Asked Siding Questions
What is the average cost of new siding?
Depending on how large your home is and what material you decide to go with, the average cost for all siding jobs across the nation is right around $10,000. Keep in mind, that if you live in Northern, VA for example the costs may be more or less compared to another area. Factors that determine price include the square footage, extras, and siding material you go with
Who is the best siding company?
The best siding company near you is going to be up to your determination. That said, you can look at reviews and also ask Facebook for input as well. In Woodbridge, VA for example, Top Dog Home Pro is the best siding company based on their reviews and customer experience.