The siding on your house is one of those exterior parts of your house that you likely overlooked, installed, and never heard from again! Does that sound like you? It probably does and that's the case for just about every homeowner.
However, maintenance always comes due and you need to know what you are looking for in choosing the right siding company to fit your needs. Chances are that you may not be well versed in that too, but hey all good because we got you covered! Today, we will discuss tips to know for selecting the right siding company. Let's get after it!
Why we only offer Roofs & Gutters at Top Dog Home Pro:
Here at Top Dog Home Pro, we have come to realize during our time in the exterior remodeling industry that too many companies try to do too many things. In the past, we have offered windows, siding, and door services in addition to our staple – Roofing & Gutters. However, in 2020 during the Covid-19 Pandemic, we shifted our focus to offering the best roofing and gutters services in order to specialize. The forced pivot allowed us to truly provide the utmost service when it came to new roofs, gutters, and gutter guards without stretching ourselves too thin in other areas. So if you happen to have a question regarding siding or windows, we have articles in our education center to help, but for the foreseeable future, our exterior services will be focused on just new gutters and roofs!
Why is Siding Important?
This answer may seem pretty straightforward, but it is important to understand the significance of siding, before moving forward!
Siding helps you out in the following ways:
Helps act as a second line of defense to stop the build of moisture inside your house
The sealed exterior layer deters pest infestation
Promote energy efficiency and protection from the elements
Simply make your curb appeal stand out!
Given these qualities, your home's siding is important for curb appeal and protection, therefore, when you invest in a siding company you should treat it as such!
---
5 Tips for Choosing the Right Siding Company
Below, you will find five simple tips for choosing the right siding company for your new siding! As you read, be sure to form a mental checklist to keep in the back of your mind when you interview potential siding companies!
For more siding information and news, here are some other great posts:
1. Make Sure They are Insured!
The last thing you want to worry about is hiring a siding company that lacks the proper insurance in case of a major accident that damages your home or a worker potentially hurting themselves! Most siding companies are equipped with generally liability coverage and workers' compensation insurance.
Don't be caught off guard by running an unwarranted risk that could cost you a lot of money, ask for proof of insurance upfront!
2. Make Sure They are Licensed!
Siding companies are generally insured by the state and/or cities in which they do business. It is important to note that just because they have a business license, doesn't mean they have a contractor's license as well.
Do your due diligence and request proof of both forms of licenses and make sure that they are in compliance with the guidelines set at not only the local but state levels as well. You are looking for full transparency!
3. Check Referrals
Referrals are essential to the eyes and ears of any business because if you don't have them, you really don't know what to expect. Any professional siding company should have before/after pictures of their projects to give you an idea of the quality of their services as well as customer testimonies.
Would you trust a company that can't show you what you can expect? Probably not! Committing in the dark without any guarantee is ill-advised. Check referrals right out of the gate.
Reviews matter! Here at Top Dog Home Pro, we have 73 5 Star reviews (and counting)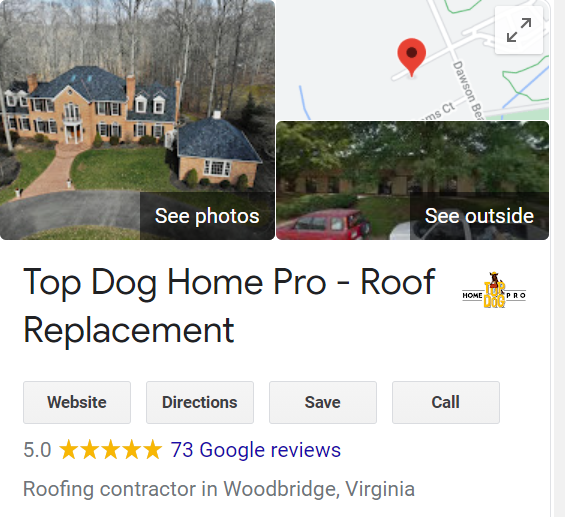 4. Check Offered Services and Specialization
Siding companies that check all the boxes still aren't the right fit for you if they don't offer the services to address your needs. Some may specialize and have experience in installing one material over the other, so make sure you discuss that with a representative to see if they would make sense to assist you.
5. Check the Cost!
Price is one of the factors that will be tricky to determine because there are so many variables that play into it including but not limited to geography, size of house, material needed, and format of your home's exterior. However, one of the biggest variables to keep an eye on is labor!
The average cost of installing siding comes out to be $15,000+ (factoring in variables). Keep in mind that you get what you pay for, so quality first and foremost will give you the biggest bang for your buck.
A good siding company is going to work with you to match your budget and help manage installation costs without therefore reducing the quality of the job as a whole. Companies that take the initiative to be upfront and provide detailed information are what you're looking for. Most offer free quotes, so be sure to take advantage of that first.
Related: Measure & Siding Cost 101
What's the Verdict?
Siding companies from your mom and pop's to your large chains all have the same objective of helping out your siding needs; however, a well-meant interest doesn't warrant an investment, especially these ones as prices can get high.
At the end of the day, it is up to you to be able to put yourself in the position to know what you should look for in choosing the right siding company. Always invest in quality and long-term even if that means paying more upfront. It's all short vs. long term thinking, which side will you fall on?