Who would have thought there were multiple gutter styles and sizes?
When you are considering installing new gutters for the exterior of your home, you might think it is a straightforward process (in most cases, it is). However, picking the right size and style of gutter is important.
Today, we will give you a rundown of the gutter styles and sizes out there and what you need to know to put yourself in the best possible position to make the right choice! Let's go! 
See Also: FAQ Gutter Questions
Gutter Styles and Sizes:
When it comes to selecting gutters, the ideal gutter should provide you with the following:
Affordability
Durability
Performance
No, this isn't a commercial for a new car. But in all seriousness, your gutters need to take the water from your roof and efficiently displace it. The best bet for most homeowners is aluminum gutters that a k-style gutters. However, below you will see the styles, sizes, and types of gutter materials.
Gutter Styles: What Gutter types are three?
Gutter styles generally do not receive as much attention as gutter sizes for obvious reasons, but nevertheless, they do hold some great significance in blending with your roofline and home's exterior as a whole.
Here are the two styles that you'll see when you are looking to replace your gutters:
1. K-Style Gutters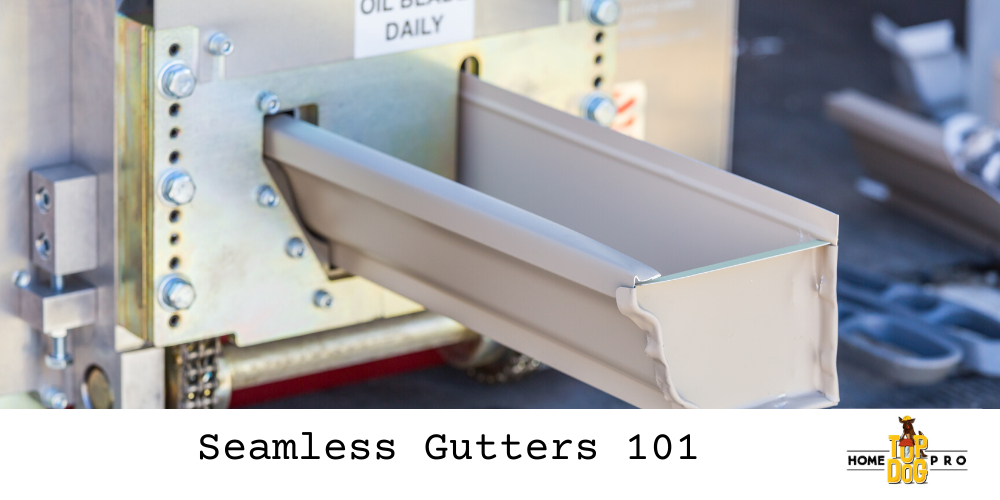 K-style gutters out of the two styles have a more visually appealing, classic look on the front side due to their K-shaped, which, interesting enough, resembles crown molding. The bottom and back are flat, and the structure of these types of gutter styles is designed to carry more water. K-style gutters are the most popular form of gutters that you'll see on most houses.
A very durable and stronger choice, perfect during heavy rainfall or in regions with rainy climates. However, some downsides are that it is more susceptible to clogging and harder to clean overall due to inside brackets and hangers.
If you live in Virginia or on the east coast, chances are you have k style gutters on your home. These are the most popular style, and they offer durability with installation methods.
2. Half Round Gutters
Half-round gutters are essentially half-round tubes around your roofline's perimeter. While not having the appealing look like K-style ones have, they are properly suited for homes that are more so old and historic. An antiquated style that really has not been featured in many designs for homes made since the 1960s.
Half-round gutters are plus when it comes to their inner smoothness, which makes them less likely to fall victim to corrosion; however, exterior hangers they have, as opposed to interior hangers, make them more fragile and susceptible to damage over time.
*Same as European-style gutters, but differ in composition
3. Box Gutters
Box-style gutters are more commonly found on commercial buildings or with multi-unit housing complexes. These gutters are designed to collect water and transfer it from all types of roofs, including flat roofs. Often made of galvanized steel or aluminum, box gutters are traditionally oversized in nature to hold more water during storms.
Type of Gutters:
Sectional – This type of gutter is pretty straightforward when it comes to assembling and installing them on your house; however, because of the presence of seams, it can be vulnerable to leakages.
Seamless – This type of gutter has greater durability due to a lack of seams; however, since it has no seams and thus a large piece of metal, it must be cut on sight and installed by a professional. Read here why seamless gutters are the best.
Related: Gutter Guard Info
Gutter Sizes:
Gutters can actually range in size from as small as 3 inches to as large as 9 inches. However, the most common gutter size for homeowners is 5-inch and 6-inch gutters.
The most common size is the 5" gutter which is the standard metric; however, the more advantageous option is the 6", which is slightly larger. The latter is better than the former because it is more apt to carry more water away from the home's upper exterior, about 40% more than its standard counterpart.
Thus, reducing the possibility of leakages or other miscellaneous damage. The bigger the size gutter also correlates with a bigger downspout as well, which has its own advantages in reduced clogging and easier drainage.
Each house provides its own context, so make sure before deciding that you understand the needs of your house first and foremost! For the best clarification, ask a professional to see what is right for you.
Related: Gutter Materials to Know About
Gutter Materials:
When homeowners search for "Types of Gutters," what they are often looking for the type of materials. Most gutter systems utilize aluminum gutters. Some DIY people will go with cheap vinyl gutters because they cost very little. However, the durability isn't good.
Here are the most common types of gutter materials:
1. Aluminum gutters
The most popular gutter materials are aluminum gutters because of their ability to provide affordability and durability. Aluminum rain gutters require professional installation, however, they are custom cut for each section of your home. Using hidden-hangers to install, aluminum gutter systems are more sturdy than before when installers used gutter spikes.
Pros of aluminum gutters include affordability, lightweight, durability, and they are custom built gutters (seamless gutters). They also come in a variety of custom colors!
2. Galvanized steel gutters
Galvanized steel gutters are extremely strong and work well. The downside to using steel gutters is that they are heavy, making installation challenging. While your gutter system will perform well with steel gutters, the fascia gutters combination might not. Steel gutters can cause stress on your home's fascia boards. A downside is the cost per linear foot as well – they are very expseinve!
Pros of galvanized steel gutters include strength and durability.
3. Copper gutters
Copper gutters look great, even when they turn colors. If a homeowner wasn't to install half round gutters that are elegant and classy, copper gutters are the way to go. The one downside is that copper gutters are very pricey!
4. Zinc gutters
Some historic homes or areas will use zinc gutters because of their durability. That said, zinc gutters are more expseive than their aluminum coutnerparts and rare to see on a home.
5. Vinyl gutters
You can't go wrong with most gutters, unless you go with vinyl gutters. Vinyl siding is one thing, however, the durability of vinyl gutters is dismal. Unlike steel gutters or even aluminum gutters, vinyl gutters fail to handle the workload during down storms and have issues that include cracking, breaking, and falling apart because of weather.
The only upside to vinyl is the DIY installation ability of sectional gutters.
What about gutter guards?
We often talk about gutter guards often because, with professional installation, they can prolong the lifespan of your new gutters by years. However, it is worth pointing out that not all gutter guards are created the same.
With numerous options for gutter guards, we always recommend homeowners consider:
Self-cleaning gutter guards
Gutter guards that protect the entire system of rain gutters
Are affordable but durable
With that being said, we recommend reading more about the best gutter guards here and learning about why Raindrop gutter guards are the most effective option.
FAQ:
How much do new gutters cost?
New gutters can cost as little as $5 per linear foot up to $25 per linear foot, depending on the gutter material you select. The most popular gutter materials – aluminum – cost between $5-$10 per linear foot to be installed. Size will also increase or decrease the price.
Can I install gutters myself?
We do not recommend installing gutters yourself. Measureing the gutter length to using ladders and the right gutter slope making installation extremely challenging. While it might seem like installing gutters on your own is simple, that isn't often the case. It can also be extremely dangerous! Leave the gutter installation to the pros!
The Verdict!
Understanding gutter sizes and styles is pretty straightforward in that you know what they are, what they offer, and all that good stuff. However, the fundamental question that is tougher to answer is "Is it right for me?"
Very tough if you don't have prior knowledge of or experience in gutters.
Don't do the job of figuring out what's right for you if you don't know because an ill-fated decision could cost you tons of money, peace, and time. Contact a professional, and they'll be more than welcome to give you a free quote to see what your needs are and how they can fulfill them to the end!