It's been spring for about 3 or 4 weeks now, and often during this period of time, many are tallying up their annual spring maintenance list to see what they need to go to work on for this coming season. While we often think about cleaning the gutter as a no-brainer chore, have you ever thought to see if it needs to be replaced? 
Gutters play an integral part of your home's exterior as it helps drain excess water that can accumulate due to the elements, but over time, wear and tear could put you in the position to give the thumbs up for replacement.
While gutter replacement is not rocket science, it is not a piece of cake installation either. It requires appropriate metrics that take into account the size needed as well as the best style for your house. You probably read about the style and size you need online, and hit with the confusing verbiage, you ended up here.
Well, you made the right choice, because today we are going to give you a run down of the Gutter styles and sizes out there and what you need to know to put yourself in the best possible position to make the right choice! Let's go!
See Also: FAQ Gutter Questions
Gutter Styles 101
Gutter styles generally do not receive as much attention as do gutter sizes for obvious reasons, but nevertheless they do hold some great significance in blending with your roofline and home's exterior as a whole.
Here are the two styles that you'll see when you are looking to replace your gutters:
K-Style Gutters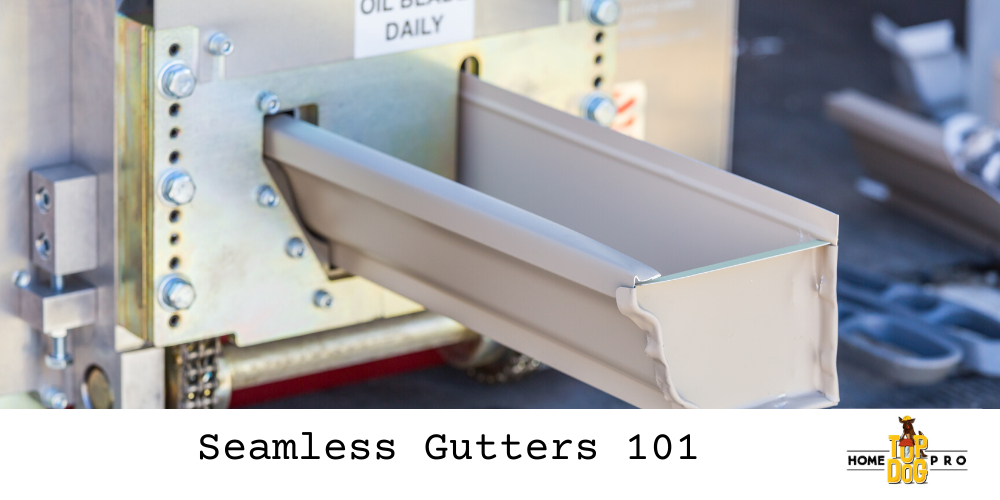 K-style gutters out of the two styles have a more visually appealing, classic look on the front side due to its K-shaped, which interesting enough resembles crown molding. The bottom and back are flat, and the structure of these types of gutter styles are designed to be able to carry more water. K-style gutters are the most popular form of gutters that you'll see on most houses.
A very durable and stronger choice, perfect during heavy rainfall or if you live in regions that have rainy climates. However, some downsides of it is that it is more susceptible to clogging and harder to clean overall due to inside brackets and hangers.
*Half Round Gutters 
Half round gutters are essentially half-round tubes around your roofline's perimeter. While not having the appealing look like K-style ones have, they are properly suited for homes that are more so old and historic. An antiquated style that really has not been featured in many designs for homes made since the 1960s.
Half round gutters are plus when it comes to their inner smoothness which makes them less likely to fall victim to corrosion; however, exterior hangers they have as opposed to interior hangers makes them more fragile and susceptible to damage overtime.
*Same as European-style gutters, but differ in composition
Type of Gutters?
Sectional – This type of gutter is pretty straightforward when it comes to assembling and installing them on your house; however, because of the presence of seams, it can be vulnerable to leakages.
Seamless – This type of gutter has greater durability due to lack of seams; however, since it has no seams and thus a large piece of metal, it must be cut on sight and installed by a professional.  Read here why seamless gutters are the best.
Related: Gutter Guard Info
Gutter Sizes 101
There are two mainstream choices when it comes to gutter sizes and the determinant for each choice depends on the magnitude of rain where you live.
The most common size is the 5" gutter which is the standard metric; however, the more advantageous option is the 6" which is slightly larger. The latter is better than the former because it is more apt to carry more water away from the home's upper exterior, about 40% more than its standard counterpart.
Thus, reducing the possibility of leakages or other miscellaneous damage. The bigger the size gutter also correlates with a bigger downspout as well which has its own advantages in reduced clogging and easier drainage.
Each house provides its own context, so make sure before deciding that you understand the needs of your house first and foremost! For best clarification, ask a professional to see what is right for you.
Related: Gutter Materials to Know About
The Verdict!
Understanding gutter sizes and styles is pretty straightforward in that you know what they are, what they offer, and all that good stuff. However, the fundamental question that is tougher to answer is "Is it right for me?" Very tough if you don't have prior knowledge of or experience in gutters.
Don't make the job of figuring out what's right for you if you don't know because an ill-fated decision could cost you tons of money, peace, and time. Contact a professional and they'll be more than welcome to give you a free quote to see what your needs are and how they can fulfill them to the end!