When it comes to picking out shingles, there are two brands that stand out amongst the competition: CertainTeed and GAF.
As one of the premier roofing contractors in the Northern Virginia region, we are often asked about our shingle brands and which shingle is better, GAF or CertainTeed. Both are some of the largest shingle manufacturers in the country and for the most part, they are right in line with one another.
However, we will take a deep dive into whether GAF shingles or Certainteed shingles are better!
GAF vs. CertainTeed, who is the BEST?
We will cut right to the chase; we think Certainteed shingles are the best you can install on your home's roof. If we had a second, it would be GAF shingles.
As a CertainTeed Shingle Master installer, we work almost 100% exclusively with CertainTeed unless a homeowner has to use GAF shingles to meet HOA codes. All this to say, we won't let our bias come through this article. We will provide the information for you to decide.
Here are a few quick points to note:
Durability: Certainteed shingles have a better reputation as a higher-end shingle brand that is heavier duty.
Price: GAF shingles are cheaper; however, comparing just the architectural shingles only, they are relatively similar at about $100 to $120 per 100 square feet.
Color: Certainteed shingles take the win for color selection with over 24 choices.
Warranty Coverage: Certainteed shingles installed properly have more comprehensive warranties.
Quick Breakdown of GAF and CertainTeed:
Both shingle brands are known to be the biggest and the best. This is not just our opinion, multiple awards have been given to both companies, and if you survey most roofing contractors, they will say they work with either one or the other.
So when looking for the best roofing shingles, you can't go wrong with either, aside from a few small details (if there is a third-place shingle, it would go to Owens Corning). Both GAF and CertainTeed offer a few shingle options:
GAF Timberline:
3 Tab Shingles = Royal Sovereign
Timberline Natural shadow (good choice)
Timberline HD shingles (great choice)
Timberline Ultra HD (premium choice)
Certainteed Landmark Shingles:
3 Tab Shingles = XT 25
Landmark shingles (good choice)
Landmark premium shingles (great choice)
Landmark PRO (premium choice)
Premium Shingle Comparison: GAF Timberline Shingles / Certainteed Landmark Roofing Shingles
When it comes to your roof's asphalt shingles, there are a few things you should know.
Similar to how you have different trim options when you purchase a car that determines the luxury and quality of the vehicle, the same goes for your roofing materials. Most new homes are outfitted with basic contractor-grade three-tab shingles, which are affordable and will last 10-15 years. However, the wind damage ratings for three-tab shingles are not the best and the same goes for their warranties.
That is why most homes will utilize an "Architectural Shingle" when they get a roof replacement. Sometimes called dimensional shingles, architectural shingles offer better shingle quality, durability, and curb appeal.
Most architectural shingles installed are almost a wash vs. three-tab shingles once you factor in the look and wind damage ratings/warranties.
Here is a breakdown of GAF vs CertainTeed's dimensional shingles:
Durability Factor:
GAF Timberline
CertainTeed Landmark Shingles
Shingles Color And Design Differences
The upside to having a new roofing system installed is you get to pick the designer shingles and their colors. Unlike basic three-tab shingles which offer just few colors, architectural shingles have a variety of color blends and textures.
CertainTeed Shingle Colors
Landmark shingle colors, see more here:

GAF Shingle Colors
You can choose from a variety of shingle colors with GAF.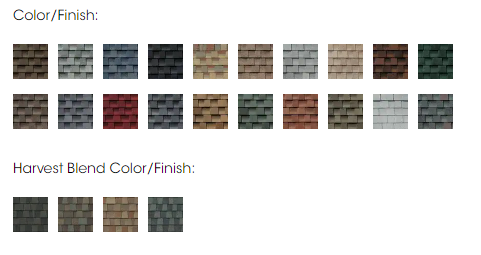 CertainTeed vs GAF – Cost and Price Factors:
One of the first questions homeowners want to know when it comes to picking out new roof shingles is the price. Factors that determine the price of your shingles include the shingle weight, the fiberglass reinforced asphalt quality, and most importantly the warranty (more on this next).
In the roofing industry, you can easily find a "Roofing contractor" who isn't certified and will slap some three-tab shingles on your roof. Both GAF and CertainTeed have qualifications to become a CertainTeed Master Shingle company/GAF Certified contractor.
All of these factors matter and while someone might offer a cheaper price, you could pay more in the long run! Price of shingles from the manufacturer (not installed)
| CertainTeed Landmark Shingles | GAF Timberline Shingles |
| --- | --- |
| Landmark $80 per square | GAF Natural Shadow $75 per square |
| Landmark Premium $120 per square | GAF Timberline Shingles HD $82 per square |
| Landmark Pro $150 per square | GAF Timberline Shingles Ultra HD $140 per square |
As you can see, Certainteed shingles are slightly higher in cost, but they also offer better durability and quality.
GAF or CertainTeed Shingle Warranty Coverage:
CertainTeed's Lifetime Warranty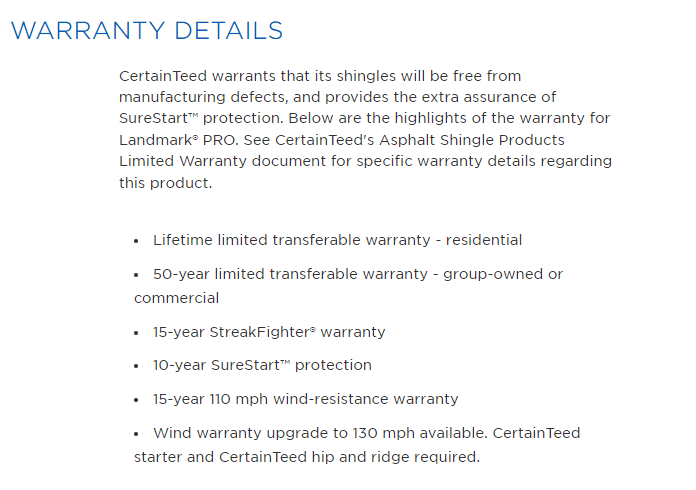 Lifetime limited transferable warranty – residential
50-year limited transferable warranty – group-owned or commercial
15-year StreakFighter® warranty
10-year SureStart™ protection
15-year 110 mph wind-resistance warranty
Wind warranty upgrade to 130 mph available. CertainTeed starter and CertainTeed hip and ridge required.
GAF's Lifetime Warranty
GAF warranties are based on the shingles you select and also the qualifying accessory products, which can make their warranty brochure somewhat confusing due to the small details. You can read about their five warranty packages here in detail, but here are some highlights:
System Plus Warranty:
Installation of GAF Shingles + At Least 3 Qualifying Accessory Products*
Installed by GAF Certified or Master Elite Roofing Contractor**
10 Years for StainGuard-Labeled Shingles
25 Years for StainGuard Plus-Labeled Shingles and Ridge Cap Shingles
30 Years for StainGuard Plus PRO™-Labeled Shingles
Wind Warranty 15 years
Maximum wind speed coverage 130 mph (requires special installation)
Understanding wind speed warranty coverage:
Sometimes the best shingle brands are unclear about the wind speed warranty specifics so we always strive to break it down for homeowners. Normal wind speeds during a storm should never rip off your shingles. If they do, chances are they were installed improperly.
Essentially, the 115 mph or 130 mph ratings are based on hurricane categories. Ensuring you have 130 mph coverage protects you from wind gusts up to 130 MPH during a category 3 hurricane.
A Category 1 hurricane has winds of 74 to 95 mph,
A Category 2 hurricane has winds between 96 and 110 mph
Category 3 is considered a major hurricane with winds of 111 to 129 mph
CertainTeed's SureStart Coverage
Highlights of the CertainTeed SureStart brochure:
CertainTeed enhances your shingle warranty with the total assurance of SureStart™, which fully covers your shingles in the event of a manufacturing defect during the vital early years following installation. Once the SureStart period ends, you are covered for shingles only and at a reduced rate as the roof ages. SureStart offers the best coverage you can get on your new roof, and here is what it provides: 100% of materials. All shingles required to repair or replace the defective product will be provided for free. No exceptions. 100% of labor All labor required to repair defective shingles or apply new shingles to replace the defective shingles will be paid by CertainTeed, based on local fair market value for labor.
GAF's Smart Choice Protection Period

Both Certainteed and GAF offer similar programs, just with different names. The limited lifetime warranty offered by GAF is called the Smart Choice Protection, and you can read about the entire plan here. According to GAF, the Smart Choice Protection Plan refers to the crucial period of time following installation of the GAF Products, during which the coverage provided for in this limited warranty is non-prorated. After the Smart Choice Protection Period specified above, the remedy provided for in this warranty may be different than that provided for during the Smart Choice Protection Period
The definition of "Lifetime" means as long as you, the original owner(s) [or the second owner(s) if coverage was transferred correctly during the Smart Choice Protection Period], owns the property where the shingles and/or accessories are installed.
The Verdict – who is the BEST:
Certainteed shingles are the best. GAF is a very close second.
CertainTeed offers all of the same shingle options as GAF, and GAF essentially does the same. GAF offers more affordable shingles, and GAF's warranty is top of the line for a new roof when shingles are properly installed.
CertainTeed shingles are slightly more expensive per 100 square feet (one square); however, the Certainteed Landmark Shingles are widely regarded as the industry's best choice.
Ultimately, the choice is yours!
Frequently Asked Shingle Questions:
What are the roofing system accessories?
Certainteed warranties and GAF warranties are contingent on correct installation of the roofing system. Roofing manufacturers require that their accessories are paired with their shingles. This creates a comprehensive roof system, it is not just the asphalt shingles.
Starter shingles, ridge vent, roof deck underlayment, and nail patterns are just a few of the accessories roofing manufacturers are referring too. Both GAF and Certainteed warranties require that their asphalt shingles are installed with their products. Mixing accessories will void any warranties. This is why selecting the right roofing contractor is vital.
What are the CertainTeed landmark shingles?
The CertainTeed Landmark Shingles are the dimensional and premium shingles they offer similar to the GAF Timberline shingles. CertainTeed offers a good, better, and best shingle selection with their Landmark shingles.