Sometimes in life, we like to hang our hats on quick, tried and true, traditional methods when it comes to home improvement. Set it and forget it, remember? Well, truth be told that's not a winning solution, especially when it comes to gutter hangers! 
Understanding gutter hangers is a lot like growing a garden. Plants need a lot more than just water. They also need sunlight, nutrients, good soil, and so forth. Similarly, gutter hangers, for purposes of strength and quality, are vital to the overall sustainability of your aluminum gutters.
Today, we are going to talk about the strongest gutter hangers on the marketplace you need for your home and why knowing this is vital when replacing your gutters!
First, What are gutter hangers?
Gutter hangers play an important role in attaching your gutters to your roof which not only creates stability and supports the structural integrity of your gutters but also ensures that your drainage system works effectively. 
Faulty or broken gutter hangers do pose a risk of water damage to your roof that can spur the growth of moss, mold, and mildew, which can be very costly on the back end. Gutter hangers are not to be taken as a light issue and should be carefully considered for long-term use. 
Note: You usually don't have to pick your gutter hangers or pay for them, as they are included in the price. MOST companies use screw-in gutter hangers which is the top choice below. The purpose of this article is so that you can inquire and make sure you're getting the best product and your new gutters are installed with the right hangers! Keep in mind when reading below! 
3 Common Types of Gutter Hangers
Below you will find the most common types of gutter hangers. Note – here at Top Dog Home Pro we only use screw-in hidden hangers for a variety of reasons which we will share below! 
Related Gutter Content:
1. Hidden Screw-in Gutter Hangers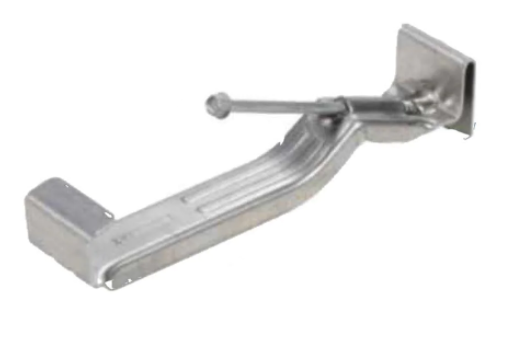 Hidden screw-in hangers that have a long-term, effective, and durable framework are the preferred style that we recommend. They are installed in the trough of the gutter, hidden from the eye, giving it a more clean and attractive look.
As a result, they are more resistant than other styles to leaks, changing elements year-round, and a plus to curbside appeal. Because they are screwed in with a bracket, making them the most common for K-style aluminum gutters, these gutter hangers are ideal for installing gutter guards.
They are highly effective and long term they won't pull away from your home like gutter spikes do. 
👉 Our Rating: 9.5/10
2. Gutter Spikes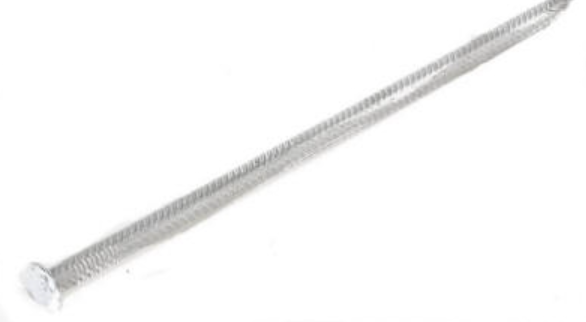 Spikes are the traditional and most simple gutter hangers on the marketplace, where a spike is inserted through the trough and into the fascia boards of the roof. This two-hole installation method makes for quick and convenient installation that does the job for now, however, the downsides are not very good.
Spikes are prone to leakages and rely on proper positioning of two-hole installation to maintain stability and support of gutters, which has to be checked on throughout the year due to changes in weather.
Overtime spikes – since they're like a giant nail – pull away from your home eventually leading to gutters falling or leaks. Gutters that are not kept clean will also wear on these spikes.
👉 Our Rating: 4/10
3. Exposed Brackets and Straps
These types of gutter hangers form a "U" wrapped underneath gutters to add an extra layer of stability and support while at the same time being attached to the fascia board. During the warmer months, gutters do expand and these brackets allow room to do so.
However, these exposed brackets and straps can be knocked off or unbalanced during cleaning, maintenance, weather, and so forth. Attentiveness is recommended.
👉 Our Rating: 7/10
How much do gutter hangers cost?
In most cases, the price is included in the seamless aluminum gutter pricing. Gutter pricing is pretty cost-effective granted that you consider and weigh long-term costs and benefits.
Here are some general cost figures:
Hidden Screw-in Hangers = $5-$7
Spikes = $7-$11
Exposed Brackets/Slips = $5-$8.50
These items are included in your gutter quote and should be of no concern unless of course, you're using a less than ideal gutter contractor. 
✅ Related: FAQ Gutters
Ways to find a gutter contractor?
Finding a gutter contractor in this day and age is pretty easy and is often one search engine click away. There are many local gutter contractors and roofing companies in your area that are well-equipped to address your needs!
Do your due diligence and do some research on your end to make the right selection. Don't be afraid to pick up the phone and inquire away!
Search online got a "Gutter Company Near Me"
Ask friends or family for a gutter company recommendation 
Use social media like Facebook to ask others
Keep in mind, not all gutter companies are created equally and for that, we actually have a "Top Gutter Company" list right here for the Northern Virginia area! 
Final Verdict – Gutter Hangers Matter
If you want your gutters to last, you have to start with the hanger that holds it there first. Making a long-term decision may seem less attractive on the front end, but is 100x more so on the backend when you don't have to worry about water damage and so forth. Gutter hangers are cost-effective, but you are the only one who can make it the opposite!
Therefore, we recommended the hidden screw-in hangers, because it is durable, reliable, leak-resistant, and can withstand pressure from the elements year-round, plus it gives off a more visually appealing look which has benefits in of themselves.
In 2021, there are so many licensed professionals you can reach out in your area, and at Top Dog Home Pro, we play that role and take it seriously as our goal is to deliver effective service that never sacrifices quality.
Reach out to us today and we will point you in the right direction!