When it comes to your home – gutters are an integral part of the overall health of your exterior.
Often overlooked until it's too late, gutters are vital for stormwater management during the heavy springs rains, summer storms, and harsh winters Northern Virginia (aka NOVA) brings us.
Without properly functioning gutters, there are a lot of issues that can arise such as foundational problems, leaks, erosion, and even mosquitos (let's face it, no one likes mosquitos).
So whether you need to replace your existing gutters, you're in need of new gutters, or perhaps you need to repair your gutters – today, we will cover the best gutter companies in NOVA (aka best gutter companies near you!)
Best Gutter Companies NOVA
We get asked all the time about the best gutter companies. In fact, in our FAQ Gutters post, the most common question we address is how to identify a great gutter company!
In this article, we rank the best gutter companies in NOVA so you can easily get your gutters replaced or corrected! As a bonus, in the end, we also offer gutter guard and gutter cleaning info!
1. Gutter Gurus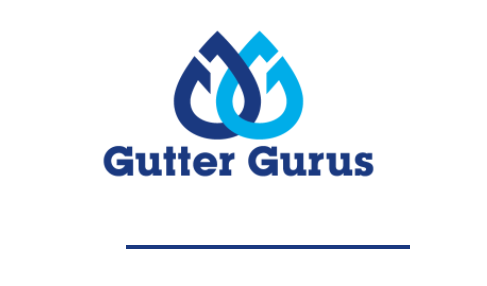 You might be wondering why we wouldn't rank ourselves #1… well, there is a reason.
Gutter Gurus of Woodbridge, VA is a premier gutter only company that specializes in, you guessed it – Gutters! The reason why they're number on one on the list is pretty simple:
They have an instant online gutter pricing system that is free to use [see their gutter calculator tool here]
Gutter Gurus has an extensive Gutter Resource Library with articles, videos, and content that helps explain everything for the everyday homeowner
Their website has actually been seen on Market Watch & News Wire!
As the leader in new custom seamless rain gutters in NOVA, Gutter Gurus is on the forefront of making life easy for the homeowner.
For starters they offer a free online quoting system that homeowners can use to get an instant, haggle-free price. Simply input the amount of linear gutter feet and downspout feet needed, and boom – price is done!
Next, homeowners can add options that include picking their gutter color, gutter size, and gutter guards all in one place! And while they may not have a ton of reviews (yet) the reviews they do have speak for themselves: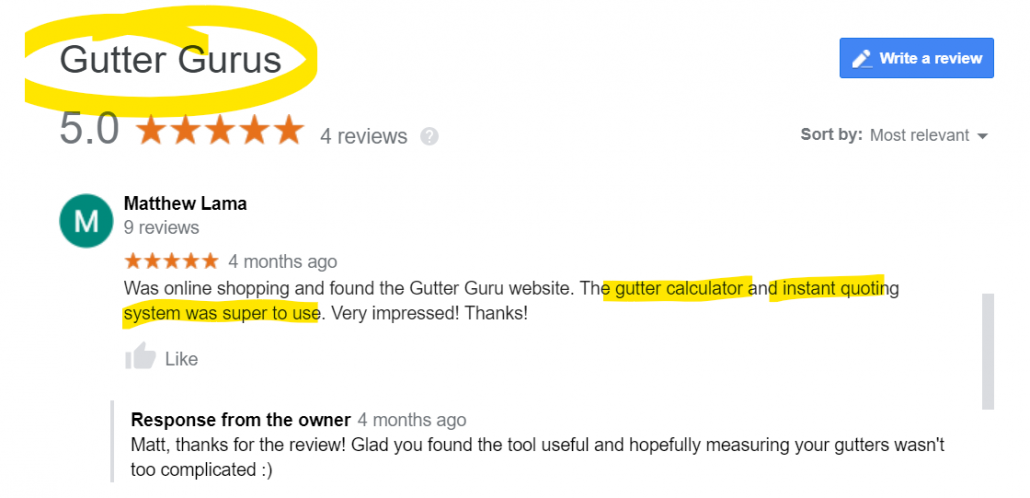 If you want to learn more about Gutter Gurus – reach out here and use their chat feature!
2. Top Dog Home Pro
Top Dog Home Pro is one of the premier gutter companies in NOVA for many reasons but to give you a quick list here are just a few:
Their reviews
Their gutter warranties
Their video pricing & haggle-free price structure
Gutter pricing is online
Let us first examine the reviews;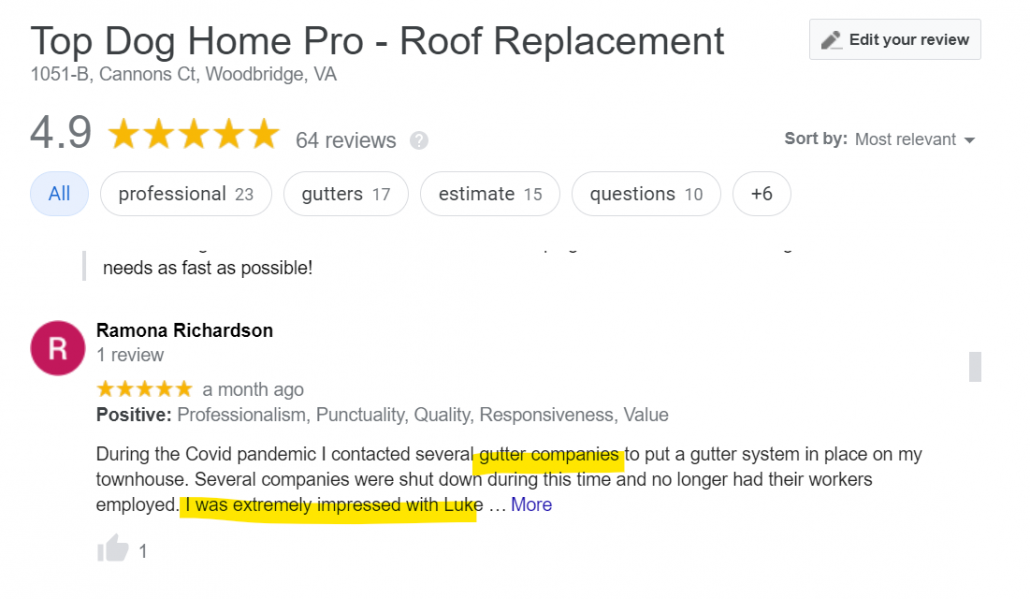 With 64 reviews averaging 4.9 stars (63 are 5 star reviews), while we are ranking the "Best Gutter Companies in NOVA," we can't leave ourselves out – as cliché as that might seem. The facts speak for themselves, and let's face it – usually clichés are true :)!
The testimonial videos Top Dog Home Pro has for their gutter division speaks for themselves too:
As if the client testimonies are not enough, one of the reasons Top Dog Home Pro is on "Top" is because of their warranties they offer homeowners for their gutter products!
Gutter Warranties from Top Dog Home Pro:
Lifetime labor warranty
Lifetime product warranty
Gutter Guards installed by Top Dog Home Pro come with a lifetime no-clog warranty!
Read more about our gutter warranties here.
Lastly, the pricing structure for new gutters in NOVA that Top Dog Home Pro offers is second to none and very transparent.
On our New Gutter page, we cover exactly how much new gutters cost – with no run around info!

3. Summerland Gutters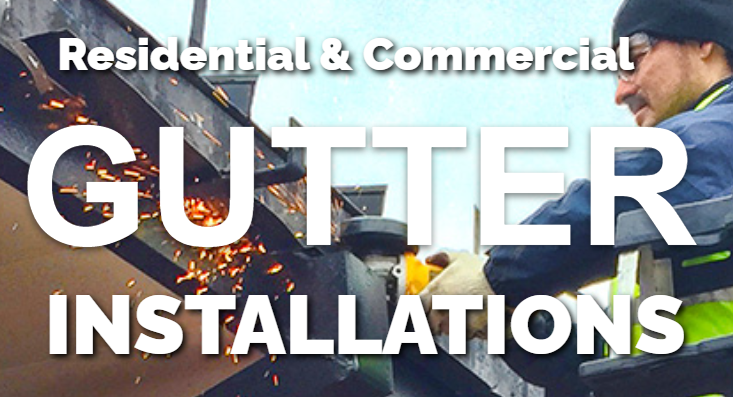 Coming in at #3, Summerland Gutters (also of Woodbridge, VA) is a close friend/competitor who happens to do great gutter work too! In fact, their website may not offer the learning resources and content like the first two, but that doesn't mean they don't know what they're doing when it comes to new gutters!
Summerland Gutters is known for the high-quality work and communication, which is why we ranked them high on the list! Most of the "Larger Gutter Companies" in Northern, VA typically have about the same pricing, but not the best communication.
In business for 15 years and locally owned/operated, Summerland gives you the small business customer service, with competitive pricing and without the hassle of a "Bigger Gutter Company."
To visit their website, simply visit summerlandgutters.com
4. APR Gutters

APR Gutters is a phenomenal company to work with and use!
While there are certainly bigger names in the Virginia gutter business, those names are easy to find online. When creating this list we were focused on finding the best gutter companies for the everyday person that offered ease of pricing, installation, and customer service.
That being said, we knew we couldn't leave APR Gutters off the list. They always do a great job on every job and are easy to work with.
What about gutter guard companies?
Gutter guards are designed to protect gutters from leaf and debris build-up, as well as bird nests. The idea is that water enters your gutters only, not all the other stuff.
That being said not all gutters are created equally! Some gutter guards need cleaning, which is counterintuitive if you think about it. That being said when you're looking for the best gutter companies near you to install gutter guards, these are what you want to ask:
Are they self-cleaning gutter guards?
Do they use Raindrop Gutter Guards?
What is the gutter guard warranty?
Always ask these questions and be sure to read this article on the best gutter guards ranked.
Some gutter guard companies (cough, cough – Gutter Helmet) are super expensive and only "They" can work on them. Not to mention that water flows off the "Helmet" and birds can still nest.
What about gutter cleaning companies?
While the first few on the list for the best gutter companies in NOVA don't clean gutters, Summerland Gutters does do gutter cleaning, and also another company, Bright Exterior Cleaning, specializes in gutter cleaning.
Gutter cleaning is vital each fall/spring unless you decide to go with gutter guards! Just make sure either way you get your gutters cleaned or gutter guards (that are self-cleaning) installed to avoid gutter issues.
Final Word on Best Gutter Companies –
To summarize, the best gutter companies in NOVA (according to us) are as follows:
Gutter Gurus of Woodbridge, VA
Top Dog Home Pro
Summerland Gutters
APR Gutters
While ultimately preferences may factor to certain rankings, to create this list we went with reviews, customer service, ease of use, haggle-free pricing, quality work, gutter pricing, and overall quality!
We hope this article helped you find what you were looking for and if you have any specific gutter questions just let us know!