Gutters come in all shapes and sizes for homes like yours, but not all gutters are made equally!
While gutters regardless of their material composition serve their purpose as the drainage system for your roof, quality, on the other hand, should be something to consider. 
The two most common types of gutters in the marketplace are both steel and aluminum. Different gutter materials offer different unique properties, but what really is the best one for you to get? If you asked yourself that, you made it to the right place! Today, we will compare steel and aluminum gutters to help you make a more educated selection!
Why does gutter material matter? 
In case you didn't already know, the material of gutters that your home requires could and more often than not will be different from other homes in your neighborhood. Why? Because each house has its own needs!
There are many variables in play that will influence your ultimate decision on the gutter material you get such as climate, budget, personal preference, and so on. When considering steel vs aluminum gutters, ask yourself these questions: 
What are the patterns of regional climate in your area? 
What does my budget permit? What matters most: Short term vs. Long term?
Style vs. Practicality: Which matters most? 
Living in the Northern Virginia area, most people are OK to get aluminum gutters as they have less to worry about in terms of severe weather. Also, as you will see later in this article – aluminum gutters are significantly cheaper, but still very durable.
Ultimately, these questions will change the mentality of your decision for the better given that your home's structural integrity is at stake!
Steel Gutters
Steel gutters are a phenomenal choice that millions of Americans choose as the material for their home's gutters. Steel is exceptionally durable and leak-resistant, making it a great choice to fight against the persistent impact of the elements like torrential rain, snow, heat, and so forth.
These gutters don't discriminate on the type of shingle that can be installed with it, and also are offered in seamless varieties.
However, there are a few drawbacks to consider…
Steel gutters require professional installation, so you will more than likely have to shell out more money to install and the material itself is 2-3x more expensive than aluminum. While steel is durable, keep in mind it is more prone to rust and has a propensity to gradually change form and contract/expand after prolonged heat. 
Additionally, steel gutters are not necessarily the most readily available material on the marketplace, so it is recommended to call ahead to see if your local roofing company has it in stock! 
Aluminum Gutters (Our pick)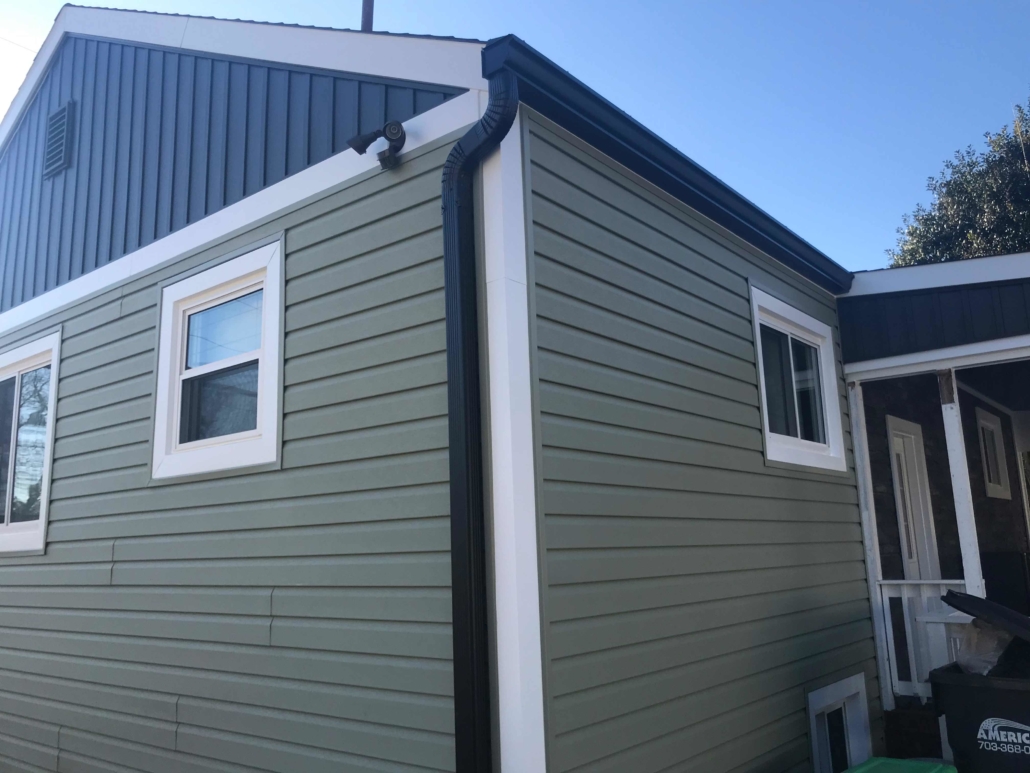 Aluminum gutters right off the bat are known for their quintessential convenience and ease when it comes to price point and installation.
Those who like to spice up their home's visual appeal, do have the advantage when it comes to their overall color and styles. Unlike steel gutters, they are easier to maintain and don't have the propensity to rust! 
Pros to aluminum gutters:
Due to their popularity, they are often a given in terms of overall choices and are readily available at local supply stores.
As for their drawbacks, aluminum gutters, although durable in their own right, aluminum is not as strong as steel, so it can dent more easily.
Note: Do not install yourself.
Keep in mind that due to the inherent risks of gutter installment and replacement, do-it-yourself projects regardless of the level of difficulty are not recommended. Such risks can include but are not limited to, excessive bodily harm all the way up to death (from ladders, heights). Heed these considerations and get in touch with professionals near you to point you in the right direction. Safety first! 
Also, keep in mind that DIY gutters are sectional, therefore they don't last long and often leak. After buying, installing, and disposing of, you may actually even spend more money!
✔ See more gutter info here!
What's the Verdict?
You are probably asking, so…..which one is better, aluminum gutters or steel gutters?
Not a bad question, but the answer will be up to you – however, we say go with aluminum. They are just as durable, more customizable, and with 16+ colors – you can style your home with new gutters.
If you are still unsure and you desire a second opinion on the right choice for you, don't ever hesitate to reach out to Luke here at Top Dog Home Pro. He will assess your situation and give you a no-hassle price.
Also, here at Top Dog Home Pro, we are not only one of the leading suppliers of aluminum gutters and Raindrop gutter guards, but we also happen to be one of the only companies that offer labor and gutter warranties!
That said, whatever you do, make sure you NEVER get vinyl gutters!
Frequently Asked Questions
How much do new gutters cost?
New gutters (aluminum) cost $7-$11 per square foot depending on the size of your gutters (5 inch or 6 inch). Steel and copper gutters are significantly more and for most homeowners, don't make sense to go with.
Are gutter guards worth it?
Gutter guards are worth it, when you select the correct gutter guard. The wrong gutter guards (aka they require maintenance and cleaning) are pointless. You want to make sure you go with a self-cleaning, clog-free gutter guard like the one we offer here at TDHP!