Skylights – the simple way to add value, light, and sustainability to your home.
Does that last sentence sound like a bad sales pitch for skylights? Cliche as it may seem, nowadays everyone is looking to remodel their home for several reasons.
For most homeowners like yourself, your goal is to add value, comfort, or modernization to your home. Obviously, upgrading and adding curb appeal is the way to do it. And one way to add all three to your home without gutting the kitchen or bathroom is to simply add a skylight.
While this might seem overly simple, let us elaborate today in our slight guide that will cover:
What skylights are (think roof windows)
What they do (air, light)
What type of skylights you can pick from
How much do skylights cost?
Where to find a skylight installation team near you!
First, what are skylights?
To be honest, skylights should really be called sky windows because that is really what they are. Simply put, on your home's roof if there is a window – it is a skylight.
Roofs are typically designed to contain shingles, therefore, when skylights are installed, they're like a special window specifically for your roof. And just like windows, there are a variety of skylights you can use that match modern design trends, energy efficiency needs, and give you that preferred home feel!
What do skylights do?
Benefits and uses of skylights include:
Natural airflow,
Natural light from the sun,
Increased energy efficiency & energy savings
Potential for solar tax credits
Let's elaborate on the benefits before going over the options of skylights to choose from.
Natural Light
Whether you're looking to simply add natural light to your home or a room, one pro to skylights is the light they add to a room – hence the name skylight instead of sky window! Looking to spruce up a room many homeowners will add skylights to do so!
Air Flow
Looking to let natural air in the home, skylights that open (such as solar or electric) allow for natural air flow which promotes a healthier and better feeling you!
Energy Efficiency
Utilizing skylights the correct way can lead to increase savings on your energy bills and even the potential for solar tax credits depending on the state you live in. You can save money on your electricity especially with the new installation of skylights in your home.
Types of Skylights
Below are popular brands of skylights:
Velux Skylights
A Velux Skylight is traditionally the most popular skylight or "Roof Window" because of its ability to increase fresh air in your home, natural light, and energy efficiency while mitigating the cons typically associated with skylights.
They have a variety of options depending on your needs and they offer the ability to transform any room with their energy efficient designs.
Fresh Air Skylights

Looking for a solar powered skylight? How about an electric fresh air skylight? Look no further than "Fresh Air Skylights" also by Velux.
Benefits of fresh air skylights include:
Solar powered, electric, manual, or fixed (pricing high to low)
Rain sensors built-in with a no-leak promise
Suitable for 15-85 degree roof pitches (so basically any pitch)
Adding fresh air and ventilation to a home is essential to health and well-being.
Sun Tunnel Skylights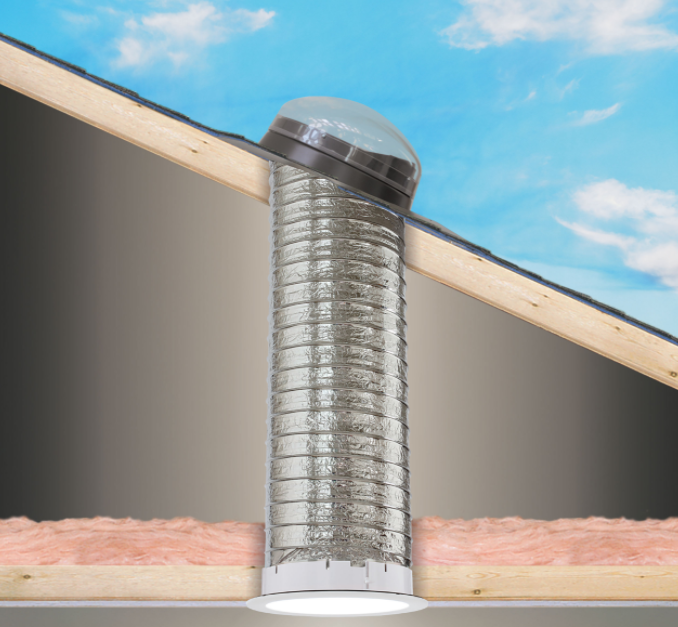 VELUX Sun Tunnel® Skylights are a go-to upgrade when you're looking to add natural sunlight to a room in your home but you have to maneuver efficiently in the attic/roof above.
Increasing the energy efficiency in your home while simultaneously being able to bring natural light to a room is made possible thanks to "Sun Tunnel Skylights." There are cases when installing a traditional skylight simply isn't possible because of the space above.
Looking to bring light to a laundry room, closet, or even an office is possible without traditional skylights. The advantages of a sun tunnel skylight include:
Flexible tunnels are recommended when installing around obstacles in your ceiling or loft space
Can bend and maneuver around things in the attic
Good for small tunnel runs where installing an entirely whole new light wouldn't make sense
Significantly cheaper than a traditional skylight
How much do skylights cost?
On average, the going rate for a new skylight will run $1,500 to $2,000 installed. A sun tunnel will be a bit on the less expensive end whereas a solar powered fresh light will cost over $2,000. Obviously, there are a few factors that will increase/decrease your costs including:
How many skylights are you installing?
What is your roof's pitch & is the loft space compromising or simply to navigate?
Where you live can impact supply & labor pricing
Knowing how much skylights cost is important, however, there are a few other factors worth noting and assessing prior to installing a new skylight product in your own home.
Other Factors to Consider:
Size of your skylight or skylight size
How many skylights do you want
Can you go with a combination of skylights and sun tunnels?
What is your project's budget?
Do you sleep in this room/are you OK with early morning sunlight?
Where to Get a Skylight for Your House
With the Velux visualizer app, you can plan your skylights but don't order just yet. Instead, reach out to us here and be sure to take advantage of contractor discounts and warranties.
Obviously, some people will go places like Lowes or Home Depot to buy skylights. However, you will save money finding a skylight company near you or an exterior business nearby!
To utilize skylights correctly, make sure to always have the contractor walk you through proper maintenance of your skylights/sun tunnels.
Pros & Cons of Skylights
With any home improvement – from a new roof to solar panels – there are pros and cons to that project. This is the same for skylights, here are a few to always consider:
Pros
Fresh air
Adds value to your home
Helps with electric bills & utilities
Brightens a room
Natural light
Cons
If installed incorrectly, can leak
Moisture
Some say too much light or heats up a room
The Verdict –
As you can see, a simple decision to save big on your remodel while taking advantage of daylight to give your home the feel it deserves is not that complicated.
Simply start with a budget, then use the Velux visualizer app to plan your skylight locations, then reach out to get them installed by a professional here!
Here at Top Dog Home Pro, we have partnered with the exceptional team at My Skylight to offer an amazing install & warranty experience!
Frequently Asked Skylight Questions:
What is the average cost of a skylight?
The average cost for a skylight installed is between $1,500 and $2,000. This includes purchasing the skylight and also installing it correctly. Skylight products vary similar to how roofing shingles, windows, or doors can vary too – thus impacting the costs. On the higher end, skylights can cost upwards of $3,000.
What are the pros and cons of skylights?
Pros of Velux Sklights and others include energy efficiency, energy star ratings, brighten rooms adding appeal to those rooms, fresh air to your home, and more. Cons of skylights include improper installation negatives, leaks (though most often leakproof guarantees), light in your room (requiring a shade feature), and moisture.
Do skylights add value to a home?
Yes, skylights can add a ton of value to your home from making it a more energy efficient home to bringing more light to your rooms. Some skylights transform the room's overall appeal and they are great selling points when you go to resale or add curb appeal. While you can promote a healthier home in the sales process, figuring out how much sunlight will increase your home value isn't clear cut, but it is a great feature to add.