Are you wondering what the difference between a hip roof vs gable roof is?
We get it! You're not a professional roofing contractor or exterior remodeling professional so we want to make this very easy for you!.
A roof slope and architectural design are different from house to house, and to be honest, it is not the first thing that comes to mind when you see a house, let alone your very own! While roofs are important to say the least, being kept in the dark on the important components of your roof can do you a disservice, and if that's you, you are not alone.
When it comes to your home, you either have a gable roof or a hip roof and while these terms may or may not be familiar on your end, today you are going to learn the difference between the two and all you need to know about them. We'll guide you to be in the know about your roof's slope. Let's go!
Hip roofs vs gable roofs: How can you tell the difference?

Hip and gable roofs are used by millions of homes across the US and have special attributes to them that give them very name, thus making it easier to distinguish between the two. It is pretty simple:
The hip roof style has low sloping sides, while the gable roof style has higher sloping sides.
All you need to know about Hip roofs!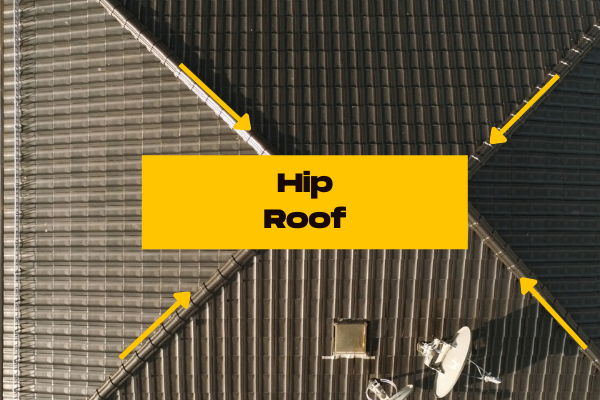 Everything you need to know about a hip roof starts with answering this essential question: What are hip roofs?
Typically, a hip roof is seen as more elegant and classy than its gable roof counterpart, but the downside is that hip roofs are more expensive to build and replace with new shingles.
However, keep reading to understand the difference!
What are hip roofs?
Hip roofs are slopestyle, where roof sides slope downward, and the walls are situated underneath the roof's eaves, giving a low pitch among roof pitches. The lack of vertical ends causes the edges to slope inward to adjacent sloping sides or a ridge. When these two adjacent sloping sides form a ridge, they create an angle that is dubbed a "hip'" shaped roof.
Varieties of Hip roofs
Dutch gable roof (Sounds counterintuitive, I know!) – On the top of this roof type lies a small gable section.
Half hip roof (Jerkin head roof/clipped-gable) – A gabled roof that has a small hip roof section attached.
Mansard roof – A hip roof with two different sloping angles, where the bottom angle has a higher degree of steepness than the top.
Tented roof – A polygonal, hipped roof with adjacent slopes that meet at a peak. Think of the quintessential church building!
Pavilion roof (Open Gable roof) – A square hip roof designed with a square structure base that creates a pyramid roof.
Pros:
Great Energy Efficiency
Durable, self-bracing as opposed to diagonal bracing.
Great curbside appeal
Resistant to high wind, heavy snow, and other persistent elements!
Congruency of eaves and gutters
Cons:
Prone to water leaks via dormers
Costly due to extra roofing material to build, especially when adding shingles.
Less attic space and therefore air ventilation
Roof health at times, can be challenging (so much space)
Requires more building materials due to a higher level of expertise and design
✔ Did you know: Your home's gutters will be impacted by the type of roof you choose. A hip roof requires more gutters since water will drain on all four sides vs. a gable roof where water will only drain front and back or two sides. Always important to weigh all the factors!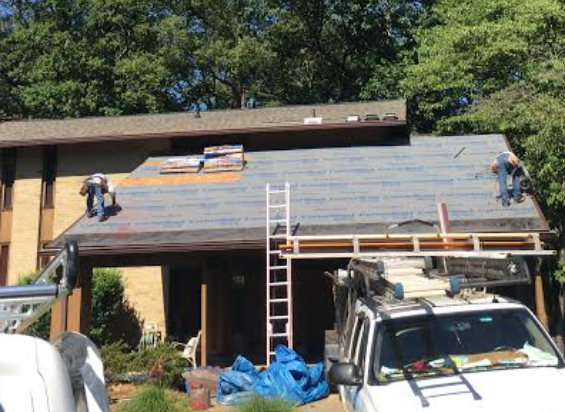 All you need to know about Gables roofs!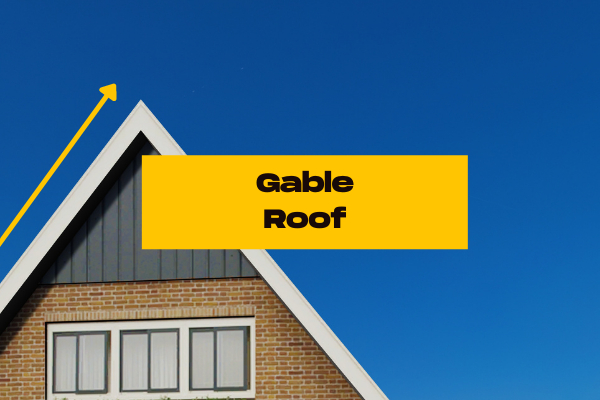 Now that you understand the central premise behind a hip roof let's take a deeper dive into what a gable roof consists of and the advantages of a gable roof.
Note: Gable roofs are more common and generally cost less to build!
What are Gable Roofs?
Gable roofs are the most popular roof styles in the marketplace that are commonly found in traditionally temperate and colder regions but can be seen in everywhere among common roof styles.
Varieties of Gable roofs
Gambrel roof – Gambrel roofs are characterized by a polygonal, hipped roof with slopes that meet at a peak.
Flying Gable roof (prow gable roof) – A gabled roof where the eave overhang is tucked away underneath the extended ridge overhand.
Open Gable roof – A hip roof designed with a square structure base that creates a pyramid roof.
Cross Gable roof – A gable roof where a 90-degree angle is formed due to the intersecting of two gable roof lines.
Box Gable roof – A hip roof with two different sloping angles, where the bottom angle has a higher degree of steepness than the top.
Pros:
More attic space with vaulted ceilings, and thus more air ventilation with gable vents
Versatile and multi-faceted; can be combined with other roof slope designs (i.e., jerkinhead roof)
More cost-effective, fewer shingles, fewer roofing materials
More Vertical space
Simple construction design
Cons:
Less curbside appeal
Less resistant to high wind, snow, and so forth
More vulnerable structural integrity than hipped roofs
So…which is better: Gable Roofs or Hip Roofs?
When installed properly, hipped roofs and gabled roofs are a part of roof designs that make up the quintessential American home; however, their differences are a point of great consideration.
No two roof designs seem to ever be alike; the same can be said for your roof's needs.
While I am sure you have been waiting for a final answer between hip roof design and the gable roof design, the truth of the matter is that there is no one good answer!
Some people prefer a gable roof, while others prefer a hip roof. We have had clients remove their hip roof to replace it with a standing seam metal gable roof (seriously)!
Here are a few factors to consider if you have the choice between gable and hip roofs:
Budget-friendly = gable roof
Classy resale = hip roof
More shingles = hip roof
Fewer shingles = gable roof
Metal roofing = gable roof
A local roofing company will be your best bet to determine whether either one is a good fit!
Getting professional expertise and assistance will help point you in the right direction, and it all starts with a phone call! If you have any questions, feel free to reach us, and we will be more than happy to help as your trusted roofing company.
---