Are you gathering information so you can learn more about rubber roofing materials?
Most homeowners won't have to worry about knowing a ton when it comes to rubber roofing; however, on the off chance you have a portion of your roof that is flat – you might need a rubber roof.
Today, we will walk you through the pros and cons of rubber roofing, when it makes sense to use a rubber roof for your home, and other alternatives.
Different Types Of Rubber Roofing
There are a few types of rubber roofing materials, including EPDM and TPO. Each has its pros and cons, and generally speaking, TPO and EPDM roofs are considered more affordable than metal roofs.
You will very rarely see a rubber roof on a house since the material is ideal for flat surfaces and commercial buildings in most cases. Other materials include PVC rubber roofing or even rubber shingles.
➡️ Top Asphalt Shingle Colors for 2023
Benefits of Rubber Roofing
The pros or benefits of rubber roofing have everything to do with durability and affordability. For starters, the cost per square for rubber roofing is about 50% less than traditional shingles and up to 75% less expensive than a metal roof.
A square (100 square feet) can cost approximately $150 to install rubber roofing. In addition to the financial benefits of rubber roofing materials, they are also extremely durable.
Many rubber roofs are guaranteed for 25-30 years and can last upward to 50 years with very few issues. The durability lies in what the rubber roof is composed of, but also because they are large sections of roofing.
The added benefit of large sections is that most robber roofs are seamless. Thus they don't allow leaking.
Lastly, energy efficiency is a huge plus to rubber roofing, and the fact that they are made of recycled materials is a added bonus.
Cons to Rubber Roofing
The drawback to utilizing rubber roofing for your home is that, aesthetically, it isn't very pleasing. It is for this reason that you will very rarely see a rubber roof on a home.
In most cases, residential homes will utilize asphalt shingles which offer a variety of shingle colors and look better. Occasionally, there will be sections of a house that are flat, like a crow's nest at the top or a covered porch with a flat roof.
Recently, we replaced the existing rubber roof at the top of a home's hip roof, which you can see in the photo below: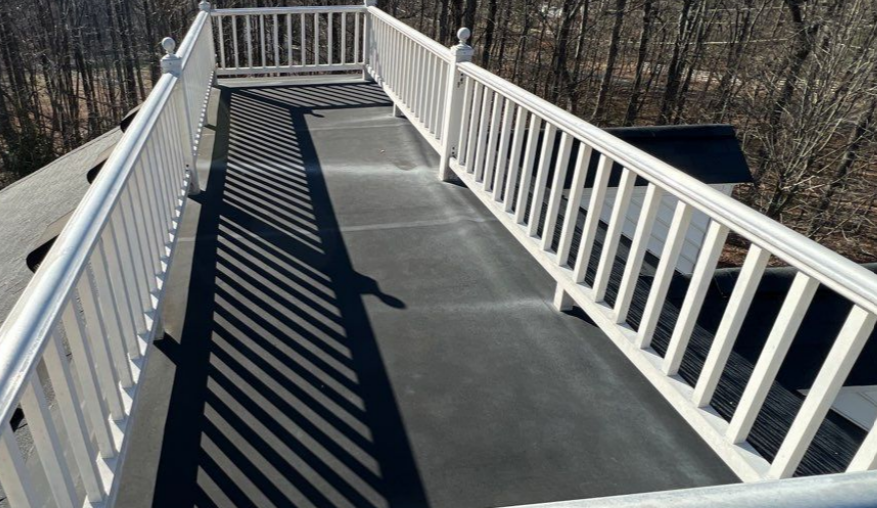 The issue with the existing rubber section of the roofing before we replaced it was the cracking (in addition to some less-than-stellar workmanship from the previous company). This ultimately led to some water damage to the roof decking below.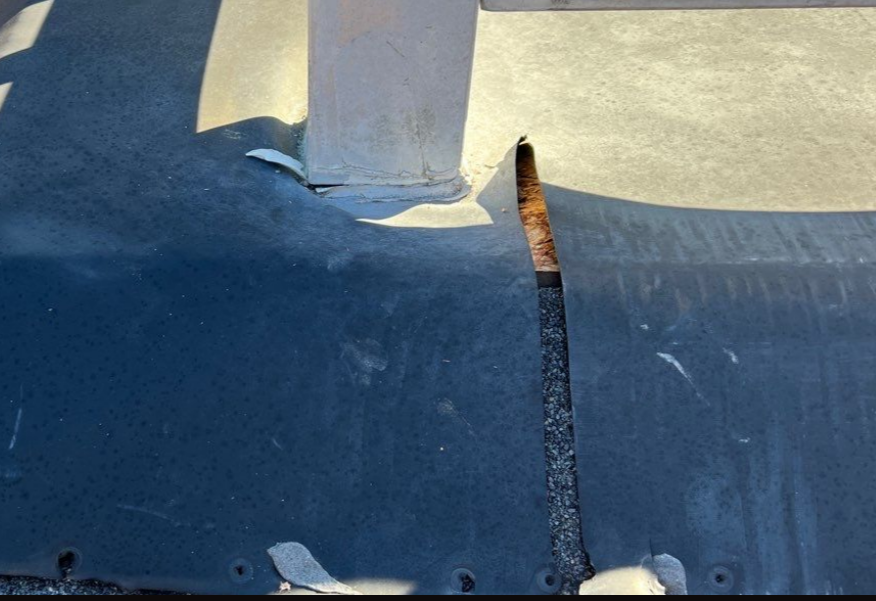 In this case, a significant issue was that the roof was not installed properly and the crack led to water damage. The thickness of the rubber roof can increase or decrease it's longevity.

How Long do Rubber Roofs Last?
A noted upside to rubber roofing is not just the ease of the roofing installation process or price but the longevity of a rubber roof.
Be it cold temperatures or hot summers, rubber roofs are known to last 30-50 years, according to multiple publications on the topic. Most TPO or thermoplastic polyolefin roofs offer a 25-year warranty for the material.
EPDM roofing materials have a life expectancy of 50 years, with very little maintenance required. Often times the maintenance is simple like repairing cracks.
EPDM Roofs
EPDM stands for Ethylene Propylene Diene Monomer (Terpolymer) and is a synthetic rubber roofing membrane commonly used for low-slope roofs. Oftentimes, commercial buildings that have flat roofs will use EPDM because it is highly durable, cost-effective, and comes in a variety of thicknesses.
EPDM roofs are installed in one of three ways:
adhered (glued to the surface below),
mechanically fastened, or
ballasted.
According to CentiMark, EPDM rubber roofing has the roofing industry's longest average service life of approximately 25-30 years. Because it is lightweight and flexible and can be used for flat, low, and steep slope roofs – an ideal roof-over application. The membranes highly resist wind, hail, UV radiation, and extreme temperatures.
While most homeowners will often use asphalt shingles for their roofs, houses with flat portions are ideal for rubber roofing. Though EPDM roofing offers many benefits, they are simply not used very often because of aesthetic reasons.
EPDM Repairs and Coating
Unlike traditional shingles, in which repairs can be more complex and complicated, EPDM rubber roofs can easily be repaired with a repair kit. The upside to rubber roofs is their durability, but a common issue, if there happens to be one, is cracking.
Because rubber roofs are installed in large sections, these cracks require a repair kit or patch, very similar to your tires. You can learn more here on how to fix rubber roofing.
Alternatives to Rubber Roofs & Other Roofing Materials:
Asphalt Shingles
Chances are, your existing shingles are asphalt shingles. When you have a sloped roof, you will often have three-tab asphalt shingles if your home is older. Many homeowners are replacing their roofs with architectural asphalt shingles, which offer more variety in color, texture, and durability.
We work with CertainTeed asphalt shingles for virtually every new roof installation. To learn more about asphalt shingles, tap the button below:
Metal Roofing
Standing seam metal roofs are very aesthetically pleasing and very durable but also costly. Because of this, most people will only roof a portion of their home – like a porch or awning – with metal.
Roofing products and styles will vary depending on where you live, but metal roofing is becoming a more popular material. You can check out our article on metal vs. shingle roofs below;
PVC Roofing
PVC roofing is almost always used on commercial buildings and less frequently on a home. Many commercial roofs will utilize TPO or EPDM, but some have converted to PVC (polyvinyl chloride). The one upside to PVC roofing is the repair and installation process. However, it is more costly than original rubber roofing.
The Verdict –
Roof installation is not something you should do on your own. Sometimes homeowners will ask, "Can I install a rubber roof on my own?" or how to DIY roofing themselves.
We highly advise against this for many reasons, but safety and improper installation are the main two. A watertight seal is a must for whatever roofing materials you elect to use on your home's roof, and a professional contractor is always your best bet.
Here at Top Dog Home Pro, we offer a variety of roofing solutions for homeowners in addition to an extensive library of roofing articles. Here are a few that we picked out to help you, and if you have any questions, be sure to reach out below!