Fall is fading into winter, and we are starting to clear away the final leaves of the season to prepare for freezing temperatures and more snow. Before you take your ladder out to clear out your gutters and check the roof on your own, it's important to consider the safety risks involved.
According to the Occupational Safety and Health Administration, falls from portable ladders of any kind are one of the leading causes of occupational fatalities and injuries – and those are the professionals. Beyond the occupational scope, it's estimated that about 135,000 people suffer from ladder-related injuries and fatalities. Of those fatalities, approximately 50% are ladder users aged 65 and above, according to the U.S. Consumer Product Safety Commission.
How can you avoid becoming one the those staggering statistics? Well, there are certain steps you can take to ensure you're using ladders as effectively and safely as possible.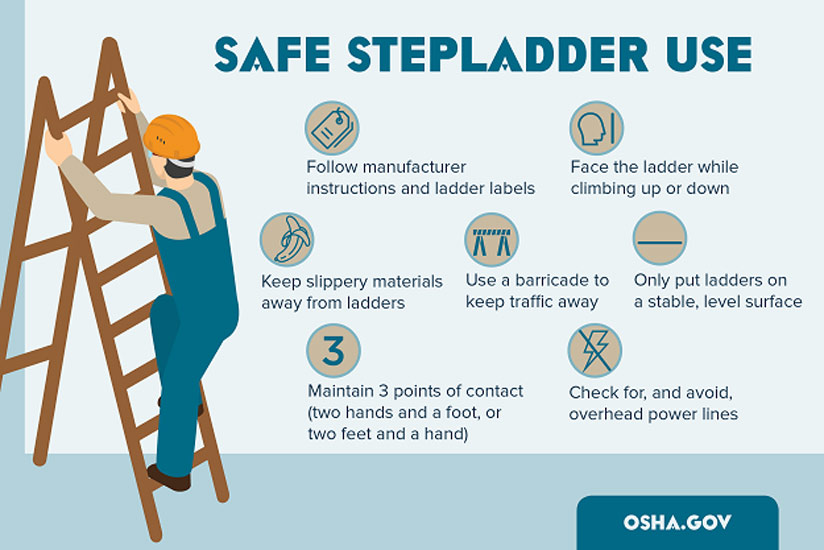 Start by planning ahead and knowing what you need. If the goal is to clean your gutters, you want to be sure the ladder you have it suitable for the job. While using an extension or straight ladder for elevated surfaces, there must be 3 feet of the ladder above the point of support.
Once you find the ladder for the job, stay aware by surveying your surroundings before setting up. Make note of electrical wires and potential obstacles. Is the ground wet or uneven? Likely not a stable surface for your ladder.
Wear the right gear! Beware of clothing that is too loose, as it can get tangled in the ladder and cause a fall. If possible, wear non-slip shoes to keep you securely on the rungs. While clearing gutters or debris from the roof, wear workers gloves to avoid cuts.
When climbing, maintain at least 3 points of contact with the ladder to ensure stability. Make sure you keep slippery things away from the rungs of the ladder and stay clear of branches or wires. If you start to feel dizzy, don't panic – lots of people report feeling dizzy as you reach a high height. Maintain your grip and take a few moments to breath to keep dizziness under control before moving on. Climb slowly to avoid getting dizzy in the first place.
To keep yourself and others safe, be sure to do each of these steps when using ladders of any kind – even step ladders!
Another great way to reduce your risk of injury is to hire a professional to take care of your gutters for you, especially if you're afraid of heights. Professionals are thoroughly educated on ladder safety and are a fool-proof way to make sure you get the job done right with all safety precautions in place.