"Are gutter guards worth it?"
If we have heard it once, we have hear it one-hundred times, the infamous gutter guard question.
As one of the leading residential gutter contractors in the Northern, VA area, one of the most common questions we get from homeowners as it pertains to gutters whether or not gutter guards are truly worth the cost and installation!
In this article we hope to quickly help you identify:
The value behind gutter guards
Issues with selecting the WRONG gutter guards
What your best options are when it comes to selecting gutter guards
That being said, let's dive in and start by answering one of the most frequently asked gutter questions:
Are Gutter Guards Worth It?
Gutter guards keep the maintenance and make the cleaning of your gutters easier.
In this article's cover photo, going clockwise, you see clean empty gutters, screen gutter guards (that are damaged) and surface-tension Raindrop gutter guards.
The initial investment of gutter guards can save you plenty of time and money over a few years of time depending on the type of guard you decide to purchase.
Whether or not you install the guards yourself or have it professionally installed, the answer to the question on whether gutter guards are worth it is not so straight forward – it really depends.
While it may keep maintenance and make cleaning a lot easier, it is NOT the ultimate solution to never having to clean your gutters again in most cases (Keep reading to see what is).
What Gutter Guards Do –
The concept behind gutter guards is simple, it's sort of in the name.
Essentially, it is a cover placed over your gutters or an object placed inside of your gutters, to prevent any leaves, sticks, seeds, and other debris from clogging your gutters.
Correctly selected gutter guards should allow for water to easily flow and enter the gutter and drain out the house.
When clogged, gutters can overflow. If too much water gets caught in the gutters, it may overflow and cause water damage. Gutters may sag or pull away from your roof, potentially causing it to rot, mold, or cause structural damage on the home.
Types of Gutter Guards
Similar to picking up toothpaste at the store, and coincidentally suffering from paralysis by analysis, there are quite a few varieties of gutter guards to choose from. The common gutter guards include:
Brush,
Foam,
Reverse-curve or slit guards,
Micromesh,
Metal Screens,
Surface Tension Gutter Guards
They each have their list of advantages and disadvantages when it comes to installing these guards on your gutters. And whether you can do it yourself or you must have it installed professionally depends on the guard.
However, preventing debris from clogging the gutters, and the amount of maintenance required to keep the gutters clean and working properly depends on the guard (You can read this article ranking the best types of gutter guards).
This is also important to note, that when deciding whether or not gutter guards are worth it, it's best to look at the possible problems.
Problems with Gutter Guards
When deciding on gutter guards, you want to select a guard that is:
Self-cleaning
Requires little to NO maintenance
Doesn't cost more than $1500-$2000 for your home (single-family home)
Still lets the gutters do their job.
In the list below you will see the problems with most gutter guards and what we recommend going with:
Brush gutter guards:
They are made of strong bristles and are easily installed by inserting it along the inside of the gutter and gives the rainwater a chance to flow and drain. While the installation is easy, the maintenance can be a bit of a hassle as debris such as leaves may collect alongside the bristles or at times be stuck on them. Furthermore, they don't catch smaller debris like maple spinners or pine needles. To reach and clean the smaller debris, you must remove the brush gutter guards altogether, clean them, and reinstall them again.
Foam gutter guards:
Like brush gutter guards, they install the same way and are also easy to do so. However, just like brush gutter guards, foam gutter guards collect debris on the top of the foam. Seed may get caught inside the foam and grow vegetation, as well as mold and mildew. Foam guards are usually not a great long-term solution as they usually deteriorate after two years of use and become brittle. Cannot withstand harsh weather conditions. Lastly, you must uninstall them and reinstall them if you want to give a proper cleaning.
Reverse-curve gutter guards or slit guards:
Cover over your gutters and move rainwater and debris downwards, the majority of these guards must be professionally installed. Some of these guards lift your roof shingles, potentially voiding your warranty. Aesthetically, they don't look all that well since they are noticeable from the ground, furthermore, since the debris simply falls downwards, they collect underneath where the gutter is located. Debris may get caught on the slit and slowly clog the gutter. Lastly, you may have a pest issue as some bees or wasps may enter the slit and create a nest.
Micromesh gutter guards:
They are usually a screen/filter that has holes invisible to the naked eye, are attached at the top of the gutter, allowing water to flow freely while catching debris of all sizes. Micromesh is usually installed by professionals, making them a bit more expensive than a DIY solution, but well worth the cost. Plastic frames usually fall over time, always opt for an aluminum or metal frame.
Metal screeners & screen guards:
Like micromesh, they are attached at the top of the gutter but can be clipped on the outer lip of the gutter. The holes on the metal screens allow for rainwater to flow, however, they also allow small debris to flow as well, furthermore, nuts and some leaves may clog the opening of the screen, interrupting water flow and causing it to clog. In high winds, they may be lifted and blown off.
Gutter Guards that Work – Raindrop Gutter Guards
Raindrop Gutter guards are relatively easy to install yourself or can be installed professionally.
They are a surface-tension gutter guard that are SELF-CLEANING, yet they still let water move through and go down your downspouts. Just see for yourself:
Raindrop gutter guards are flexible and durable!
In addition to being durable and allowing water to flow through, Raindrop guards are self-cleaning, which is why we can offer a no-clog warranty!
The gutter guards are installed under the roof shingles and attached to the front of the gutter creating a solid surface that can withstand heavy storms. Raindrop's design is simple:
Keep the leaves out
Let the rain in
Last forever
Zero maintenance
Installing Raindrop Gutter Guards:
Usually, the installation can be customizable, raindrop gutter guards can be inserted underneath your shingles (as mentioned) and placed over your gutter and drilled on the outer lip of the gutter to better secure it.
Using this method, the gutter guards are at the appropriate slant to allow for water flow, yet unlike mesh guards that are flush mounts – you won't have leaves pile up on top.
Made from its own unique blend of polypropylene, Raindrop gutter guards allow water to flow freely and have debris fall off the gutter, preventing it from getting clogged. These gutter guards are not visible and appear to be the shadow of the roof from the ground.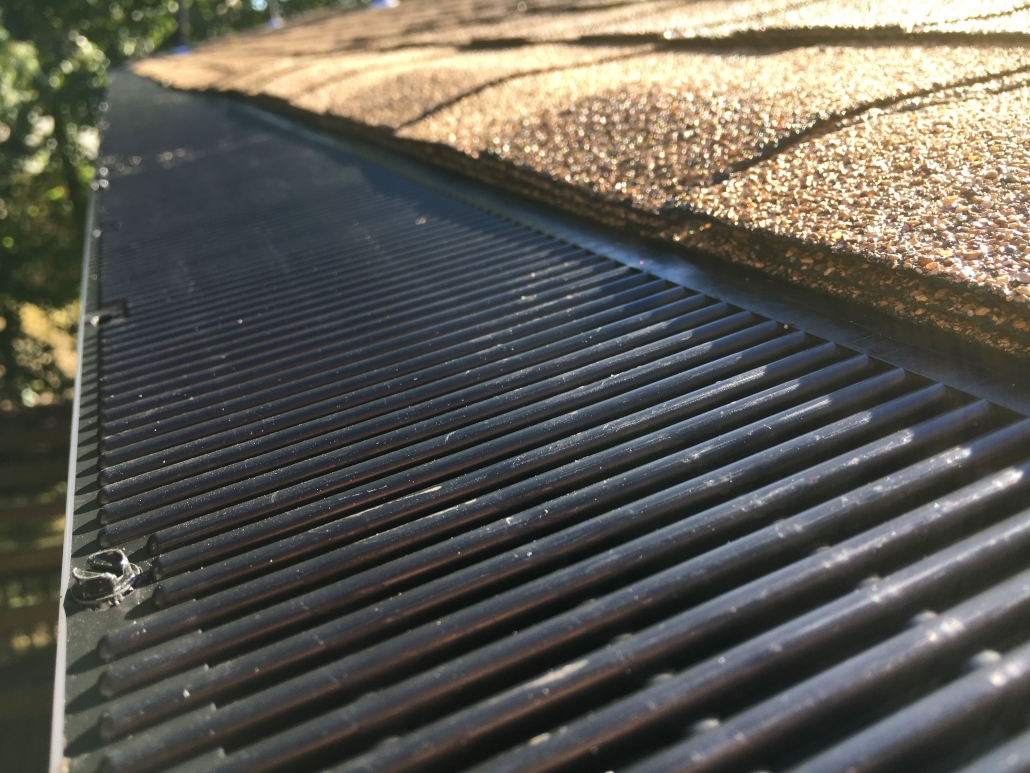 Final Word on Gutter Guards:
There are a variety of gutter guards, and truth be told you can select the wrong guard.
If the point is to protect your gutters so you don't have to clean them, then in our experience over the years the only choice is Raindrop gutter guards.
Raindrop gutter guards are worth it and do the best to protect your home from harsh winter snow and ice and heavy rainfall. Making it a great investment to make on your home in which you can save plenty of time and money on your gutter maintenance.
Whether you decide to install it yourself or have it installed professionally (which we recommend).
Lastly, be sure to do your research and due diligence in regards to what gutter guard is best for you and your home and don't just take our word for it.
However, we are confident, that the more you look into seeing the value of what gutter guards are worth it, you will quickly realize Raindrop is the best – and they don't pay us to say that :)!