Are you experiencing a roof leak?
Chances are it is not as severe as you might think. That is a good thing. The downside is that you will need to address your roof leak ASAP so it does not get worse. In many cases, your roof leak is the result of a cracked seal around a pipe boot.
Sometimes called a pipe collar or pipe boot, today we will show you how the installation process works for a perma boot installation!
Perma Boot Installation Video
Roof Leak Repair – How Perma-Boot Works: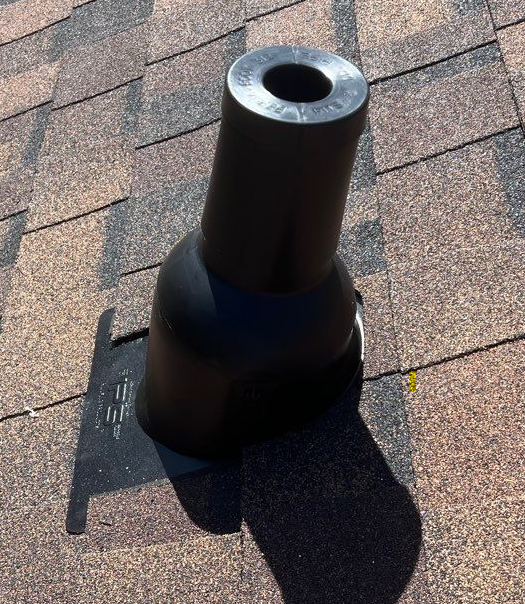 The two pieces that make up a Perma-Boot repair system for your roof's pipe boots is designed to prevent leaks around pipes. Anytime an object, pipe, wall, etc, protrudes from your roof, there is the risk of roof leaks occurring in that area.
Oftentimes, the rubber boot around pipes deteriorates with overexposure to sun and temperatures in the summer. Over time, they crack and allow moisture to penetrate your roof's shingles and roof decking and, eventually, your attic and ceilings if not addressed.
Roofs are designed to last 30 years, give or take, but rubber pipe boots only have a lifespan of 3-5 years. So if you see a large roof stain on your ceiling, you know you got a leak. The upside is you most likely won't have to replace your entire roof; instead, replace the pipe boots!
To prevent leaks, installing a Perma-Boot not only guarantees leak free for the life of your shingles, but the installation process is super simple.
Simple Installation:
Step one is always to inspect your roof's pipes, and anywhere there is a potential place to add perma boots. Don't worry about your roof pitches. Perma boots are compatible with all pitches.
The process is straightforward:
Get the right size Perma boot for your roof pipes (for example, a 1.5-inch pipe needs a Perma Boot that is 1.5 inches)
Place the Perma Boot over the existing pipe boots
The boot is adjustable for your roof's pitch
Caulk the top of the pipe
Lock in the second piece to hold everything together
Install to repair or for preventative reasons.
Just like that, you now have a simple leak fix! While we don't recommend this as a DIY project, you can reach out to get a quick fix with the team here at Top Dog Home Pro!