When you go to the dealership to buy a car, there are countless options when it comes to making and model, but also color, size, engine type, and so on.
Now, we get it – you might be wondering what this has to do with windows, but bear with us a moment. When it comes to you selecting new windows for your home, there are numerous factors, styles, brands, and sizes to consider.
This is why today, we will focus on helping you identify and understand the different window types that are available!
The Most Common Window Types
Below you will find some of the most commonly installed windows and their operating features. The average price for the window themselves does not include installation costs and is priced base on the average purchase cost.
Related: Learn more about our window replacement options here!
Single Hung Windows
Perhaps the most common window (and most likely the windows you may be considering replacing) are single-hung windows. Single-hung windows are vertically opening windows where the lower panel slides up and down and the upper panel is stationary.
Price: With these windows, your typical price point is $200 to $400 per window!
Double Hung
Similar to single-hung windows, double-hung windows look the same, but both of the lower and upper sashes can move up and down. Additionally, the upper sash can often tilt out for cleaning purposes making it a highly desirable window option.
Price: However, compared to the single hung window, double-hung windows are more expensive costing $400 to $600 or more.
Fixed or Picture Windows
A fixed or picture window is a common window you would find in the back of a home in a room such as a bathroom that is stationary. This standard window is non-operational in that they do not open, contain hardware, nor are they operable.
Price: Fixed window prices may vary, but they can sometimes cost as low as $125 and that can increase to over $350.
Sliding Windows
Sometimes referred to as gliding windows, sliding windows are exactly what the name states – sliding. Instead of the sashes going up and down like single/double-hung windows, sliding windows either go left or right. Sometimes people will ask, "Which is better, sliding or single hung windows?"
The answer to that question is really based on the area where you are installing windows. If you have more area vertically then single hung/double-hung windows are a better pick. On the other hand, if the area you're looking to replace is more in width – then sliding windows are your top pick.
Price: $350 and up!
Casement
When you think of traditional windows that swing wide open, you're envisioning casement windows. Casement windows out to the side and pen up, much like the old-time movies where the mom would open the window to yell for her kids. Offering the least obstructive view and made from solid glass, casement windows are a great option for updating the curb appeal of your home.
Price: Casement window prices can vary, starting at $250 and ranging past $500.
Hopper
A somewhat interesting window type, hopper windows open from the top and often involve a crank-like feature. Commonly found in basements and bathrooms to take advantage of small vertical spaces, hopper windows are beneficial for light, insulation, and escape routes (basement).
Price: Prices start at $250 and up!
Awning
When you think of an awning window, think of an awning on the side of the home to shield you from the elements of rain, sun, and snow. Awning windows do the exact same in that they open up and out, which is ideal for rainy climates. You can still have your windows open, but mitigate the chances of rain entering your home, even if it falls down at an angle.
Price: To replace an existing awning window, you're looking at prices starting at $400 per window.
Ranch Style Windows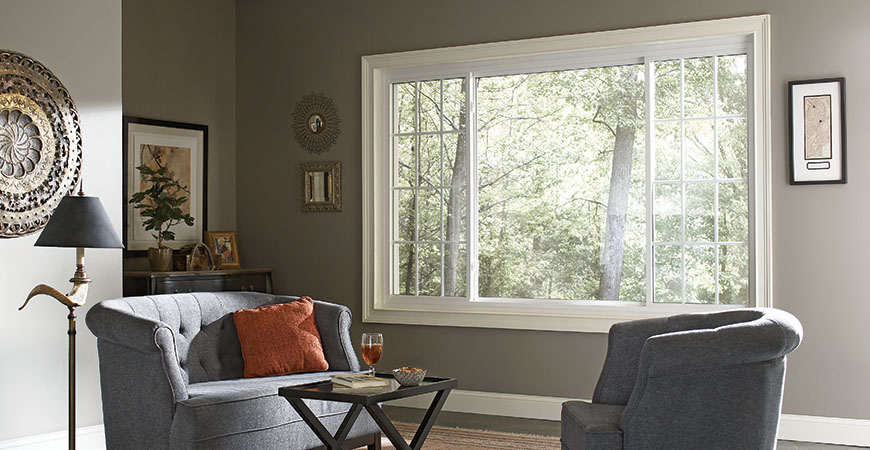 Ranch-style windows are actually a combination of picture windows surrounded by either single-hung, double-hung, or sliding windows to the left and right of the picture window. Typically seen in ranch homes (one floor, longer homes) ranch-style windows add more light and more window space to admire the scenery. Usually, one large, paneless window is installed, and on each side are single-hung windows that can open up.
This provides both optimal viewing and practicality!
Price: Prices vary depending on the existing windows, but factor in the cost of replacing three windows, most ranch replacements start at $1,000.
Bay Windows
You have probably seen bay windows and you might even have one in your home. Typically, bay windows stick out from the front of the home providing a small roof area and also more square footage on the inside of a home. A bay window usually has a picture window, followed by two angled windows to the left and right. Typically, a bay window consists of three different windows making it a bit more expensive to replace.
Price: Varies, but starts at $1,000 and can go higher.
The Verdict
Sometimes homeowners wonder if replacing their windows is worth the effort and price. The answer usually comes down to a few factors, centered around the pros and cons of window replacement.
Window pricing
Your window budget
Curb appeal
Need vs want
Climate
The above are all factors you should always consider prior to ever replacing your windows. Luckily, here at Top Dog Home Pro of Virginia, we make it simple to help you. Simply use this contact form below to learn more about our custom window installation process!
Other Exterior Services We Offer